Last December, in my first article for Comic Book Daily, I argued that high grade Marvel Bronze Age values were likely to stabilize after a few years of steep declines.  Bronze Age values have fallen for three reasons: 1) growing census figures, 2) the bursting of the movie hype bubble, and 3) the general economic turmoil experienced between 2007 and 2009. In late 2011, collectors had become comfortable with the new census figures and influence of pressing, the speculators who purchased comics solely to cash in on movie mania had all but given up, and the general economy was looking much better. So I thought the ingredients for price stabilization were in place and the violent price declines were over.
Well, what has transpired since? My call did not look too hot early in the year. The price declines continued in full force. In April an Incredible Hulk #181 auction cracked $9,000 to settle at $8,600. Also in April an issue of Giant-Size X-Men #1 threatened to crack $4,000 but settled just above at $4,100. Bronze Age? More like back to the Stone Age!
After this shaky start, the Bronze Age started to show signs of life after June. Here's the performance of the key Marvel Bronze titles for 2012. We calculate the performance figures using the most recent auction data we have for each title and then compare these values to the last transactions we have recorded for 2011.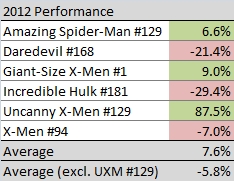 The average return for these titles was positive at 7.6%. However, excluding the 88% increase for Uncanny X-Men #129, the gain turns into a decline of 5.8%.
The most glaring number is the 29% decline for Incredible Hulk #181. This title continues to be a dog. Will the 2013 Wolverine movie help put a long-term floor in place?
Here are the charts for each title: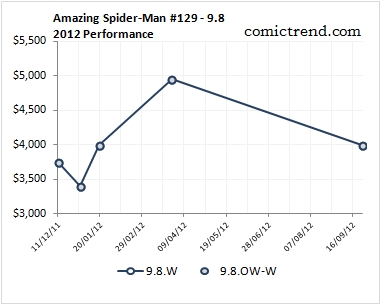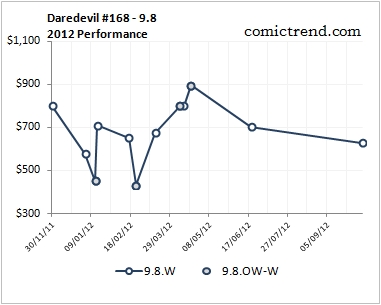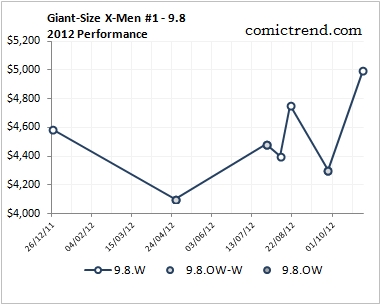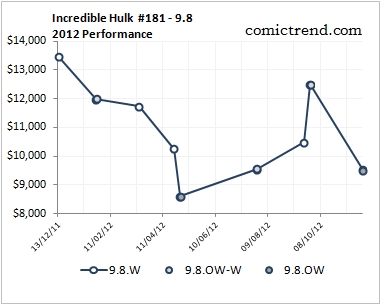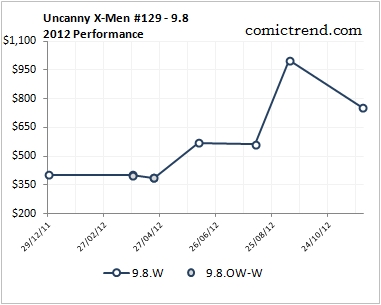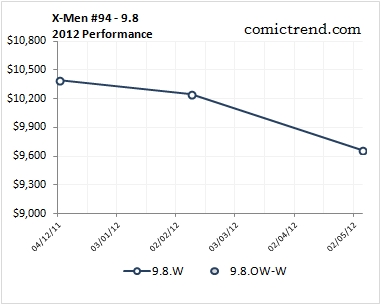 So, what's the verdict? I think this one is a push. Apart from Incredible Hulk #181, most of the key Bronze Age titles did hold their own during 2012. But a near 30% for Incredible Hulk #181 —one of the most important Bronze Age titles— certainly casts a dark shadow over the entire Bronze Age.
What are your thoughts about where the Bronze Age titles are headed?