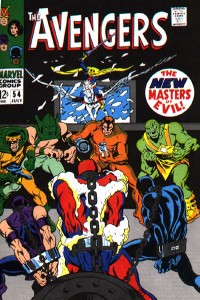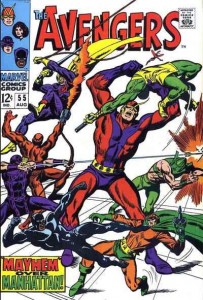 Avengers #54 and #55, Marvel Comics (July and August 1968)
I had to go two books this week. We really need both of these issues to properly introduce Ultron.
Ultron, who 1st appeared in Avengers #54 and was 1st identified in Avengers #55, was created by writer Roy Thomas and artist John Buscema.
Roy Thomas is a great comic book writer and Ultron is in my mind one of his better creations.
Ultron was a creation of Hank Pym AKA the Ant Man, AKA Giant Man, AKA Yellow Jacket, AKA one messed up dude. Pym was exploring Artificial Intelligence and his wish to create a sentient robot led him to infuse his own brain thought patterns and memory engrams into a robotic shell. The robot took Pym's genius brain but did not pick up a human conscience. Like most mad scientist endeavors this one went terribly wrong and the result was a very smart robot bend on the destruction of the human race.
It is in Avengers #55 we first learn that the villain masquerading around as the Crimson Cowl in Avengers #54 is called Ultron 5.
A few Avengers issues later Ultron 5 creates the Vision (1st appearance in Avengers #57) in an effort to destroy the Avengers but unlike Ultron, the Vision possessed a human conscience and helped the Avengers thwart Ultron after turning on his creator.  
This is good stuff, Ultron, created by Pym, creator of Vision, is too important a character to have his 1st appearance languish in obscurity. Take a look in the Overstreet price guide; they have Avengers #54 and #55 grouped in with 12 other issues all at the same price, with no mention of Ultron!
I think we'll see more demand for these books, Ultron is a great Avengers villain and I see the character playing a prominent role in the future.
Marvel Comics is betting a lot on the potential of Ultron.
"Age of Ultron" is a 10 issue mini-series that Marvel plans to cram into a 4 month shipping schedule starting in March of 2013.
"Age of Ultron" mastermind and Marvel superstar Brian Michael Bendis recently had this to say about the mini-series;
"Ultron, who is one of our biggest villains, finally fulfills his destiny, which is to accelerate his super-intelligence and does what he always wanted to do, which is take control of Earth. And he does. From the very first page, the Marvel Universe has been overtaken by Ultron. It has been changed. It has been altered. There have been shocking amounts of death and devastation and casualties in the Marvel Universe."
Wow, that's some serious stuff Marvel fans. This should be good.
Avengers #54 and #55 trade at just over 1.5 time guide in the CGC 9.4 range. CGC 9.4 is the grade I'm recommending for these books. Issue #54 seems to be scarcer on the CGC census, I count 49 Avengers #54s graded CGC 9.4 or better while the census shows 102 copies of Avengers #55 graded at CGC 9.4 or better.
I like Avengers long term and I like Ultron long term, I think they'll be making some beautiful comics together and I think picking up Ultron's 1st appearances at today's market prices is a good more
The 42nd edition of the Overstreet Price Guide shows $48/$79/$110 as the 8.0/9.0/9.2 price splits for both these books.
Strengths that make these comic books a good long-term investment are:
1st appearance the Ultron
"Age of Ultron" to be a huge Marvel event in 2013
Embedded in the highly collectible Avengers Silver Age run
Vision! I am your Fatha!
Pym! You are my Fatha!