Comic Books as Gifts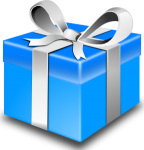 Early December is a good time to introduce the concept of collectible comic books as gifts. Whether it's Christmas, birthdays, graduations or whatever, comic books can be very personal and cherished gifts. I have bought a few comic collections where seemingly irrelevant comics are pulled from the pile because they were gifts and carried sentimental value.
 Obviously it's best to know a persons likes and even better to know specific issues the collector needs. For comic book gift giving I highly recommend going to your local comic book store. Explain the situation to the owner or manager and ask whether the comic can be returned should the person not like it. This should not be a problem to most comic shop keeps as long as they know the specific date it would be returned and as long as the purchase date is reasonably close to this potential return date. Sometimes an exchange is the best arrangement you'll be given but spending money in a comic book store should not be a problem for a comic collector.
 Great ideas for comic gifts include the Birthday issue. So if the comic collector on your list was born in July 1978 and his favorite character is Batman then wrapping up the July 1978 issues of Batman and Detective Comics would make great gifts. Often people remember the very fist comic book they ever bought or were given. Some discreet probing may get you the title and issue number; this too would make a great gift. People have silly nicknames like Scamp, Gazoo, Scoob, Miss Fury etc. Comic books linked to nicknames can make great gifts. I still have Wally #1 a friend gave me years ago. There are endless personal connections to be made between comics and people, all would make great gifts.
Walter Durajlija is an Overstreet Advisor and Shuster Award winner. He owns Big B Comics in Hamilton, Ontario, Canada