Restoration Part 2: Married Comic Books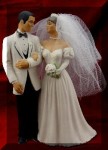 A few tips ago we went over how to look for restoration on comic books. Not even 3 days after that post I submitted for grading a copy of an Amazing Fantasy #15 for a customer who had the week before bought it at a comic book convention. I week later the comic returned from the CGC grading company with a grade Qualified 4.0 (green colored label).  Married Centerfold was in the comments field. 'What the #%@& is a married centerfold' the customer asked. I explained the term and within a day the dealer that sold the comic was notified and very professionally agreed to take the comic back at full refund.
Marrying a comic can involve using 2 or more incomplete comics to make one complete one. In the case of the above mentioned Amazing Fantasy #15 the original was most likely missing a centerfold. A centerfold was probably taken from a coverless copy or at least a very ugly copy that would not have graded very highly. Upon close inspection of the comic through the encapsulation case one could clearly see the centerfold page had a different shade than the rest of the pages.
Page quality is the biggest clue when looking for married comics, at leat within the comic pages. About 15 years ago I bought a Detective Comics #35 at a Chicago Comic Convention. This is a tough book to find and I was excited about my pick up. I slapped a bit of a premium on the comic and put it on our sale wall. The first person to look at the comic noticed something wrong as he was leafing through and counting the pages. The first 5 leaves or so were different in color and in texture than the rest of the book. Two incomplete copies were used to make one complete one. Miraculously I still sold the comic to the guy and actually made $5!
Watch for comics with married back covers. When I was just starting out buying more expensive comics I picked up an Amazing Spider-Man #1 with tape along its spine for a mere $50 (it was the mid 80s). I carried around this comic all day and randomly had it laying face down when a friend picked it up to see which late 60s comic I picked up. The moment he turned it over he knew the back cover was not an Amazing Spider-Man #1 back cover. It was a back cover promoting an art contest that ran a lot on Marvel comics in the late 1960s. Amazing Spider-Man #1 was published in 1963.
Sometimes 2 or more complete comics are used in this process. The best parts of two dog copies can sometimes add up to one really nice copy.
So things to watch for include:
–          check uniformity of page color and texture and quality
–          if the cover is split and held together by tape make sure it's the right back cover
–          loose centerfolds and loose covers should always prompt you to have a closer look
Walter Durajlija is an Overstreet Price Guide Advisor and Shuster Award winner. He owns Big B Comics in Hamilton, Ontario, Canada.