On Monday May 27th 2013 Tom Laing passed away. That name might not right a bell right away, but he was the owner of Comic 1 Books in Stoney Creek Ontario. I don't think I ever knew his last name until this week. My friend Marc at Big B Comics told me yesterday; people were coming into the store letting them know Tom was no longer with us.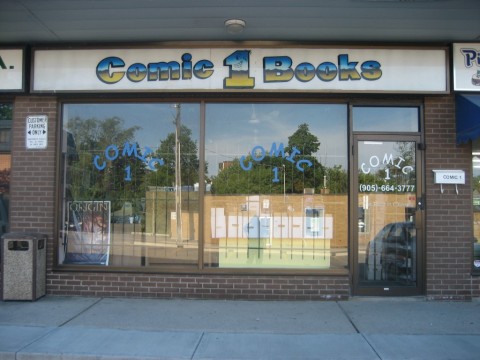 Back in 1980 I picked up my first comic at the local convenience store, G.I Joe issue 1, based on the new cartoon. Shortly after I discovered on my family's weekly flea market trip that there was someone selling old comics there, Tom. And so my love of comics and collecting began.
Tom was great to deal with, especially when I look back at it from an adult's perspective. Here I was, 8 years old, harassing this guy at the flea  market every week with an avalanche of questions. He was always kind to me, answering my questions, taking back books I accidentally bought a second copy of, and helping me complete that run of Invaders and X-Men.
I lived in West Africa for two years and would send a list back every six months with my grandparents to pick up all my comics, and they'd come back with plain brown bags filled with new and wonderful adventures. Tom would take the list and have it ready for them to pick up, and brought a lot of wonder and joy to my very isolated life.
As we get older we stray from our childhood locales, but I knew Tom had moved out of the flea market circuit and into a store in Stoney Creek. I made infrequent visits by bus, to pick up a few extra copies of this and that or to see what he had lurking in precarious piles around the store. Highs include The Watchmen Portfolio and Marvel Moebius posters, lows encompass those twenty copies of Lobo issue 1 I was sure would take off.
Marc Sims, General Manager of Big B Comics in Hamilton, Barrie, and Niagara Falls, had this to say.
I was very sad to hear that Tom Laing, owner of Comic 1 Books in Stoney Creek, passed away last Monday. Tom was my gateway to comics as a kid growing up in Hamilton's east end. I would walk the 20 minutes to his store every weekend for my comic fix, buying every X-Men title I could get my hands on. As a child I didn't really understand how comics distribution worked. I'll never forget there was one week I couldn't find an issue of New Warriors I wanted to buy. I think it was #22. I was dumbfounded. For 6 years I'd bought every issue of the titles I liked off the stands without ever having a problem finding what I wanted. I honestly thought that if I couldn't find it at Comic 1, Marvel must not have published it. In a couple weeks when issue #23 shipped without me ever seeing issue #22, I was convinced that it just didn't exist. I never did find that issue.
Tom was one of the pioneers of comics retail in the golden horseshoe, setting up at a flea market stall in the late 70s and early 80s. In recent years I would stop in whenever I visited my family or was running errands in the old neighborhood. We'd talk shop and I always tried to make it a point to thank him for being the man who got me into the hobby that has now become my career. Last time I saw him he was contemplating retirement. After 30+ years selling comics, he was ready to take some time off.
He will be missed by the many customers and friends he proudly served over the years. Rest in Peace Tom.
Please feel free to contribute your stories and anecdotes about Tom in the comments below.