I've talked to a few people that attended the Toronto Comic Con this past weekend and they allsaid the show was super busy. This is the spring version of the much larger Fan Expo that goes on in late August, I was told 50,000 attendance was breached. I should have set up at the show but just wasn't feeling it, chosing to focus on the weekly auctions instead, time will tell if I'm making the right choice but resources and personnel are limited, choices have to be made. I do plan on going to the big one in August. It was nice to hear that the show was busy, what percentage of the show as pure comic books I don't know but as we're all aware, that percentage seems to be getting smaller and smaller each year.
Sorting through the "going to eBay auction" pile turned up a few nice gems. Our Cover of the week has to go to Joe Doolin's nasty cover to Ranger Comics #19 from October 1944. Its a nasty cover featuring a tied up damsel in distress and a Japanese soldier getting stabbed in the heart. Which Fiction House titles had the best covers? I'd say Planet then Rangers then Wings then Jumbo then Jungle.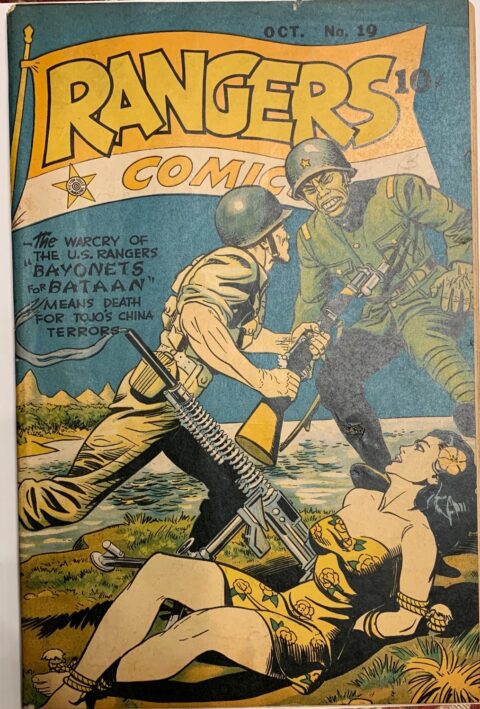 Someone mentioned Charles Biro in a recent comment so I thought I'd snag this cover to the Boy Comics #58 from the early 1950s, its a Canadian Edition from Superior Comics, and its terrible! The left side has me yawning, though the guys jacket did perk me up a bit, and the right side had me laughing, as if Crimebuster won't see that rope! Come on… I'll be putting this beauty up on our Canadiana Auction we have scheduled to start in early May.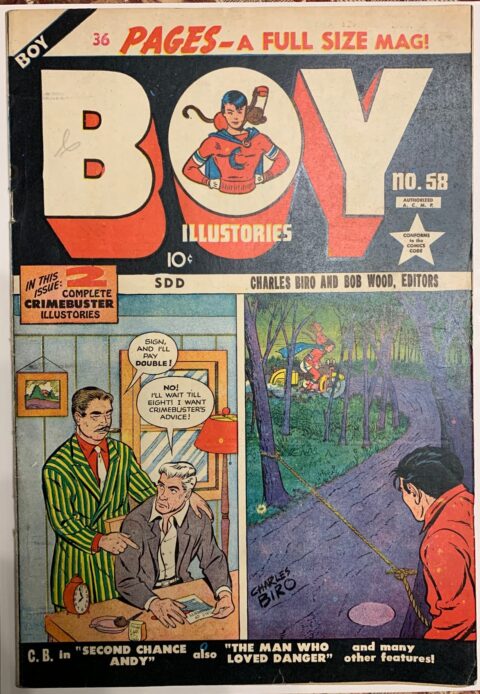 One of the reasons I've been enjoying doing this blog is it gives me a chance to explore and discover all these great old comic book ads. I guess it depends on the era you grew up but surely there are perhaps a dozen "classic ads", these ads are quickly identifiable and are engrained in our memory. I know it would be difficult to pin one ad down as the most classic ad but I'll come out and sat that the toy soldier ad has to be in that top dozen. From Creepy Things #5, April 1976. I'm thinking the Charles Atlas beach bully ad might be near the top, any others come to mind?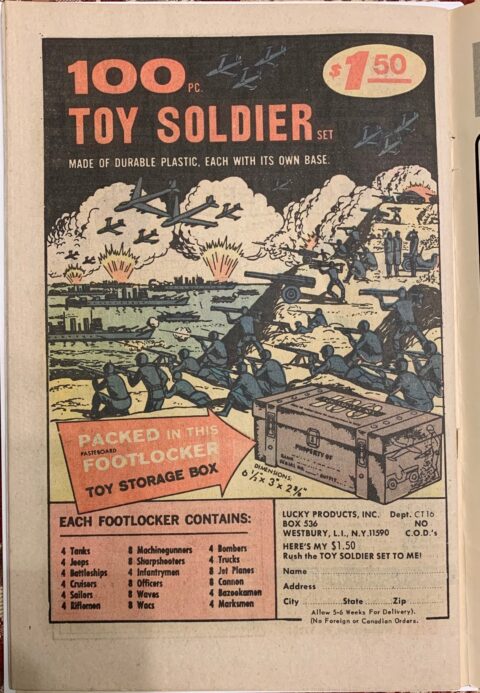 Is there ever going to be a Big Little Book collecting revival? I'm noticing that the old Pulps from the 1930s and 1940s are gaining more and more market attention but the problem with those is the poor page quality. I think the Overstreet Price Guide had a Big Little Book section years back, they still might (I should probably know this). I have a litle stack going up on auction including this 1947 copy of Blondie its #1430 in the series.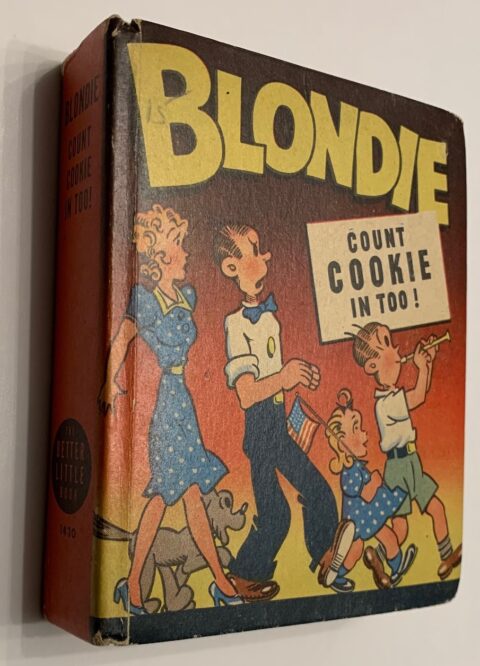 Here's a result from the icecollectibles weekly eBay auction that caught my eye. A CGC 4.0 copy of Avengers #57, drawn by the mighty John Buscema, featuring the 1st appearance of the Vision, sold for $291. A healthy result that bucked a downward trend for the book. This is one of those books that checks off a lot of the boxes that need to be checked off when looking for a good comic book investment, it has a 1st appearance, the 1st appearance is on the cover and it is a prominent classic image featuring the character, it was drawn by a legendary artist, and it is embedded in a mainline title, the character also still has pop culture relevance today. Overall I'd say this was a nice pick up.