As I was gathering thoughts for this week's post I realized the post was going to be, as all the past posts were, a celebration of what's inside the comic. So these posts are kind of anti-grading posts. Come to think of it the Making a Splash project from a couple of years ago was an anti-slabbing project as well. The paradox is that I'm a big supporter of CGC, I'm a big supporter of comics being a collectible commodity that holds real albeit fluctuating market values. As a grading company, CGC has done a good enough job over these past two decades that two parties are willing to make large financial transactions based on a third-party grade arbitrator (CGC). Voila, a billion-dollar market.
Walt! You Can't be both! I can be both, I think most of us are both. I celebrate the contents of the comic by featuring great splash pages, and by highlighting old ads that make us laugh or feed our nostalgia. if I had more time I'd also focus on the stories. We are losing a lot by grading books while at the same time, we're gaining a lot by grading books.
I've been trying to pay attention these past few years: here are some observations. We grade too quickly and often unnecessarily. Good examples of this can be seen in some of those great Golden Age comics that have come through our eBay auctions. Our raw, ungraded prices match the prices realized by the graded copies. Those old books are treasures to leaf through providing great splash page after great splash page, neat ad after neat ad, and great stories mixed in with some lame ones. I get grading a 3.0 copy of Detective Comics #27, the market value makes it next to impossible not to, but why grade an America's Greatest Comics #8 at a 3.0?
Anyway, the struggle continues, and for my part, I'll continue to champion both.
This week's dive into the 'destined for eBay auction' pile produced some real gems. My cover of the week has to go to the Great John Romita's rendering for Heart Throbs #79 from September 1962. Over the years I've heard guys, mostly Ditko fans, dis Romita's run on Amazing Spider-Man, almost as a slight they say "he should have stuck to the Romance genre". I think the Romance genre would have been all the richer had he stayed.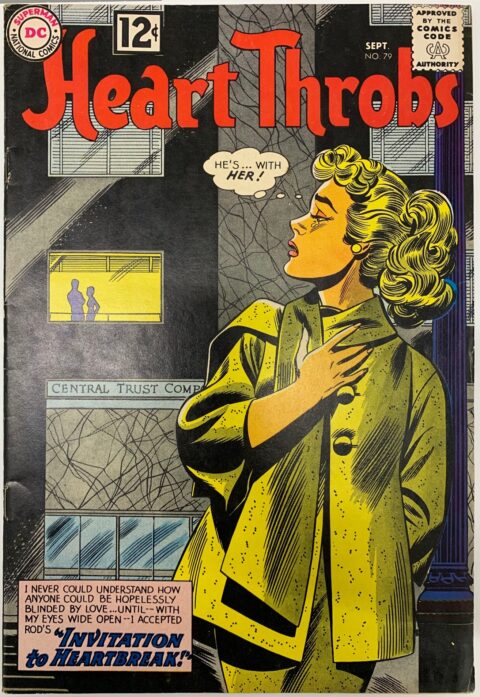 The Splash page of the week has to go to Maurice Whitman's Kaanga splash in Fiction House's Jungle Comics #152, from 1952. Whitman drew ladies very well: I like his style and the composition of this splash.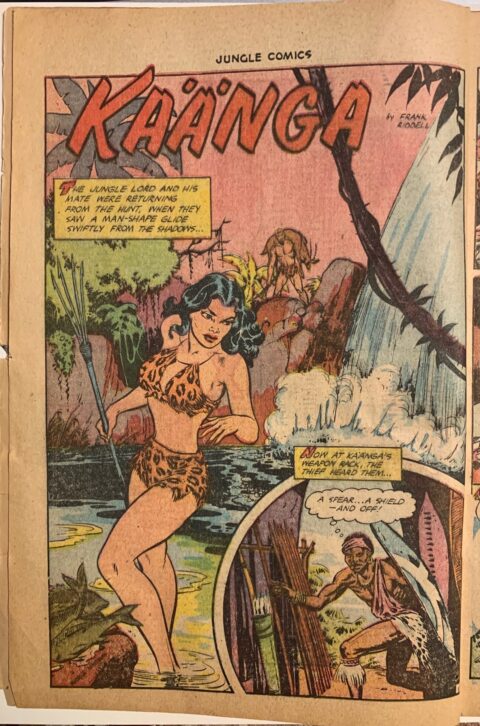 I have to stay with Jungle Comics #152 for my ad of the week in light of the UFX and WWE just joining forces in a merger. When I was a kid back in the 70s, wrestling used to be a big thing in Hamilton Ontario. Can any of you locals remember Haystack Calhoun? The old Hamilton Forum used to host Wrestling which was filmed for TV by CHCH Hamilton; CHCH is the same station that gave us Hilarious House of Frightenstein with the great Billy Van. It's amazing how grassroots wrestling was with every large city having a vibrant wrestling scene. It wasn't until the 1980s that the WWF was able to make this great form of local entertainment a national and then an international phenomenon.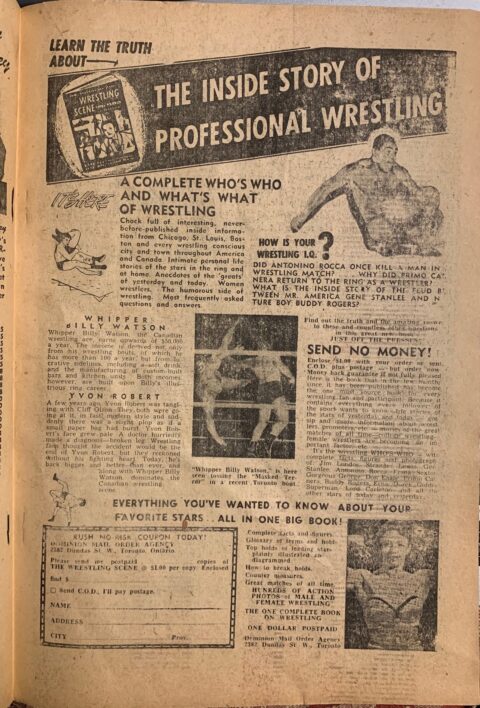 I had a bit of an Albert Einstein moment during the latest weekly icecollectibles eBay auction. I'd put forward a theory about how great the November 1971 Marvel 25-cent transition issues were as a collecting strain. Well the solar eclipse for me was the listing of a CGC 8.0 Where Monsters Dwell #12 on the auction; if my theory is correct then we would see big bucks. The book sold for $19.50! Gah! I've obviously got to get back to the drawing board and revise, rephrase and redouble my efforts on the merits of my theory.