So, I didn't end up going to Fan Expo. I'll be getting reports over the next couple of days and I know Chris Owen went and I know he wants to recap on the next Comic Culture. Ivan Kocmarek went too, he hosted a panel on Sunday. If anyone reading this went, please give us your thoughts on the show down in the comments field. How was attendance? Were there a lot of comic book dealers? Did you buy anything? Was there a buzz item or event that people were excited about? Please add any other insights you gained while at the show.
I mentioned before I went on holiday that we're planning some YouTube content. The work still goes on but it's taking a lot more time than we thought, making videos is not writing blogs! Hopefully we can post our first videos up by mid-October!!
I'm back at going through comic pile and making up eBay auction lots. My favorite cover this week belongs to World's Finest #5; it's a Spring 1942 issue and has a nice WWII patriotic cover. This copy has some color tough ups but with old gems like these that doesn't matter much. I've said this before but there was just so much between the covers of this book, loads of stories, loads of art, these things took a while to get through back in the day.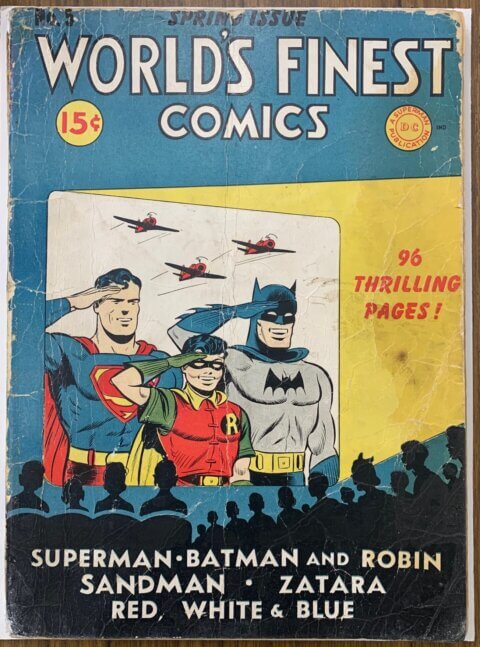 You see enough key comics you get used and you remember the back cover. I know the back cover of Amazing Fantasy #15 and if I see it in a pile, I'll get excited that perhaps it's actually a copy of Spidey's first appearance; I'm "oh for" so far on that front. Can you guess the comic book this back cover belongs to? I'll reveal the issue in the picture below this one; make a guess before you scroll down and look. The ad is for a game I've never heard of or played; I obviously never paid attention to the back cover or I'd at least heard of the game. These ads were starting to be taken over by the video games around this time; I don't know how TSR lasted for so long.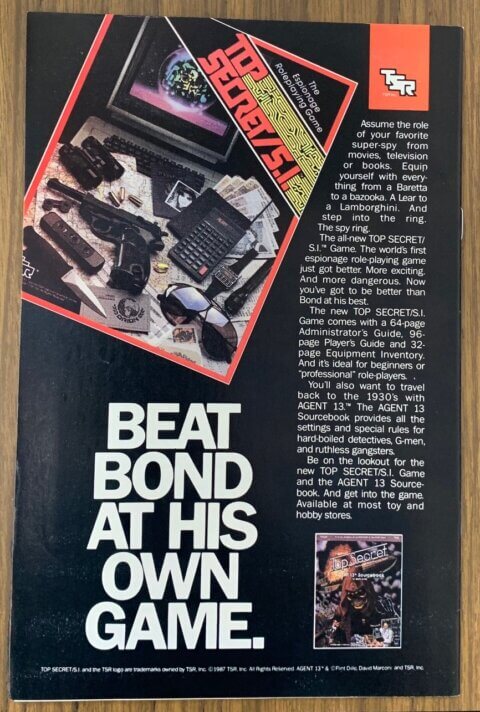 Did you guess right? The ad page back cover above belongs to Amazing Spider-Man #300. Speaking of Amazing Spider-Man #300, I'd forgotten about the best page in the whole book! First off, Parker does a terrible "glamour photographer schtick", it was painful to read, but, at the end, when Mary Jane lifts Peter's spirits, she also lifts mine, what a gal!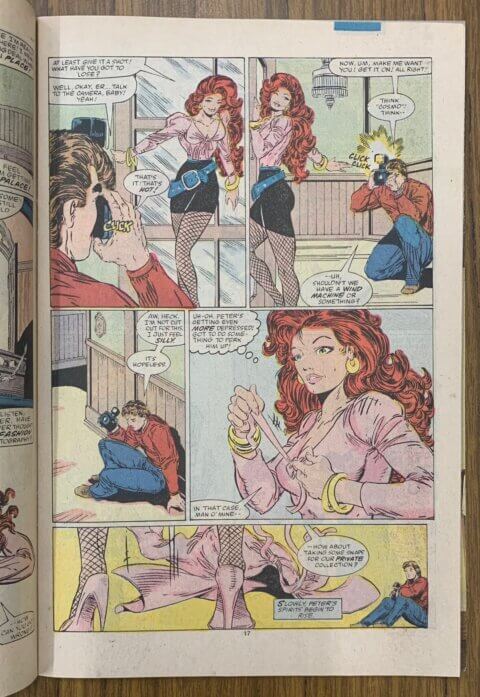 From World's Finest #5 we get this great splash that features the first appearance of T.N.T. (Oi Oi Oi) and Dan the Dyna-Mite. I'm still trying to figure out what is happening on this page, I get the battle with the scuba divers but where the hell did the clown come from?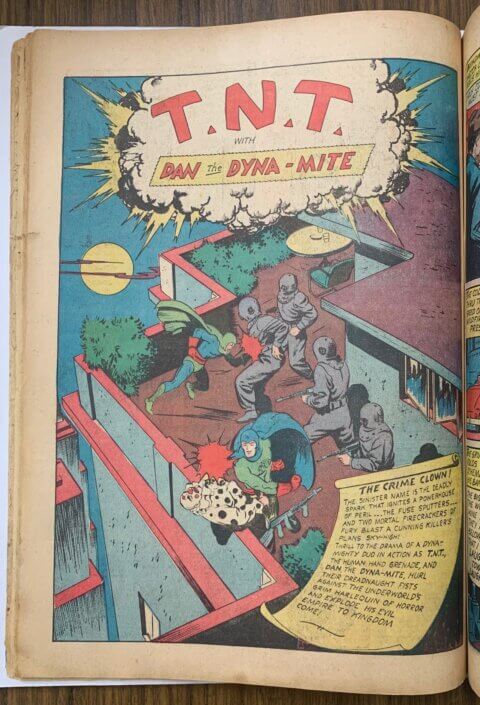 Our latest weekly icecollectibles eBay auction ended last night. One of the interesting results belonged to Savage Tales #1, our copy closed at $430 which is what a CGC copy would get if the book was graded. How long have we been waiting for magazines to arrive, to start bringing in the big bucks in the marketplace. I'd say mag prices are way stronger than they were a decade ago but I think there is still a lot of room growth, the magazine segment still holds a lot of opportunities.