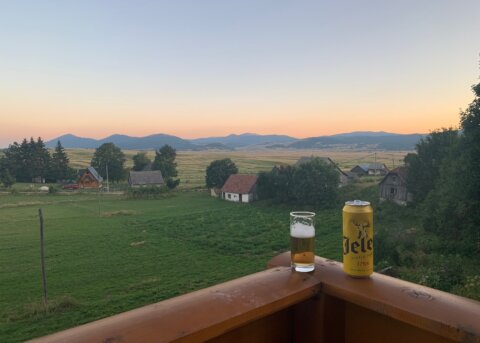 Let's wade back into things with this post, I'll dive back into the auction piles next week.
Getting away is always nice and coming home is even nicer.
There were zero interactions with comics on my trip, this was, I think, because of where I went. The rural Balkans are just not that into the American comics, I told a few guys what I did and they just looked back at me like they were waiting for the punchline. Alan Ford, Dylan Dog and Lucky Luke they knew and loved but for reading only, no collecting scene at all has developed there for these things.
We've already established in earlier posts the stress that has come with the beginning of each month. As a new month's sales data came in it always seemed to be filled with red arrows indicating negative returns. I left mid-July and came back in mid-August so I was interested in how August was rolling out. For the dozen or so books I looked at things don't seem so bad, based on this super unscientific and super small sample bucket I'd say we're seeing some stability. Amazing Spider-Man #129 is a favourite barometer of mine, I picked the CGC 9.4 grade because there was fresh August data. ASM #129 had a June 7th sale of $4500 and its last sale on August 13th was $4700, there were 6 sales in this time period and they ranged from $4500 to $5160 (except for a $5900 sale that looks like an anomaly).
At the beginning of this year, I wrote in a post that we had to be careful with reading GPA data as we'd lost the quick reference of the 2020 column, the oldest quick reference column now is 2021 and you should not stop there. We should all expand the grade data and take the time to look back and see what was happening on 2020 and 2019. For ASM #129 sales for 2018, 2019 and 2020 all had an upper ceiling of $3840 to $4000, our current sale of $4700 looks like it has historic price support. Interestingly Batman #232 has similar pre-Covid price support while books like Amazing Spider-Man #1 and Incredible Hulk #181, even though they've come down dramatically, are both currently trading well above their 2019 and 2020 averages, let's hope these books can keep their gains.
I've talked to a few guys that have been doing shows this summer and they're telling me bin sales at cons are healthy, one guy that did the Montreal Con said sales were strong in the collectors' bins, not so much off the CGC wall. What are we seeing? Is this an active, vibrant and healthy collecting scene? I'm going to make the assumption that a good portion of those active in the current collecting scene were once also much more active in the higher end investing scene and it shouldn't take much to entice them back into that scene. Here's hoping September produces some much-needed green arrows.
For the first time ever I'm not doing Fan Expo! Gah! In other news we'll be creating another Canadiana Auction in mid-October, I'll be adding details in the weeks to come.