I mentioned a couple of months ago in my "50th Issue Spectacular" that I have found myself dismayed by the political and economic direction of Canada. To say that I have soured on this country is an understatement and my feelings on the subject have only hardened since then. People in my age cohort and the generation coming after me have found themselves disproportionately affected by the cost-of-living crisis in this country. All major political parties at every level of government are complicit in allowing this to happen and my generation especially is being crushed. The Bank of Canada's (BOC) continued interest rate hikes should have sparked a recession by now, but the federal government has opened the doors to breakneck immigration (combined with increases in the number of international students, refugees, and temporary foreign workers) that have resulted in wage suppression and continued increases in housing costs. Unfortunately, the two main opposition parties aren't offering alternative solutions to these problems and seem to be satisfied with the status quo. The sense of despair among younger Canadians is palpable for anyone who is paying attention.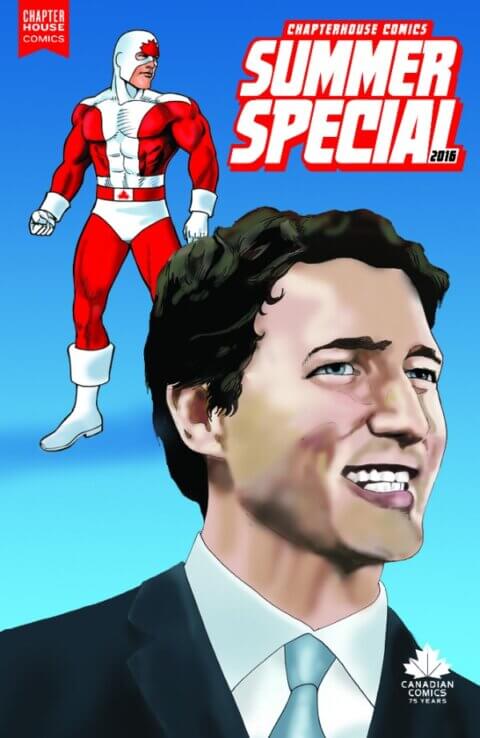 Public sentiment seems to be shifting. Recent data from Nanos and Abacus show that the federal Liberals are starting to slip in the polls. Trudeau's large cabinet shuffle at the end of July seems like an attempt to shift the narrative. One has to wonder if an election is coming soon (despite the agreement that the Liberals have with the NDP that should prevent an election being called until 2025). Perhaps the Trudeau government has reached the end of its shelf life. In Canada, parties tend to get voted out (rather than in), after lingering around for approximately a decade (just like Stephen Harper, Jean Chrétien and Brian Mulroney in decades past).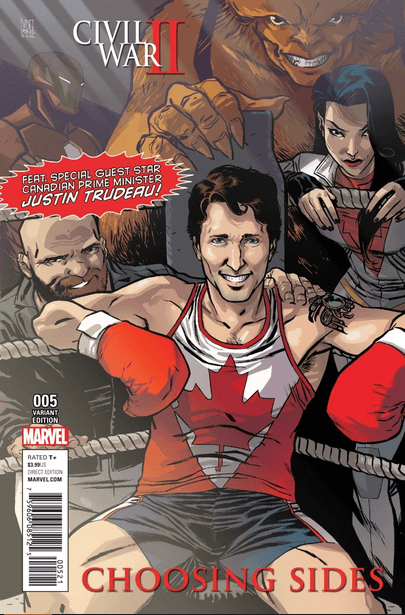 In the past couple of years, countless pundits have compared our current inflationary environment to the mid-to-late 1970s, while also comparing our housing crisis to what happened in the 1980s. These are not perfect analogs, though there are certainly some overlaps. A Trudeau was Prime Minister, inflation was out of control and people were suffering. That doesn't mean that such comparisons are necessarily valid. Back then then national debt was front and centre, immigration was stable and unemployment was high.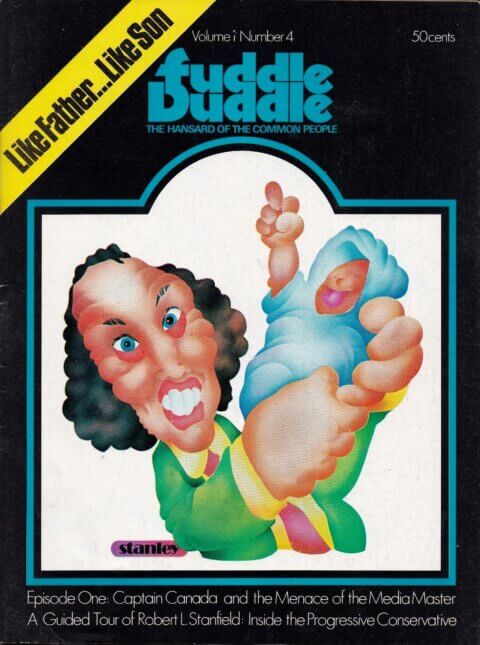 With how I have been feeling about Canada lately, I decided to dig deep into my files to see if I could find any interesting parallels to what is going on today in Canadian comics from the late 1970s and I actually stumbled across some things from 1979 that are strangely similar to what we are experiencing today.
---
1979 was an election year. By this point, Pierre Elliott Trudeau had been Prime Minister for around eleven years. In 1978, it became obvious that support for the Liberal Party was waning. Trudeau's party lost a series of by-elections and he waited for as long as possible to call the 1979 federal election. The British North America Act legally mandated that a federal election would occur every five years and the election was called with only two months remaining before the deadline.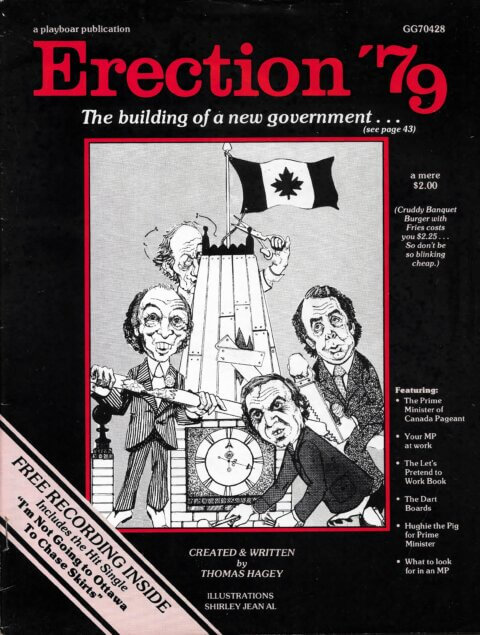 The Progressive Conservatives were led by Joe Clark who had taken over from Robert Stanfield in 1976, when he was only 36 years old. Clark's rapid rise from being a relatively unknown politician to leader of the Official Opposition in the House of Commons led to him being branded with the nickname "Joe Who?" for a number of years. Despite this, his political fortunes continued to rise as he embraced populism in an era where the average Canadian saw their economic fortunes rapidly declining. The Trudeau government seemed more and more out of touch with the economic reality of the citizenry and was instead focused on constitutional reform. High inflation and high unemployment made the sitting Liberals increasingly unpopular. Clark's Progressive Conservatives campaigned around pocketbook issues and he famously declared, "A recession is when your neighbour loses his job. A depression is when you lose your job. Recovery is when Pierre Trudeau loses his job."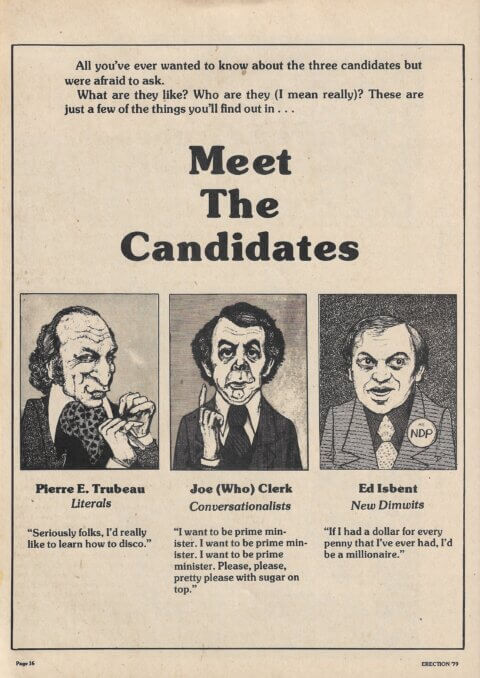 Despite all of this, Clark's Progressive Conservatives were deeply unpopular in Quebec. When the election was held, the results were much closer than polls suggested. Clark came away with a minority government, but lost the popular vote by four points. Regardless, he was sworn in as Canada's youngest Prime Minister on June 4, 1979. Unfortunately for Clark, his minority government status meant that he had to rely on the Social Credit Party or the NDP to govern. The six seats that the Social Credit Party had were just enough to give Clark a majority coalition, but he refused to give them official party status and lost their support.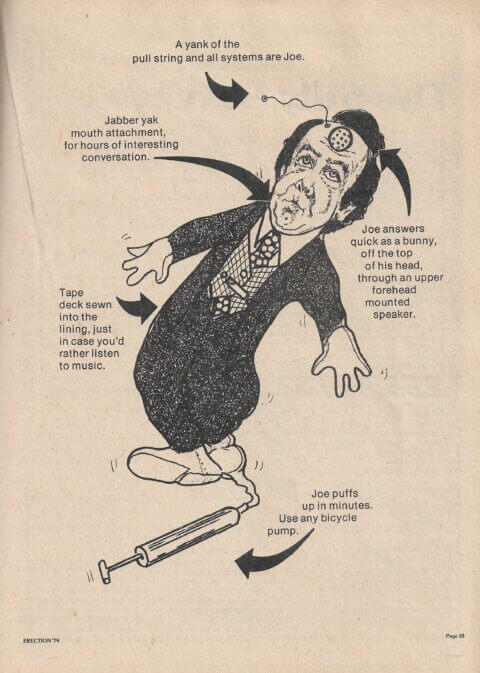 Trudeau briefly resigned as leader of the Liberal Party. Yet, before a leadership convention could be held, Trudeau masterfully combined forces with the NDP to reject the Clark government's budget in February 1980. Legally, this was considered a non-confidence vote and triggered a new election. Trudeau handily won a majority in the 1980 federal election and would remain Prime Minister until 1984. Trudeau's constitutional reform would come to pass in 1982 via the Charter of Rights and Freedoms, but the Canadian economy continued to suffer and the populace had tired of the Liberal Party by the time he left office (having been Prime Minister for most of the previous sixteen years).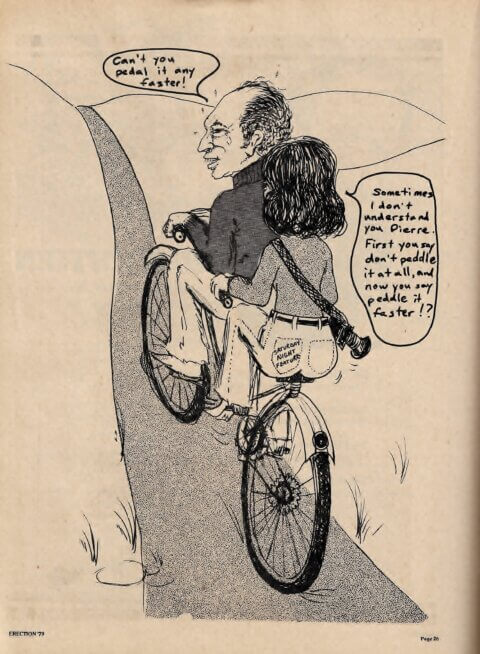 ---
At least one political advocacy group produced a comic book to try to promote its agenda ahead the 1979 federal election: the Canadian Federation of Independent Business (CFIB). The CFIB was founded in 1971 by John Bulloch, a small business owner and professor at Ryerson Polytechnical Institute (now Toronto Metropolitan University). Bulloch had previously formed the Canadian Council for Fair Taxation in 1969 as part of a protest against the "White Paper on Taxation" proposed by Trudeau's first Finance Minister, Edgar Benson. Benson's white paper would have increased taxes on businesses by as much as 50%. This was extremely unpopular among the business community and the white paper was ultimately withdrawn. However, Benson continued to engage in tax reform and ultimately succeed in bringing in the capital gains tax in 1971. The CFIB found its roots in all of this.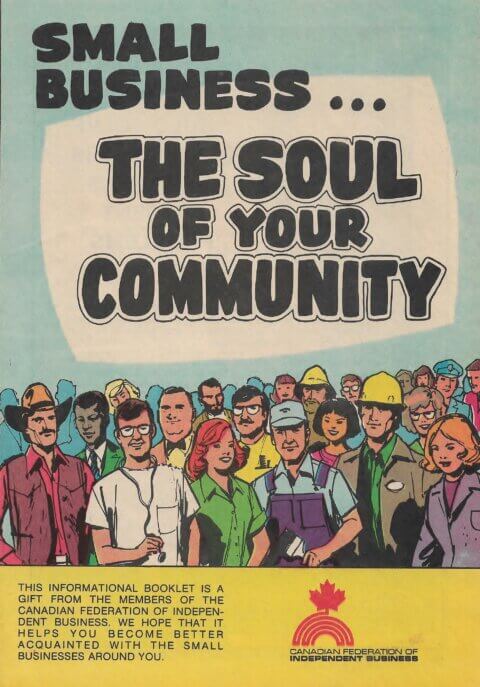 By 1979, the CFIB had grown substantially. The 1979 election provided it with an opportunity to advocate for protections for small and medium sized businesses that were being crushed by the economic reality of Canada at the time. As part of this, they produced a giveaway comic book called Small Business…The Soul of Your Community. The comic was created by Delta Web Graphics of Toronto (which happened to be a CFIB member). The comic serves to promote the importance of small businesses for preserving communities across Canada, while being highly critical of bureaucracy, government overreach and taxation.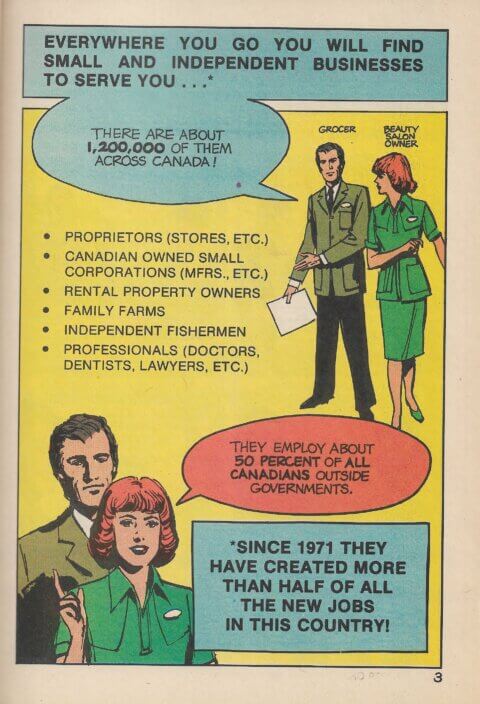 I have long had a love-hate relationship with the CFIB. As a small business owner, I understand and appreciate the non-profit's role in advocating for the interests of small and mid-size enterprises across Canada. However, I have long disagreed with many of the organization's policy positions, such as those that endeavour to gut the social safety net, its attempts to prevent increases in minimum wage and, more recently, arguing that the pandemic era Canadian Emergency Response Benefit (CERB) was being used as an incentive to not return to work.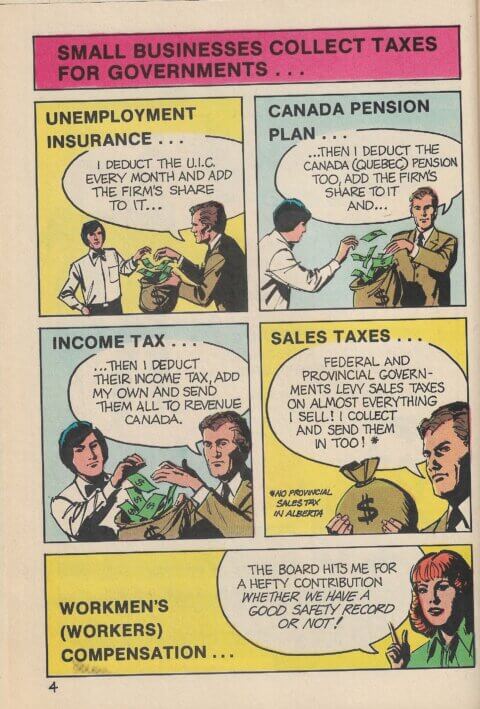 CERB remains controversial today due to evidence that it was misused and was rolled out poorly. The fact that the federal Liberal government tried to spend its way out of the crisis while relying on Zero Interest Rate Policy (ZIRP) as an ideological crux contributed to the inflationary mess that our country currently finds itself in. Our central bank relied on ZIRP and engaged in quantitative easing to an unheard-of degree believing that it would stimulate the economy, not recognizing that ZIRP was instead leading to asset bubbles everywhere (including in collectibles markets!). Most other wealthy nations followed a similar path.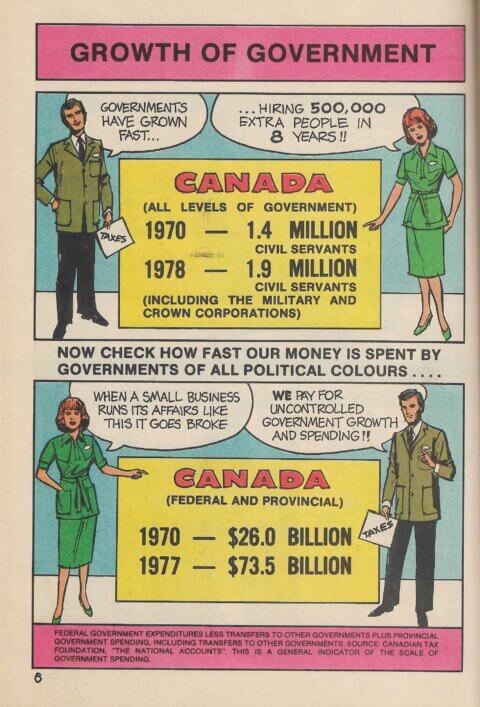 Despite the fact that I am not a fan of the CFIB and do not agree with many of its policy positions, Small Business…The Soul of Your Community presents an interesting time capsule from an era when businesses and consumers were being crushed by poor government economic policies and intense inflation. There are some very interesting parallels between what this comic was criticizing in 1979 and what is happening in real time in Canada in 2023. For example, the federal civil service has grown by 40% since Justin Trudeau was elected Prime Minister in 2015 according to data recently released by the Treasury Board of Canada. Much of that growth occurred since the beginning of the pandemic.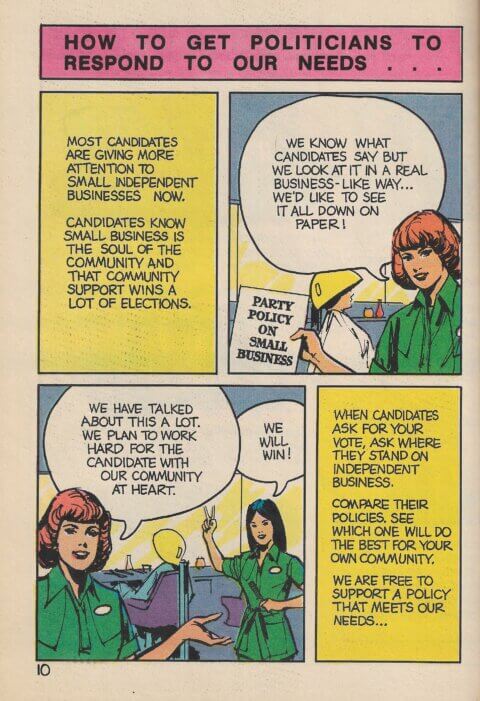 Of course, inflation was top of mind in 1979 and an entire page of the comic is dedicated to the topic. Their explanation is simplistic, but much of what is presented here resonates with how we talk about inflation today. This is especially true in terms of how high energy costs and food prices are affecting Canadians today, as well as the BOC's fear of a wage price spiral, which we see depicted in the bottom left corner of the page ("Where does it end? Where does it begin?). Plus, there is a criticism of the government trying to spend its way out of inflation underpinning part of the page.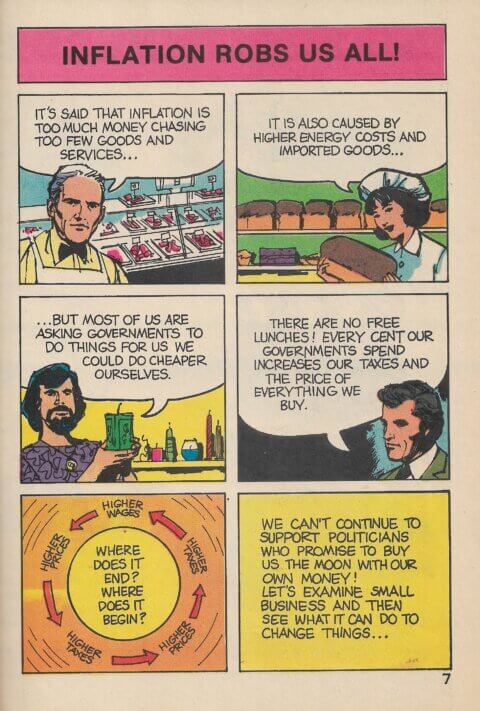 I think that it is quite clear reading this comic that the CFIB's goal is to get readers to vote out the Liberal Party. Indeed, the comic itself works to create a narrative around how independent business owners are (as the title says) the "soul of your community," but that this is under attack by the government of the day.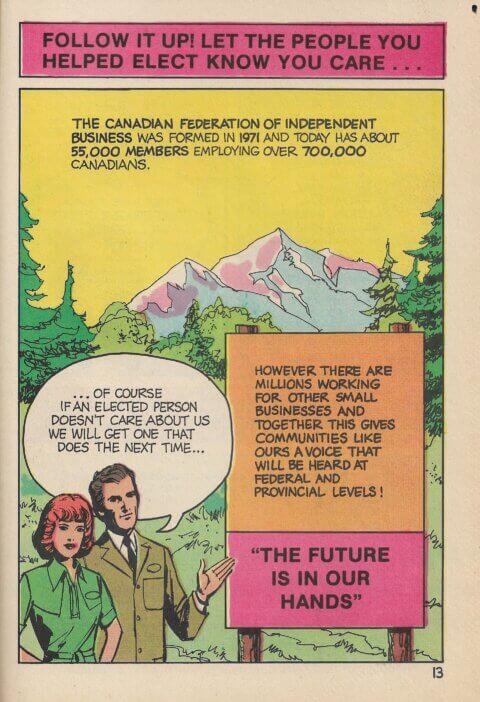 Of course, this sixteen-page giveaway comic glosses over the reality of complex macroeconomic forces at work. The CFIB's claims to be non-partisan then (and now) tend to be hard to swallow when pamphlets like this have a clear political agenda (and when the organization itself is clearly based around ideologically conservative policy proposals). However, the sense of frustration that is produced in this piece of sequential art is palpable and it resonates with me today far more than it did when I added it to my collection nearly a decade ago. I suppose, like many of my fellow Millennials, I have grown weary of working harder for less, fear that I will end up homeless, and am dreaming about change. However, as Erection '79 so poorly attempted to satirize forty-four years ago, the leaders of the major political parties leave a lot to be desired. That was true then and it's true today. Plus ça change.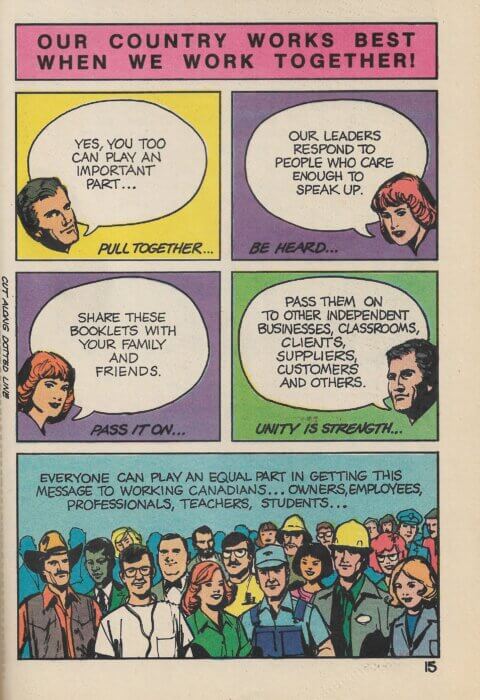 ---
Moving away from polemics, I am excited to announce that we will be hitting the road again in August and will be away for a couple weeks. Not only will we be attending the Dartmouth Comics Art Festival on August 13 at Alderney Landing for the first time since 2017. We will also be returning to Sussex, New Brunswick from August 18-20 for the NBAAC Giant Flea Market. Check out our Instagram and Facebook pages for more information and drop by to say hello if you are planning on attending either event. Hope to see you there!
If you can't make it to DCAF or Sussex, rest assured that I will be back with something completely different next month. We also have several other events coming up this Fall that we will be announcing soon.