Comic guy – "Walt, what books should I invest in"
Walt – "Beats me"
A variation of this exchange happens often, especially lately. The smart ones go undeterred by my rebuff, they realize that the wheels have to be greased and bring me a hot black coffee the next time they come in to broach the subject. After a few sips, I perk up and start singing them a tune. The tune I've been singing lately goes something like this, scarcity is the key but alone it is not enough. Scarcity can take on many forms, a book itself can be very scarce, grades of say, 8.0 or better could be very scarce for a book, a book may hardly ever come up with White Pages, and so on. The market likes to manufacture scarcity through things like price variants, cover variants, later printings etc. Not all scarcity is created equal so pick wisely. Also, watch for false scarcity, just because there are only 18 Daredevil #309s in 9.8 does not mean it is scarce in that grade. As I mentioned above, scarcity alone will not do, scarcity is more a supply factor, we have to look at some positive demand factors in the books we are choosing. There are many of those and I won't start into them in this post.
There are still plenty of eras, genres, and even specific issues we should be buying with confidence, the comic book hobby is too strong and to inviting to new collectors and investors, I'm going to be as active in it as I can be in 2023.
I'm back to the weekly sift through of the comic piles destined for the weekly icecollectibles eBay auctions, this week's stack was fun and included this great John Severin cover for Where Monsters Dwell #14. Inside are old Atlas reprints with Kirby and Ditko stories but Marvel treats us to a new cover, I liked it so much that I chose it as the cover of the week. Those picture frame 20-cent Marvels of 1972 always get me but the ones with the deep black covers leave me defenceless.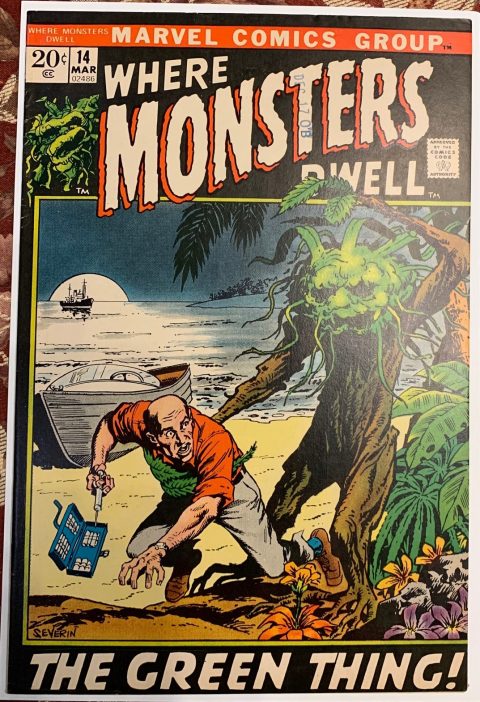 The ad of the week comes from Amazing Spider-Man Annual #9, the one with that great Spider-Man and Green Gobling cover that is a riff of ASM #39. Inside I found this ad for gainful employment. I think this ad would be a big hit even today, who wouldn't want to go live and work in "ManCountry" and look at those patches you get to wear on your uniform, and look at that hat, heck I even like the short sleeve shirt, and the cut of those slacks – come on. I like how one of the inticers is civic duty.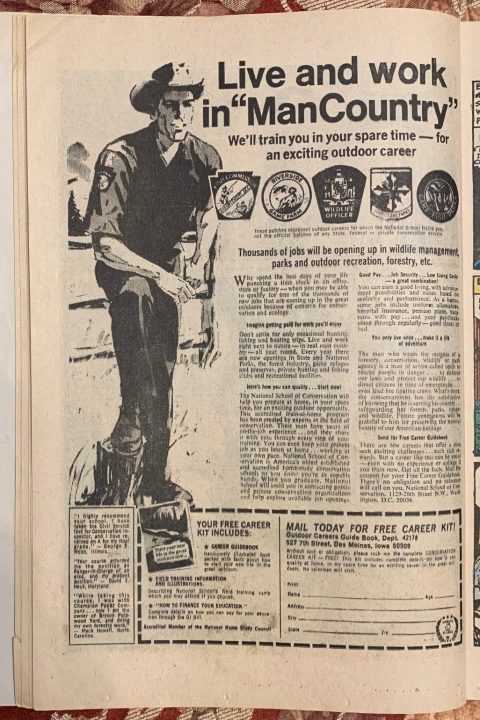 From Kamandi #2 we get this DC in-house ad for their upcoming Shadow series, I know it's an ad but I'm going to also call it my Splash of the week. I believe that is Mike Kaluta as it was Kaluta who drew the series (edit – Scott has corrected me in the comments field, that Wrightson art in the ad – even better!). That half splash at the bottom… strong piece!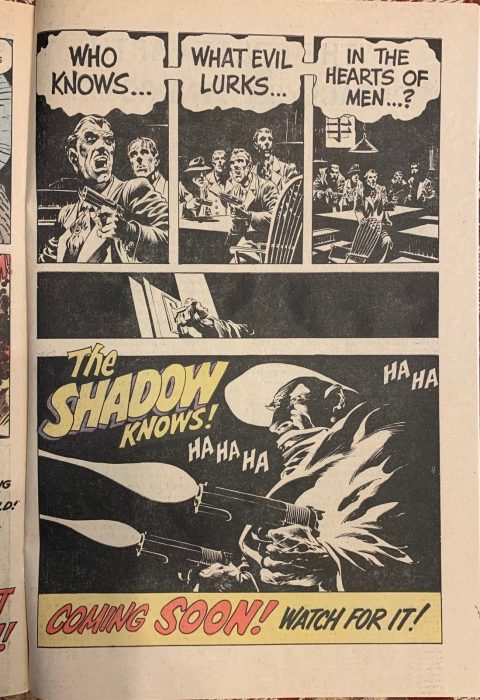 Our second weekly icecollectibles eBay auction of 2023 ended last night and I must say the buy of the night has to go to the lucky duck who picked up the Cheryl Blossom lot. These books are the type of books you had no idea you needed in your collection until this week when you saw them for the first time. Picked up for a song at $23 USD.