Comic books and other collectibles are generally not treated as serious investments in the world of finance. However, in 2020 and 2021 they became more interesting to investors who had access to large amounts of credit and who were looking to diversify their portfolios. Comic books, trading cards, sports memorabilia, autographs, video games, sealed VHS tapes, sneakers, vinyl records and rare alcohol are just some examples of the types of collectibles that became extremely hot items among speculators during the first two years of the pandemic.
Narrowing the discussion to comic books, key issues, as well as variant covers, had a bull run, unlike anything I have seen in my career as a dealer in 2020 and 2021. There was a speculative fervour that hasn't been part of the comic collecting hobby since the early 1990s. It was amazing how much certain books from various eras increased in value and we came to regret selling off some of our modern keys during the early days of the pandemic (hello Ultimate Fallout # 4). Then, in the middle of 2022, the wheels came off.
The comic book market has contracted over the past six months or so because comics are discretionary goods. This is true for all collectibles markets (with video games and sneakers being particularly hard hit in 2022). When people no longer have as much disposable income, they stop buying discretionary goods because they have to focus on necessities. Inflation has hurt demand for discretionary goods of all kinds.
In times of economic uncertainty, it makes sense to look at your collection not as an investment, but as a store of value. As such, rather than thinking about investing in a down market, I propose to readers that it is worth looking for comics that can act as a good store of value long term.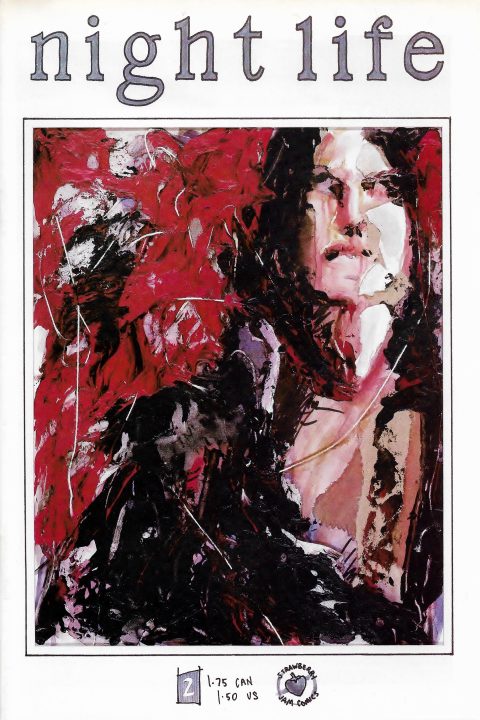 Most comics released during the Canadian Silver Age are not worth much. This comes down to supply and demand. There is either too much supply or not enough demand for the majority of these comics to increase in value dramatically over time. That's fine with me, as I love ferreting out cheap comics from the era. For example, I recently purchased several issues of the Strawberry Jam series night life and a couple of copies of Dave Boswell's Heartbreak Comics for a few dollars each. I don't expect these comics to ever be particularly valuable, but I enjoy adding these types of comics to my ever-growing collection of books from the Canadian Silver Age.
Even so, there are comics from the Canadian Silver Age that I see as good stores of value. These are comics that had low print runs, are culturally significant, and are continuously in demand. Such books are already hard to find and are already valuable, but may have room to grow in value over time. At the very least, they should maintain value in a down market.
Full disclosure: my wife and I own several of the comics on the following list. I despise people who try to use their platforms to "pump and dump" collectibles, which is clearly a conflict of interest. In what follows, I will note if we currently are holding individual books (which are not for sale).
---
8. Yummy Fur # 1 (1983; Tortured Canoe)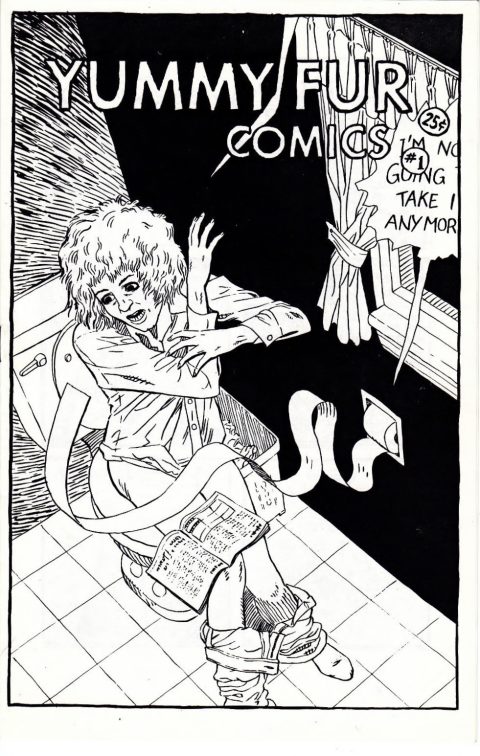 Chester Brown's first issue of his classic mini comic Yummy Fur debuted in July 1983 with only 150 copies printed. It had a second printing of another 150 copies in September of that year and a third and final printing of 300 copies in 1984. This rare mini-comic was not Chester Brown's first contribution to a comic, but it effectively launched his career. Yummy Fur would be picked up by Vortex in 1986 before moving to Drawn & Quarterly in 1991. Brown became one of the most important comic book creators in Canada during this time and his relationships with Joe Matt, Seth and Sook-Yin Lee have become part of the lore. Brown's magnum opus, the ten-issue series Louis Riel, is one of the greatest comic series ever released in Canada. Another of his comics, Paying For It, is currently being made into a film.
Finding any of the three printings of the first issue of the Yummy Fur # 1 mini-comic is a daunting task. Indeed, finding any of the Yummy Fur minis is nearly impossible. Chester Brown's earlier work (including stuff with Vortex and Drawn & Quarterly) has shot up in value during the past couple of years and has become more desirable over time. I do not own any of the original Yummy Fur minis, despite having had an opportunity to purchase a near-complete set in Ottawa many years ago (which I still regret). The few copies of this comic that I have tracked over the years have sold for over $100 CAD and they don't come to market often.
---
7. Les Aventures du Capitaine Kébec # 1 (1973; Les Éditions de l'Hydrocéphale Entêté)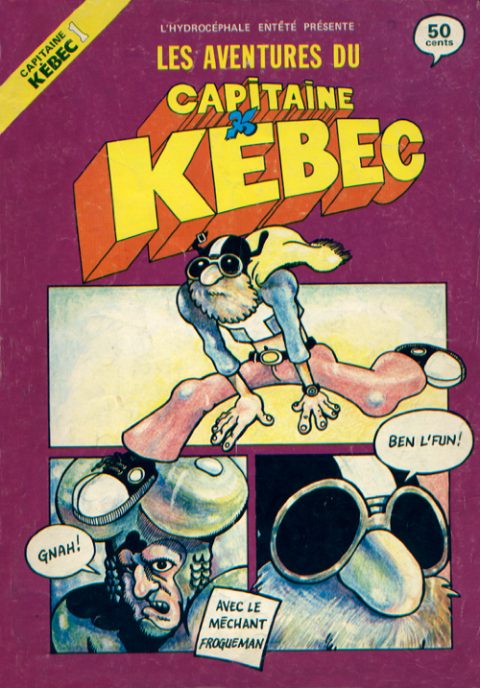 In 1972, a group of comic creators from Quebec established the "Coopérative des Petits Dessins." The group formed Éditions de l'Hydrocéphale Entêté and, in 1973, published what is arguably the most famous and most coveted of all of the comics released during the Springtime of BDQ: Les Aventures du Capitaine Kébec by Pierre Fournier. Members of the group would dominate the Quebec comic scene for the next two decades, but none of their characters had as much symbolic impact as this one.
Capitaine Kébec is unusual insofar as the character only starred in the single eponymous comic (while also making an appearance in the group's next comic) before essentially disappearing for nearly a decade. Nevertheless, the character became a key symbol of BDQ during the 1970s. As stated in Robert MacMillan's Encyclopedia of Canadian Animation, Cartooning, Illustration, "'Capitaine Kébec' like 'Captain Canada' is a story which takes the motif of the costumed hero as the embodiment of established values and attitudes, turns that motif upside down and uses it to question and criticize those same established values and attitudes…In 'Capitaine Kébec' the hero embodies the alternative values and attitudes and is attacked by an establishment villain." As such, Fournier's character comes across as an anti-establishment hero that is breaking away from the religiously conservative Quebec prior to the Quiet Revolution.
The comic had a sizable print run of 18,000 copies, which helped contribute to its success as a symbol of 1970s BDQ. What is strange is that, despite such a large print run, today the comic rarely comes up for sale. High-grade copies are extremely desirable and can sell for hundreds of dollars when they come to market. I am still on the hunt for a copy of this for my own collection.
---
6. V.D. (1964; Ganes Productions/G Educators)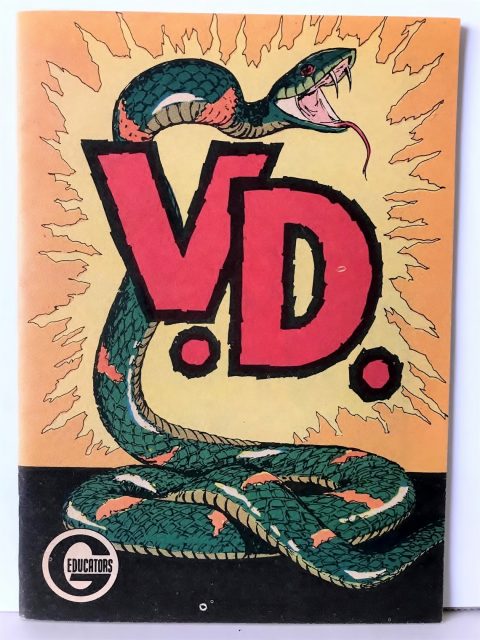 V.D. is the second of three minis on my list and is the earliest comic from the Canadian Silver Age that I recommend as a long-term store of value. It is also the only comic from the Giveaway Era that is on this list.
In this case, V.D. is an initialism that stands for "venereal disease," which was apparently too salacious a term for Canadians in 1964. Despite the striking cover, the comic is an extremely dated attempt at scaring young people into avoiding sex. It was created in collaboration with famed epidemiologist William Harding le Riche, who was a professor at the University of Toronto.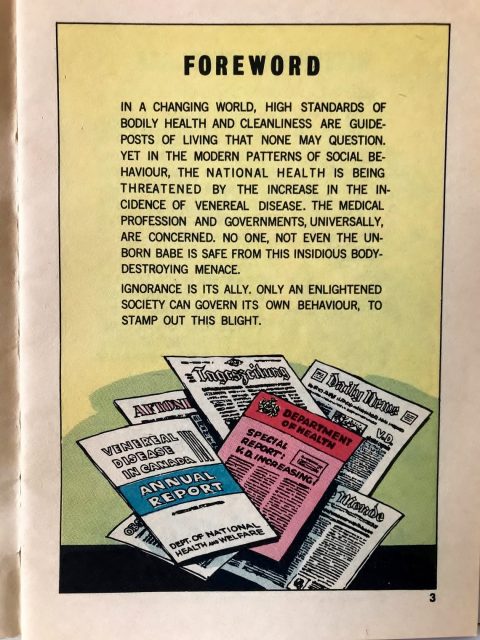 V.D. is an oddity among Canadian giveaway comics, as it is the only example of a sex education comic from the 1960s. These types of comics tend to be more collectible than other giveaways. The striking cover makes it so this one stands out more than any of the other comics that Ganes created during the 1960s and is featured in John Bell's book Invaders from the North.
I am not sure how large the print run was on this comic. I suspect a lot of them were produced, but just haven't survived. I have seen specimens of V.D. sell for as low as $100 CAD and for over $1000 CAD. I feel like the true value is somewhere in between. Either way, this comic is always in demand. I am still on the hunt for this one too.
---
5. Captain Newfoundland # 1(1981; Cosmic Comics)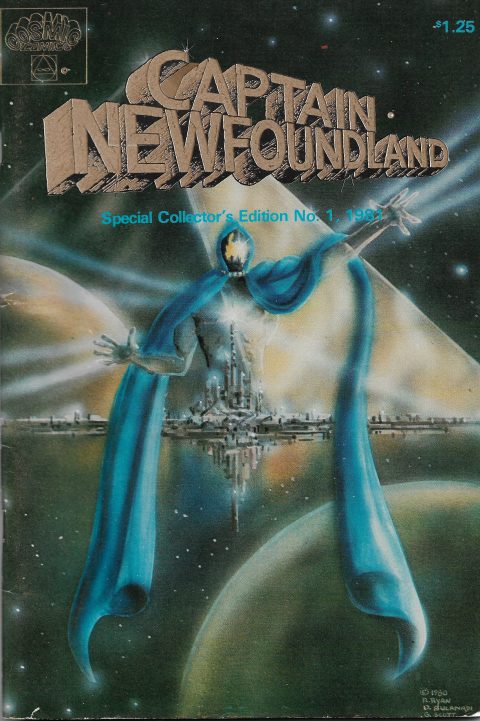 Captain Newfoundland # 1 is one of the true gems of the Canadian Silver Age. My two-part series about the character from March and April 2019 continues to be among the most popular columns I have ever written. I still receive fan mail about these columns on a regular basis. The three comic books in the series are extremely difficult to find and have only grown in popularity over the past few years.
The original artist, Danny Bulanadi died in November last year. He had been working on new Captain Newfoundland material at the time, which is unfinished, but according to Jesse Stirling may be released in the future. The character was also highlighted in a story by Rhea Rollman for Xtra magazine in September last year.
I was fortunate to acquire a copy of Captain Newfoundland # 1 for $100 CAD in 2018. I have also owned several copies of its sequel Atlantis over the years (I paid $73 CAD for the one I currently have back in 2017). I am still on the hunt for a copy of the third comic in the series The Legend of Captain Atlantis, but have a few leads. It has been a couple of years since the last time a copy of Captain Newfoundland # 1 came to market and it sold for almost $500 CAD at the time. I am aware of copies of Atlantis and The Legend of Captain Atlantis that sold recently for over $100 CAD each too. All three are good stores of value, but the first issue is one of the most important of the Canadian Silver Age.
---
4. Elflord # 1 (1980; Nightwynd)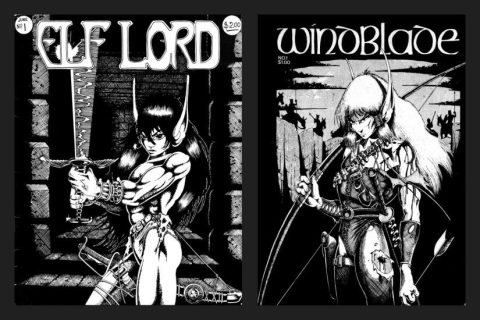 Despite the fact that this month marks the 13th anniversary of Barry Blair's death, his comics continue to be among the most influential works to come out of the Canadian Silver Age. Long before Blair was running Aircel (or creating adult material later in his career), he was prolifically self-publishing magazine-size comic series like Samurai and Elflord in Ottawa from 1980-1982.
I wrote about some of the high prices achieved for these early Nightwynd releases in May 2021, after several issues of Elflord and Samurai came to market and sold for record prices. This was during the time when comics were experiencing rapid price increases as the pandemic collectibles bubble was swelling. Issues of Samurai were selling for as much as $1,000 CAD each, while Elflord issues were selling for hundreds a pop.
Since I wrote that column, several more Elflord comics have come to market, but have not sold. The eBay seller in question has been trying to offload three different issues of Elflord since October 2022, for between $1,200 and $1,500 CAD. The asking prices of these Elflord comics are so much higher than any known sold examples that the prices are laughable. I worry that the seller read my article last year and ended up with stars in their eyes.
Regardless, the first issue of Elflord continues to be a good store of value. It had a print run of only 500 copies and effectively launched Blair's career. Copies do not come to market often but tend to sell for $300 to $500 CAD.
Blair's Nightwynd comics are always worth buying for the right price, but sellers need to have more realistic expectations. For example, I know of two examples of Windblade # 1 that came to market last fall. One sold for $175 CAD on eBay, while the other one was for sale at the Big Country Comic Expo in Fredericton, but I am not sure if it sold. I do not own either of these comics, but I do own a couple of other issues of the Nightwynd Elflord series.
---
3. Dirty Plotte Vol. 1 # 1 (1988; Julie Doucet)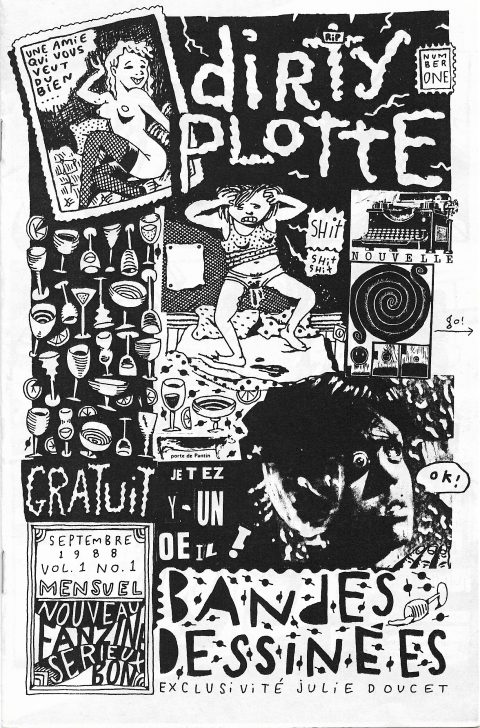 In 1988, Julie Doucet had dropped out of school and was working part-time at a copy shop. By this time, she had already contributed to the Montreal underground series Tchiize! bis and was known around the local comix scene. Having access to a photocopier at the copy shop allowed Doucet to print her first mini-comic, By the Way, but her second mini, the ground-breaking first issue of Dirty Plotte, would change comics in Canada and abroad forever.
It is unknown how many copies of Dirty Plotte # 1 Doucet distributed, but I assume that it had a very low print run, especially considering that she distributed this first issue for free. The first volume lasted for twelve issues but went mostly unnoticed until Robert Crumb published one of Doucet's stories in Weirdo # 26 in 1989. Afterwards interest in Doucet's work increased rapidly. She published four issues of Dirty Plotte's second volume (which were also minis) before reprinting her comics for Drawn & Quarterly beginning in 1991.
Dirty Plotte is one of the most important examples of autobiographical feminist comics ever released and is a hallmark of the late Canadian Silver Age. The fact that it is still widely read and discussed today is a testament to its lasting impact. Issues of the original mini are quite rare. I was fortunate to purchase a small collection of these way back in 2016 and have not had an opportunity to purchase more since. In today's market, I would expect an original Dirty Plotte # 1 mini to fetch as much as $500 CAD.
---
2. ACA Comix # 1 (aka The Death's Head Knight; 1971; Moppett-Byrne Productions)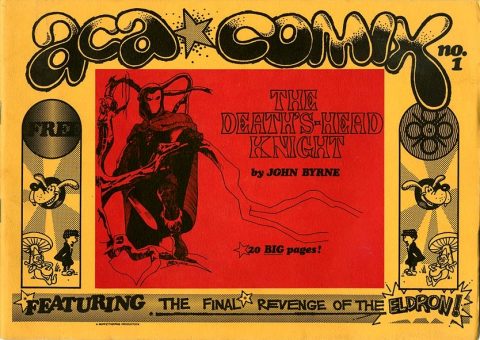 John Byrne is one of the most important comic creators of all time. His run as the artist on ­X-Men with writer Chris Clairmont is legendary and helped bring the characters into the mainstream. Byrne gave us Alpha Flight too, as well as the fourth-wall-breaking version of She-Hulk. He also had important contributors to Fantastic Four, Superman and a myriad of other well-known comic series over the past fifty years.
So how does a comic by a British-born American comic artist end up as one of the most important of the Canadian Silver Age? When Byrne was eight years old, his family emigrated from England to Canada. As a young man, he enrolled at the Alberta College of Art and Design in Calgary in 1970, where he drew comics for the student newspaper. In May 1971, Byrne published his first comic book, ACA Comix # 1, as part of a student exhibition for the college. The comic had a print run of 500 copies and has become one of the true holy grails of the Canadian Silver Age. The comic guides for $2,500 USD in NM and rarely comes to market.
I have never seen a copy of ACA Comix # 1 in person, though my colleague Victor Marsillo owned one more than a decade ago and once told me that he regretted selling it. There are only four graded specimens in the CGC Census with the highest two being graded 8.5 VF+. Despite its rarity and significance, it is often overlooked by collectors and continues to be a lesser-known book.
In November 2022, a signed, low-grade specimen sold through Heritage for $1,440 USD. This is a comic that continues to achieve great numbers when it comes to market.
---
1. Cerebus the Aardvark # 1 (1977; Aardvark-Vanaheim)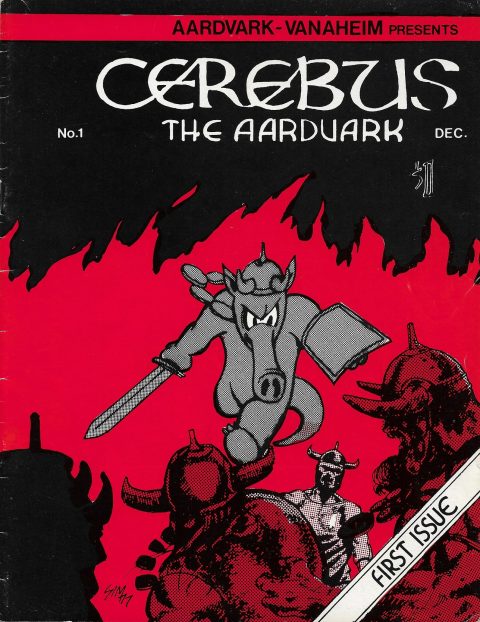 Regardless of how one feels about Dave Sim, this is without a doubt the most important comic book from the Canadian Silver Age. In fact, it is one of the most important books from the America Bronze Age too according to Overstreet, which ranked it at # 7 on its list in 2022 (tied with Scooby-Doo # 1 and Tomb of Dracula # 10). The comic currently guides at $5,000 USD in NM and was a catalyst for the black and white comics boom in North America during the 1980s.
Without Cerebus # 1 there is no Teenage Mutant Ninja Turtles. Without Cerebus # 1 Todd McFarlane doesn't strive for Spawn to surpass three hundred issues. Dave Sim was the biggest "rock star" in indie comics at the height of his popularity and everyone who was creating their own comics was inspired by him and wanted to be like him. The legacy of this comic cannot be understated.
My wife purchased an authentic signed copy of this comic for $160 CAD at a flea market in 2016. It was an incredible find then and we are fortunate to own it (though we have been tempted to sell it a few times in recent years).
It is hard to know what the ceiling for this book is. At one time, Overstreet considered it among the top books from the American Bronze Age, but it has since been surpassed by books like Incredible Hulk # 181, Giant-Size X-Men # 1 and Werewolf By Night # 32. Sim is a polarizing figure and the popularity of Cerebus has waned over time.
There are an astonishing 340 copies listed in the CGC Census (with the highest graded being a lone 9.6 NM+). There are also a number of fakes on the market. The authentic comic had a print run of only 2,000 copies, but the number of fakes on the market is unknown. Several years ago, Dan Bryantowich and I put together the quintessential guide to spotting a fake Cerebus # 1, which you can read here.
Several slabbed specimens sold through Heritage in 2022. A CGC 5.0 VG/FN sold on March 13 for $3,360 USD; A CGC 8.0 VF sold on April 3 for $8,160 USD; and a CGC 6.5 FN+ sold on June 5 for $3,720 USD. Any way you slice it, Cerebus # 1 continues to be the most coveted comic from the Canadian Silver Age.
---
I hope that everyone enjoyed this month's column. It has been a long time since I provided any sort of market analysis, but numerous people have been asking me about what books are worth investing in lately. As there is a possibility that collectibles markets will correct (if not crash) this year, I recommend looking for comics that will be good long-term stores of value if your main interest in comics is as an investment.
Though some people in this hobby hate speculators or investors, as a dealer I have always tried to cater to all types of buyers. That said, as a cultural historian and enthusiast I am much more interested in comics as more than investment assets. I am just as happy to add some inexpensive issues of night life to my collection as I am to source rare and expensive books.
Next month I will return to the historical analysis that many readers have come to expect. See you then!