I was going through this week's "heading to eBay auction" pile and was having fun looking through stacks of Jiggs and Maggie, Nancy and Sluggy, Black Hood, Steel Sterling and other cool and obscure characters of yesterday. It dawned on me just how many characters have come and gone in the ninety years of comic book (modern format) history. Is it safe to say there are more long-forgotten comic book characters than there are in current circulation? What would it take to resurrect some of these? I remember three or four years ago Marvel tried to revive the old Timely characters Ziggy Pig and Silly Seal; I'm pretty sure the project was a dud. How can you know what old characters might just need a little dusting off, a little updating of the wardrobe and haircut, and a little nudge back into the limelight?
I know the guys at Comic House have taken on the old Lev Greason stable of characters. I wish I'd known I would write about this a week ago rather than a minute ago, I'd have contacted them and asked them how things were going. Can anyone come up with good examples of an old and forgotten character being brought back to literary life through comic books? I'm not talking Guardians of the Galaxy, I'm talking Silly Seal.
I'm just broaching the topic to get us thinking of all that has come before and somehow faltered and disappeared and realizing that a good portion of the characters we know and love today will meet a similar fate.
Happy President's Day to our US neighbours; up here in Ontario it's Family Day so I thought I'd honour the day with a tribute to married life. Such a great sight gag on the cover of Jiggs and Maggie #16. It's obvious to me that the Tiger is married too…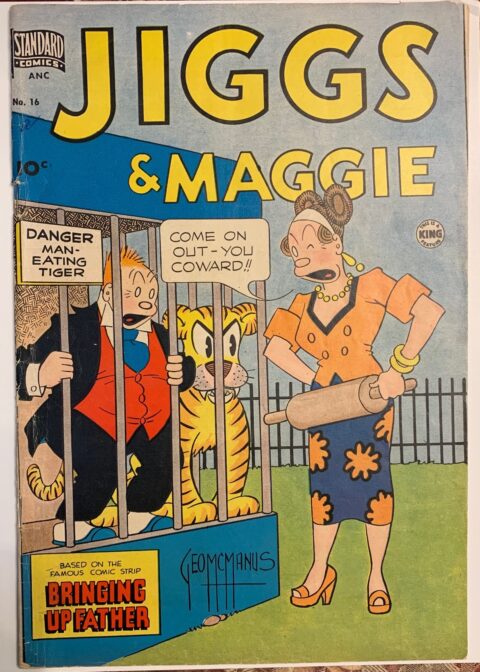 Our Spash of the week comes from Red Circle's Black Hood #2, a backup feature called the Fox was drawn by the great Alex Toth. This piece has a certain easy style to it; the whole thing just works visually.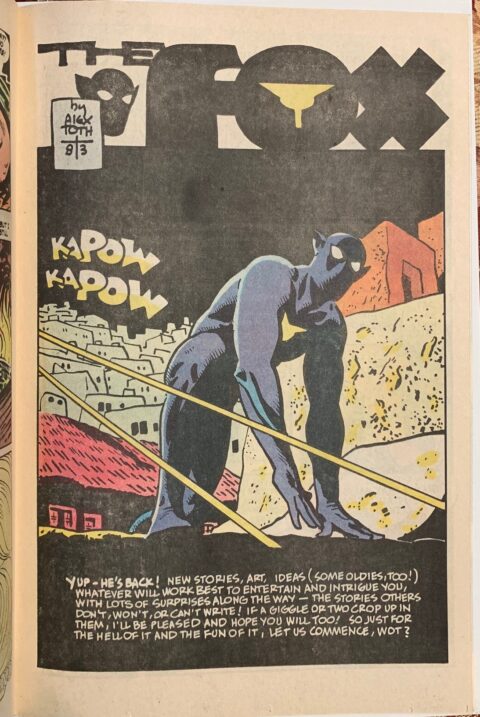 I had to leaf through Tip Top #174 from 1952 to find this little gem of an ad. The top ad is for Double Bubble chewing gum. When I saw the ad I immediately harked back to an episode on Comic Culture that's at least 10 years old: this is the episode I got Chris good, he could not stop laughing and never really gained his composure after my little joke. Around the time the movie Battleship hit the theatres I did a bit where I told Chris a list of other old pop culture products being considered for new movies. Among them was Double Bubble, a film about two coeds that blew their way through college… mic drop. Did you know Double Bubble goes way back to 1928? Think of all the degrees this gum has helped earn.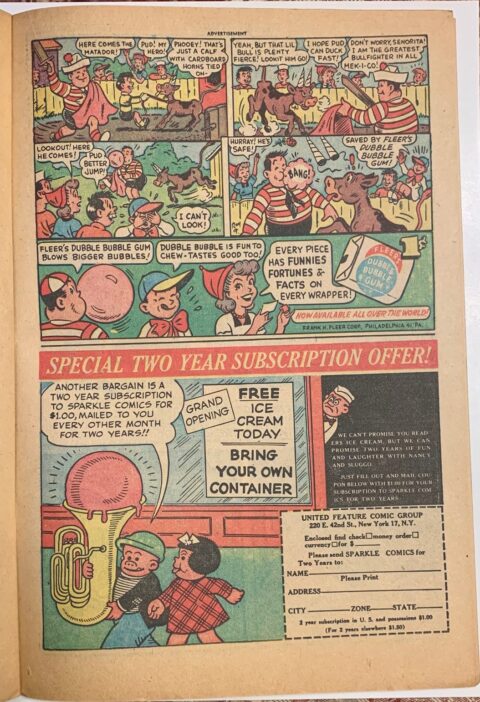 This week's icecollectibles eBay auction had some interesting results. I paid extra attention to Archie Comics #27: our copy being a CGC 5.5, I wanted to see how it did because we've been discussing Romance books versus Humor versus Good Girl Art. The book closed at $252.60 USD: back in November a CGC 6.0 sold for $308 which puts our sale on par and more importantly indicated a bit of stability in the market.