I did a social faux pas over the weekend. My good friend Mike Huddleston was down for a visit, bringing me coffee and donuts and some comics I'm deeply thankful for. Mike told me and Shekky a joke and I kind of didn't hear the punchline, or I thought I heard the punchline, but I didn't get it. Like an akward type I laughed and Shekky laughed and Mike laughed, we all laughed. I'm not sure how many seconds pass before you just can't get yourself to admit you didn't get the joke but obviously I laughed for well past that limit because I kept up with the charade and not liking myself for the rest of the weekend, so I thought I'd come clean here in this post. Next time you come down Mike can you please explain that joke to me.
Mike's donuts were great but even better were the comics he brought down. Below is a pick of two I'd like to discuss. Mike knows I'm going after the Marvel November 1971 set that has now expanded to other months, as long as it is the bridge 25 cent book that serves as the transition from the 15 cent comics to the 20 cent comics. If you'll note the date they are both November 1971 yet they are both 20 centers meaning Marvel jumped the gun on these two. Mike seems to think there are a couple more like this but we couldn't nail down the issues. Needless to say these now hold a special place in my November 1971 collection. Thanks Mike!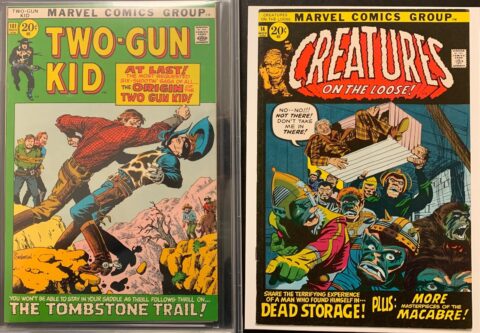 What a great stack of books heading to eBay auction next week, I had a blast going through these. When I saw Western Gunfighters #14 I was just enthralled, it has a striking cover. The Steranko cover hits me in three waves, first the glowing red background then layered on that are horses and riders and to cap it off we get the forefront with the skull, the snake and the warning sign, combine them all and the cover is better than it should be and then to top it all off put it in one of those 20 cent Bronze Age Marvel frame covers, I want it!!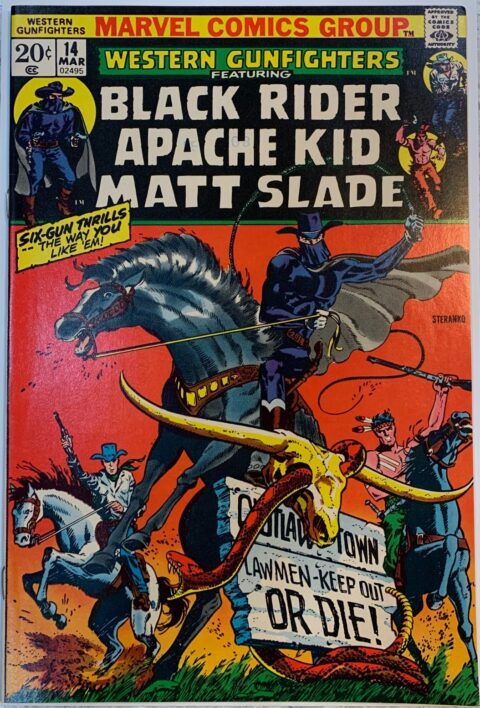 I obviously spent way too much time looking through this Western Gunfighters #14 because my ad of the week comes from it. The ad features the Adventures of Corgi Boy. I'm not a toy guy but I have seen the shop buy old Corgi cars in collections. These old Corgi toys are collectibles though I don't remember any having crazy high prices. Thes early 70s toys reminded me of the Mego toys from the same era and how both the Corgi and the Mego formats somehow fell out of favor after the Mattel and Hasbro stuff started conquering the toy market in the late 1970s and through the 1980s. If I knew more about toys I'd try to explain it all to you, maybe its lucky for all of us that I don't.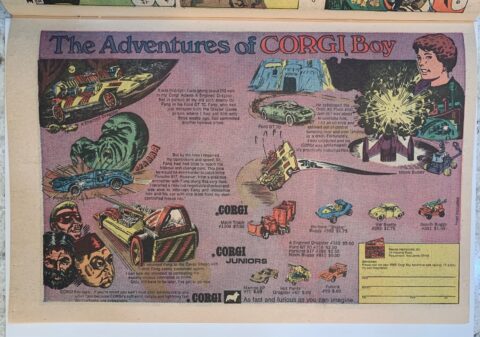 My splash of the week comes from that crazy mind of the great Jack Kirby. For some reason though this two page splash from Forever People #4 reminds me of the Bizarro cartoon in the weekend paper. You know the Bizarro cartoons where every week the artist hides a flying saucer and piece of pie a bird and something else somewhere in the picture. Looking at this splash had me searching out the piece of pie. Wonderfully imaginative stuff from the master.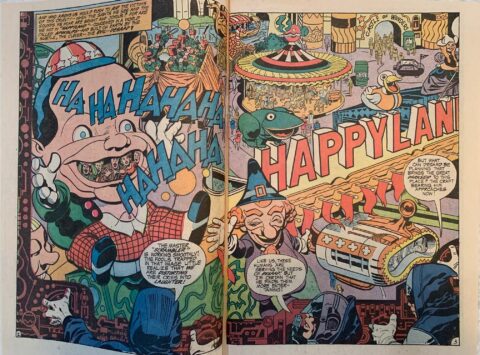 Some interesting results from our internationalcollectiblesexchange weekly eBay auction with ended last night, check out this great result for some Bronze Age Marvel romance books. Three raw issues of Our Love fetched $107.50 USD exceeding my expectations. I need to do a Romance Comics themed auction like I did with the Canadiana one a couple of weeks back.