Nothing beats good data. Good data analyzed properly can provide opportunities, if not for profit then at least it might stop you from doing something stupid. Speaking of doing something stupid, I've done a quick analysis of five Amazing Spider-Man keys in hopes of spotting a pattern. While good data is great, no data is probably the second best for you, that way you know enough not to make any rash decisions. What I'm about to provide is very limited, perhaps even out-of-context data and that is the most dangerous of all. It's just a fun little exercise and I'm afraid it may not be enough to base any decisions on, though it could be the start of a deeper dive that might bear fruit. I'll leave that to you.
The five key issues of Amazing Spider-Men I looked at were #1, 14, 50, 129 and 194. I chose these because everybody wants these issues and they are all heavily traded so the data should be more accurate. I chose the highest grades that had fresh 2023 sales, then I took the last sale result and compared it against the historic high (set during the pandemic price spikes). Here's what I found:
Amazing Spider-Man #1, CGC 7.0
High – $44,862
Last Sale – $30,000
Drop Off – 33.1%
Amazing Spider-Man #14, CGC 7.5
High – $7,212
Last Sale – $5,280
Drop Off – 26.8%
Amazing Spider-Man #50, CGC 8.5
High – $7,865
Last Sale – $4,440
Drop Off – 43.6%
Amazing Spider-Man #129, CGC 9.8
High – $57,000
Last Sale – $31,200
Drop Off – 45.3%
Amazing Spider-Man #194, CGC 9.8
High – $5,760
Last Sale – $3,157
Drop Off – 45.2%
So these Spidey keys have given back quite a bit of their gains: the question is have they bottomed out? I noticed the almost exact drop-off for issues #50, 129 and 194. I'd like to revisit these same issues in the fall and see where they will be.
I've attacked a new pile of books headed for our weekly icecollectibles eBay auction. This half-splash from Avengers #59 caught my eye. Forget Stan the Man, in 1968 John Buscema was the Man! Buscema was a monster in this time period, producing his best work and impressing the hell out of me. I love the line from Hawkeye – give me one good reason not to drop this chump! Love, Hawkeye, love is the good reason.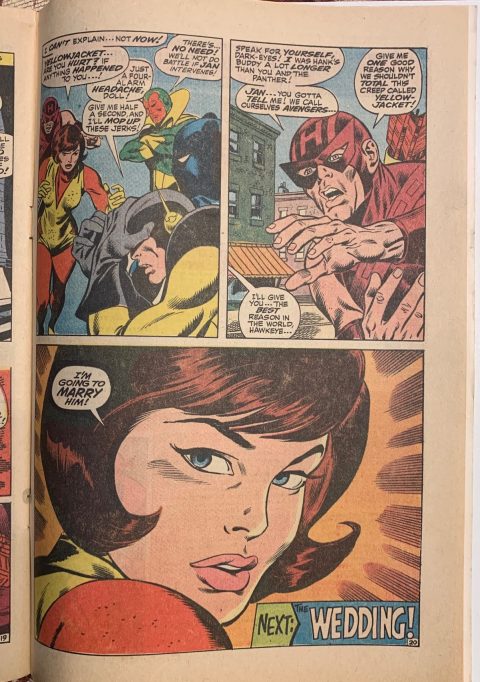 Less is more sometimes and that's why my cover of the week goes to Sy Barry's The Phantom #27, (December 1967). The redhead, the gun, the black cover with the yellow flashlight circle: it works and I like it.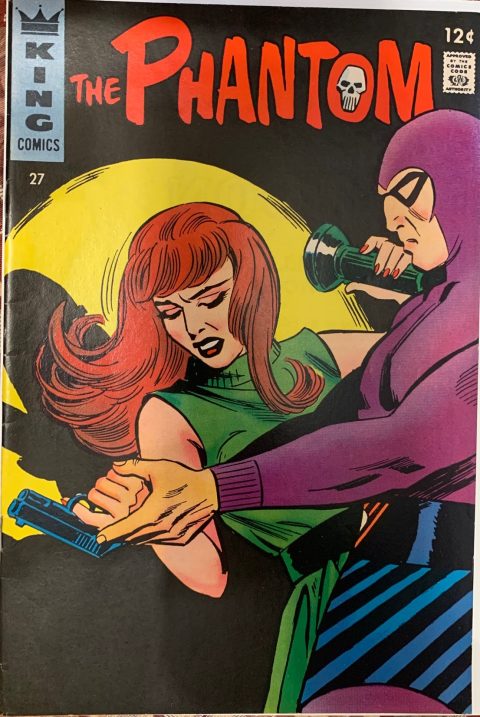 Do kids still go fishing? Are there still little Opies running around? Would an ad like this even make sense today? This ad comes from the back of Magnus Robot Fighter #15 from August 1966. This was a different time when kids would leave the house on a Saturday morning and not come back 'til dark! I went fishing once but never took to it but when I was younger I knew a bunch of kids that would walk down to the harbour with their fishing rods, maybe they got the rods from ads like this one.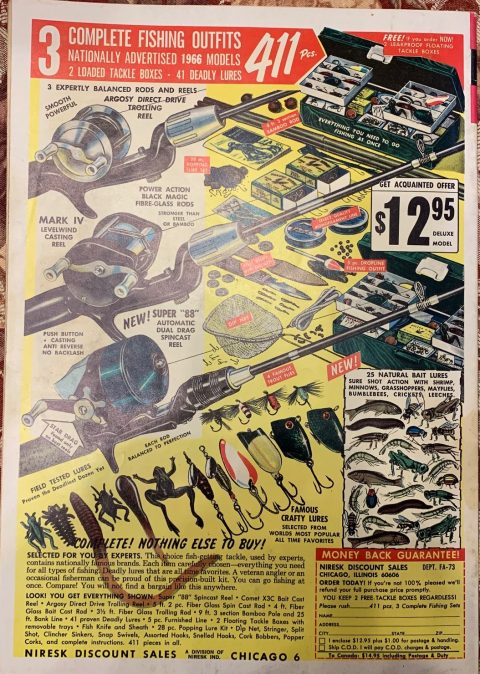 Last night's icecollectibles weekly eBay auction ended with raw books looking very strong: a copy of X-Men #3 I graded as a 4.5 fetched $480 USD. I always used to get this book mixed up with X-Men #1 at first glance until my eyes caught sight of the Blob. The Blob never made it as any kind of villain of note; maybe if they put a t-shirt on him…