Happy Valentine's Day. It's mid-February and the cold still has a nice bite to it. I love a crisp cold minus 10 day if it is sunny and clear; hate those dreary grey cold days! I hope everyone enjoyed the game last night: I was cheering for the underdog, glad I didn't bet on them though.
I had a great time going through next week's eBay listings. I'm trying not to force anything, if something interesting catches my eye I will note it on a paper and at the end, I'll pick the four or five things that I found more interesting. I was counting the pages and checking for coupons on a Marvel Premiere #28, the one with the great Legion of Monsters cover when I saw this ad. Huh? Is this real? Why don't I know everything there is to know about this? I honestly do not remember this ad as a 12-year-old and I'm certain I've never heard any of these songs. Am I the only guy who sees Stan as a guy that liked show tunes…? Does anyone have this album? I want one!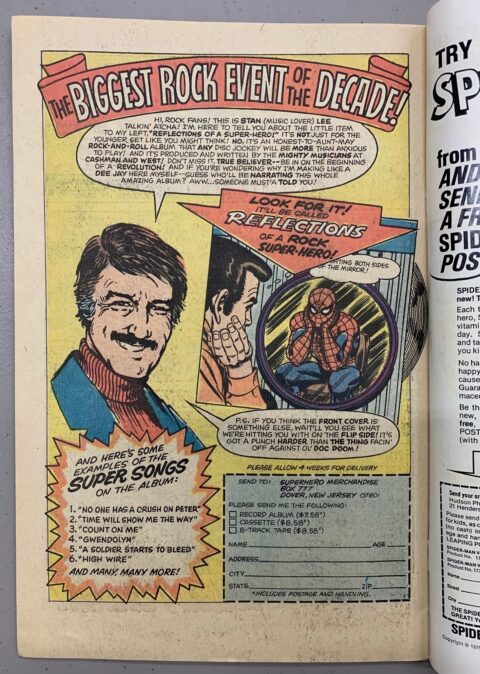 Do you all remember Mr. Clippings from a few months back? He was the guy that brought me all those ad clippings, the ones that he cut out to remind himself of books he needed to pick up. Well, now I might have to change his name to Covers Malone because last week he brought in a smattering of loose Golden Age covers. I have to thank the comments field for putting me on to those cheesy World's Finest covers: look at the cover to #30!!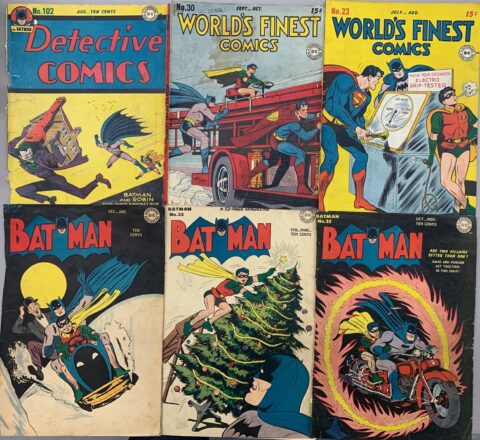 My save of the week has to be the US1 #1-12 complete set from 1983 to 1984. I was writing this lot up when I noticed the great covers and then I dug a little deeper and discovered that this title has the first appearance of Mary McGrill, waitress at Short Stop Diner by night and the villainess Midnight by the other part of the night. Midnight has a mind-controlling bullwhip, which, by the way, is the only kind I thought there was!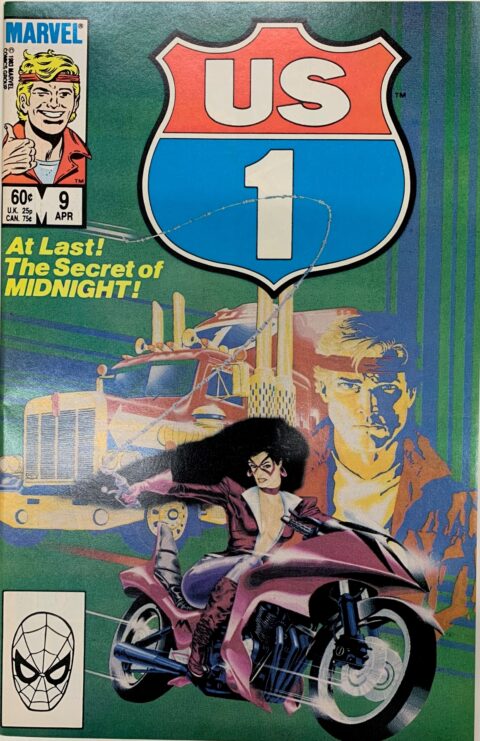 So the big game is on last night and I'm checking the condition of a second print Batman #608 when I spy the back cover ad for milk with Mr. Super Bowl ring himself, Tom Brady. Tom has seven as of this post but back in 2002 he had just won his first and was fast to cash in on the win; good for him.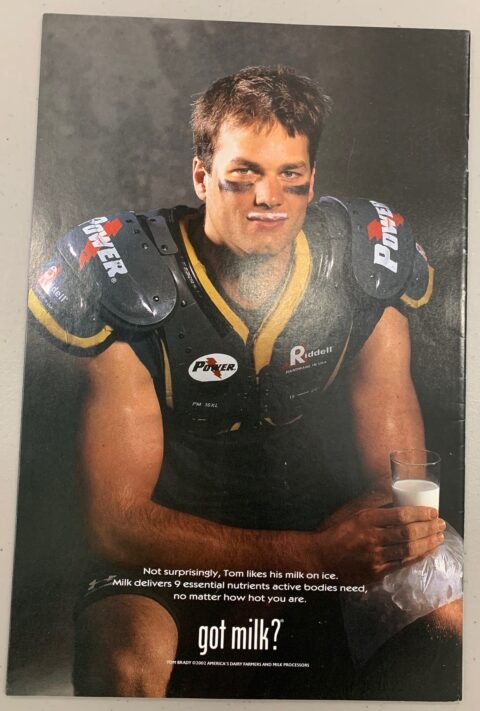 I'm always trying to create good exciting lots for the auction and sometimes even though a book will be something good it still may not be good enough to hog up a whole lot. For next week I threw a bunch of good #1 issues that would not merit a lot on their own and created a #1 grab bag from the Bronze and Copper age. I think this lot will see some good action next week.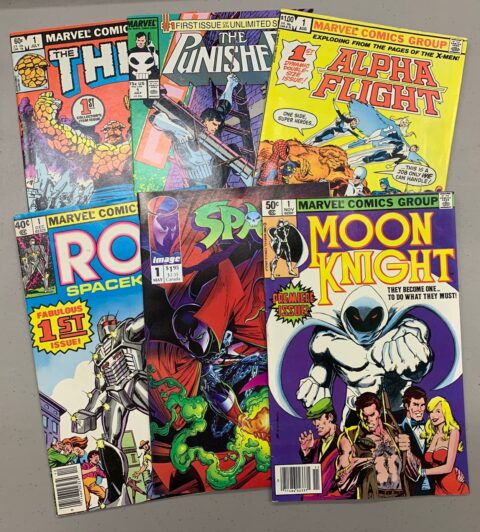 I was worried that the Super Bowl might steal a little of the internationalcollectiblesexchange weekly eBay auction but I don't see much evidence that it did. I was particularly impressed with the way our raw lot of the Punisher Limited Series finished. The set sold for $178 which for me is an example of the power of time: once was that these were all over the place and tough to sell, now they are a coveted set and rightfully so, just look at those Zeck covers.