Ever notice how summer starts way before June 21st? I'm mostly speaking to North Americans that live north of the Mason Dixon line when I say this, we all understand that the weather kind of tells us summer is here more than the calendar does. It's the opposite though for this time of year, most of us associate a long weekend holiday at the beginning of September (Labour Day where I am) with summer's end, though we officially have almost three more weeks of L'Ete. It's the back-to-school thing that really drives home the feeling that summer is over and it's also the time most of us working folk make some sort of lame resolution to "really" start working, like we've been going through the motions these past couple of months. I'm one of those guys, I'm telling myself I'm gonna really start picking up the slack starting Tuesday! Of course, this whole spiel above was just a smoke screen as I try to give myself an out for this weekend's post, you see the long weekend had me away from the shop so I don't have the "auction pile" books to reference but I do want to take the time to go over a few things.
I've been doing some macro level thinking about the comic market in hopes of seeing some patterns I could use to make broad deductions, I'm not sure I'd act on these deductions as they are pretty vague but perhaps if a few of these deductions start aligning then maybe I'd have a better sense of the direction we're heading in. Did you know that 8 CGC graded comics sold for over $1 Million in 2021, and that number rose to 9 CGC graded books selling for over $1 Million in 2022, I quickly checked the CGC news and am pretty sure only 5 CGC graded copies have passed the $1 Million plateau this year. I think this top end of the market is an important barometer for the overall market though I do understand that this end of the market is fickle and is totally dependent on how many quality offerings come up for sale. I do think the fact that we are behind the pace of the past two years tells us the people holding the big books might not have enough confidence in the market to cash out at the moment. The big money is relatively quiet at the moment, we need this segment to make news again, that confidence will trickle down is my view.
I can tell you that we are doing a second Canadiana auction on eBay in October/November – final date not nailed down yet. The last one we held in the late spring did great and it flushed out some very nice new consignments that the seller is not willing to wait until next spring for. Below are a couple of items trickling in. The Canadian Edition of Brick Bradford #6 features the classic robot cover, I think this book will enjoy some strong bidding.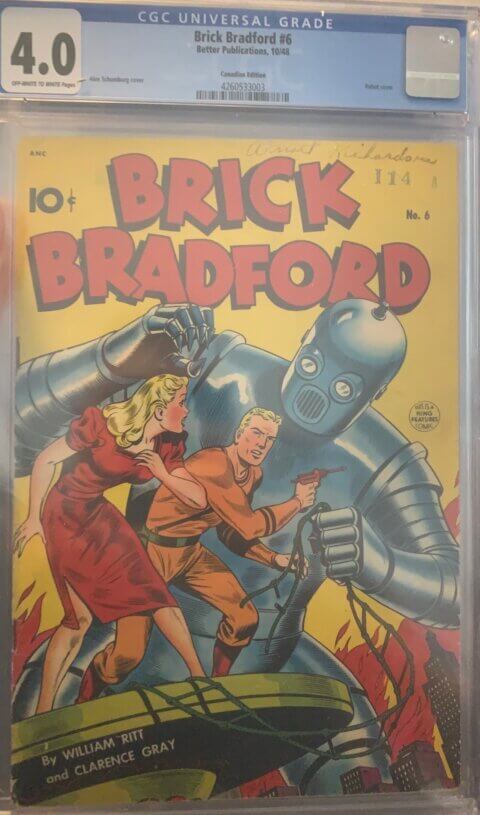 The Canadian edition of Black Cat #14 features a great Halloween cover, good timing for an October auction if you ask me.