Captain Marvel #34, Marvel Comics, September 1974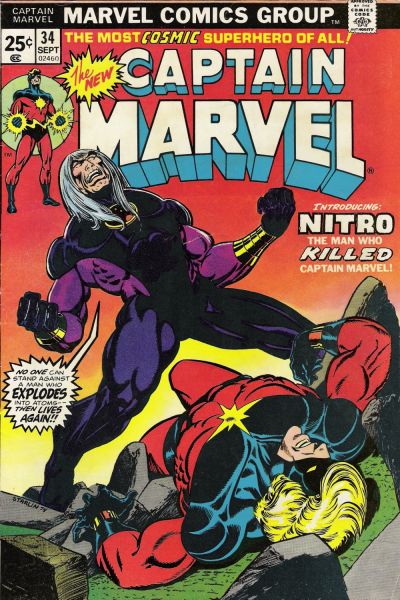 Another undervalued Captain Marvel? Are you crazy? My Undervalued #77 already featured the too cheap issue #50. This spotlight features the even more neglected Captain Marvel #34.
This has to be the most overlooked and undervalued issue in the run. This issue features Jim Starlin cover and art and it introduces the villain Nitro.
Jim Starin just pulled off an epic Thanos arc that ran through Captain Marvel #25 through #33 and you'd expect a letdown. Nothing could be farther from the truth. Captain Marvel #34 is in many ways one of the most important comic books ever published!!
Like Gavrilo Princip, the Bosnian Serb who in 1914 assassinated the Archduke Franz Ferdinand of Austria and in the process set off World War 1, Nitro is not much on his own but he's a very significant figure in history. After detonating himself to get away from the New Warriors, Nitro ends up killing hundreds including 60 school kids. This takes place in 2006 and the event directly leads to a push for the Superhuman Registration Act which directly leads to Marvel's epic Civil War event. It all started with Gavrilo and it all started with Nitro.
Nitro was changing the course of history long before Civil War though. In this very issue, Captain Marvel #34, Nitro exposes Captain Marvel to carcinogenic "compound 13" nerve gas. Captain Marvel survives the incident but contracts the cancer that will one day kill him.
Is there no end to Nitro's mark on history?
The Death of Captain Marvel was a superhero death that truly mattered. The Death of Captain Marvel story was told in a new and exciting format known as the Graphic Novel. In 1984 Marvel Graphic Novel #1 told the story of Captain Marvel's death and it also launched a series of graphic novels that officially lasted 20 issues and spurred rival DC Comics to launch their own series of graphic novels. The rest, as they say, is history.
The 40th edition of the Overstreet Price Guide shows $17/$25/$32 as the splits at the 8.0/9.0/9.2 grades.
Strengths that make this comic book a good long-term investment are:
Nitro kills Captain Marvel
Nitro starts Marvel's Civil War
Nitro is directly responsible for the success of graphic novels
Nitro may very well be one of the most important comic book characters ever and you can get his first appearance for a 1/10,000th for the price of a Spider-Man not even to mention Superman