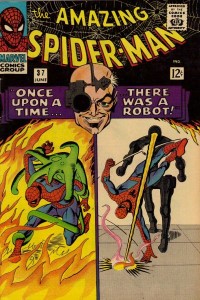 Amazing Spider-Man #37, Marvel Comics, June 1966
Recently I've been receiving some strong Spotlight suggestions from Juan from Rochester N.Y. These are good solid picks he's sending in, I'm lucky he doesn't want to start up a website.
According to Juan it's about time we flush out Amazing Spider-Man #37 from the #32-38 grouping in the guide. I have to agree with him.
Amazing Spider-Man #37 introduces Norman Osborn who in two short issues later (in Amazing Spider-Man #39) will be revealed as the Green Goblin.
So why doesn't Norman Osborn's introduction carry more weight than the Looter's 1st appearance (#36), Mary Jane Watson's 2nd appearance (#38 – face not shown!) or Kraven's 4th appearance (#34)? Huh? Why?
Well it should.
Today Norman Osborn is a big player in the Marvel U. He was used prominently in Civil War and Secret Invasion and will continue to be one of Marvel's baddest of the bad. You could even argue that Norman Osborn has in ways eclipsed his Green Goblin persona. As I've said the character is one of the biggest movers and shakers in the Marvel U. So if Osborn is as big as the Goblin…
Look for Chris Cooper playing Osborn in this summer's Amazing Spider-Man #2 movie and look for more demand for Amazing Spider-Man #37 if Cooper delivers a great performance.
Honestly, you'd be hard pressed to think of a comic with a more myth and folklore surrounding it.
The Green Goblin is seen by many as Spidey's greatest villain. The Goblin 1st appeared in Amazing Spider-Man #14; he was an instant smash hit and appeared again in issues #17, 23, 26 and 27.
In the Goblin's first 5 appearances his secret ID was famously kept from comic fans leading to a lot of excitement and speculation as to who it would turn out to be.
This leads us to one of the biggest urban myths of the Silver Age: that Steve Ditko quit Amazing Spider-Man and Marvel because he and Stan Lee disagreed over the secret identity of the Green Goblin.
I've spent the last hour reading way too many interview quotes on the subject. I've come away believing that Ditko did have Osborn in mind but I can understand the controversy surrounding the events of that time period.
Neither Steve Ditko nor Stan Lee ever told us the full story of why they split. Stan Lee has always claimed he was never told, Steve Ditko has always said he was never asked. It is easy to see how speculation could start as to why Ditko left.
Since I know very little I'm the perfect candidate to speculate. By 1966 Stan was solidifying his Marvel Way of doing things. Steve Ditko was in personal flux at the time immersing himself into Ayn Rand's Objectivism. The two obviously had creative differences and the fact that the Green Goblin's ID was revealed in the issue right after Ditko left only fueled the myth for the reason for the split.
John Romita Senior was given the title after Ditko left. Romita had just come off his first work on Spidey in Daredevil #16 (May 1966); was that a tryout?
For most Amazing Spider-Man #37 appears to be the set up issue for #39. Was this Stan winning the arguments?
Who can say on these things: the principals aren't talking and we may never know the full story but boy is it fun to speculate. Today we are sitting in a world where Spider-Man is firmly in the top 3 of the hero heap. Who know what would have been if things had played out differently.
I did some digging at market prices and census figures for Amazing Spider-Man in issues the #34 to #38 range. Surprisingly I found very little fluctuation in price and the number of CGC copies available in the 9.0 to 9.4 grades.
You can pick up a solid CGC 9.2 for less than $600.
The 43rd edition of the Overstreet Comic Book Price Guide shows $147/$324/$500 as the 8.0/9.0/9.2 price split.
Strengths that make this comic book a good long-term investment are:
Introduction Norman Osborn
The myth that Lee and Ditko argued over whether Osborn should be the Goblin
Nice black cover looks great in higher grades