Toronto ComiCon is done for another year.  The vendors have packed up and headed home.  Convention goers are busy reading those comics they found, or setting up those brand new action figures.  And everybody is planning for Fan Expo in August.
I was able to attend the ComiCon on Saturday only.  Unfortunately my schedule didn't allow for me to be there the other two days.   But I think I was able to get good insight on the show, even with just attending that one day.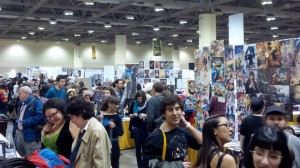 First and foremost, for this being a comic book convention… it didn't feel like comics were the main attraction.  The whole hobby has morphed into a mixed culture of Sci Fi, Fantasy, Entertainment and Collectibles.  There were comic book vendors there, but looking at the schedule of events put on by the convention, it seemed dominated by celebrity panels and Cosplay tutorials.  I wanted to see more panels involving the special guests, or at least a "State of the Union" address from one of the publishers.  We are heading into the Spring and Summer season, and traditionally this is when Marvel and DC come out with their big events.  I thought they would at least have a presence there to try and get their readers excited about what's coming out in the next couple of months.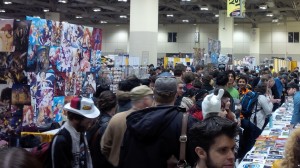 I was happy with the comic talent who were there.  I had great conversations with Chris Sprouse, Marco Rudy, Kalman Andrasofszky and Kevin Maguire.  Artist alley was crowded at times, but it was easy for people to navigate around.  Since it wasn't congested, it was a relaxing area and you could engage the artists and talk to them.  I talked to them about future projects (some haven't been announced yet) and just anything and everything out of the blue (for example trying to come up with a cast for Expendables 4 with Kevin Maguire).
The celebrity signing area was tucked away in the back corner of the convention room.  In previous years the celebrities were in an open area and anybody could see them.  With their location this year, it was tough to see them unless you stood in line to actually meet them.  I don't know if it was planned that way, or if it was happenstance.  But I didn't see any of the celebrities when I was wandering around the floor.  I'm not one to purchase signatures and autographs, but it is nice to look over and "someone famous" just sitting there.  In the end, I didn't miss seeing any celebrities.  So if they do it again to make the celebrities "more exclusive", it wouldn't hurt my feelings.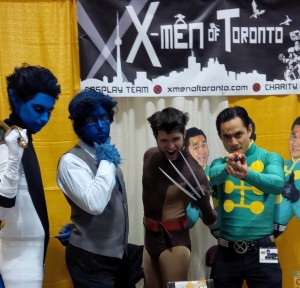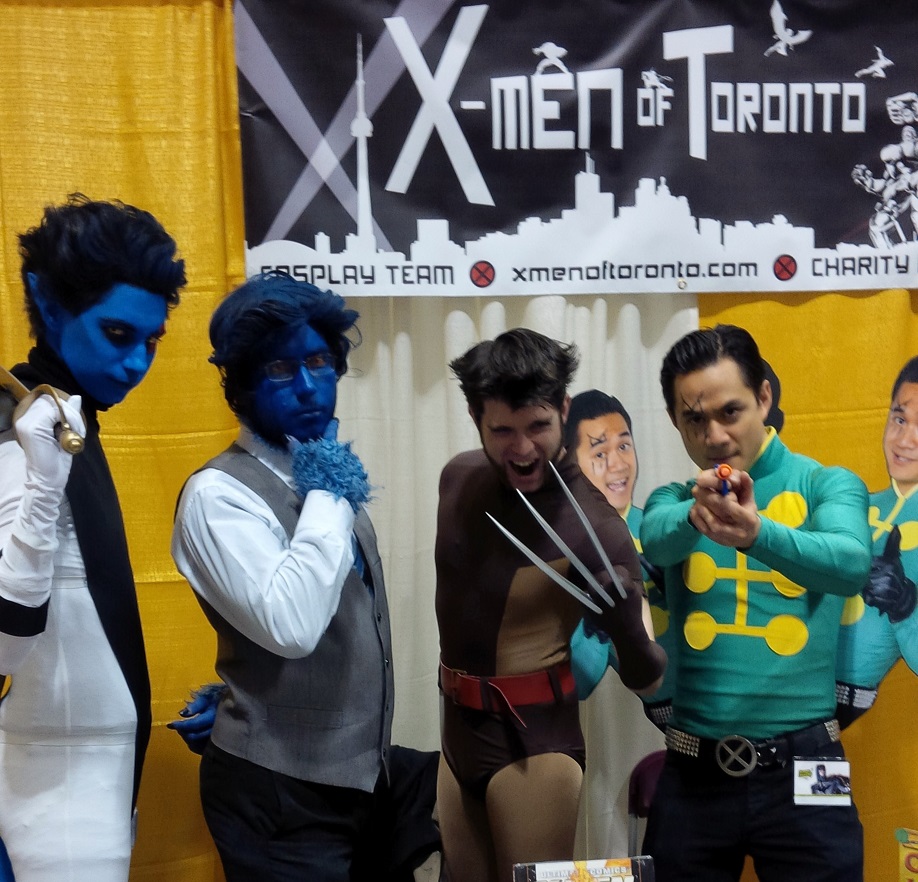 There were two huge changes to this ComiCon this year that really affected the show.
The food court was humongous.  Usually there is a food court tucked away in the corner of the show floor.  This year the food court was roughly the same size as the convention floor.  The regular food vendors were there, but there were food trucks galore.  It was quite a sight to see the food trucks parked on the convention floor.  They offered a wide range of flavours and was an awesome addition to ComiCon.  I don't think they can replicate it at Fan Expo, but a smaller show like this can accommodate it with the extra floor space.
Security was everywhere at the show.  They were guiding traffic through the doors.  Checking wristbands and passes constantly.  It was easy and quick getting in and out of the convention rooms.  The traffic flow moved very nicely.
I talked to a couple of Cosplayers and everything from their costumes had to be checked for safety reasons.  One Cosplayer told me one of his prop weapons didn't pass inspection and was held at their station until he left the show.  I didn't hear of any complaints, but I did hear some concern about it.  But in the end if it ensures everyone's safety, it's a small price to pay on the behalf of a Cosplayer.
In the end as an observer, Toronto ComiCon was a success.  I didn't hear of any complaints when I was talking to people during the day, and if the organizers use this year's model for next year it will be a great show in 2015 too.