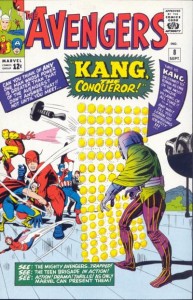 Avengers #8, Marvel Comics, September 1964
For this spotlight I though I'd go through the Avengers title and try to pick out a sleeper that no one seems to be focusing on. With the Avengers movie releasing next May a lot of collecting attention has been turning to the Avengers title. Things should heat up even more over the coming months.
The usual suspects like Avengers #1, 2, 3, 4, 7, 9, 11, 16, 57, 71, 83, 87, 93 and 100 always perform well but are there any issues being overlooked?
I want to argue the case for Avengers #8 the issue that introduces the villain Kang the Conqueror. Kang is a classic Avengers foe; it would not surprise me the least bit if we see him in an upcoming Avengers movie!
IGN.com places Kang as the 65th greatest comic villain of all time. Kang ranks higher than classic villains like Carnage, Mandarin, Mr. Mxyzptlk, Mysterio, Mr. Freeze, Sandman, Clayface and Electro while finishing only a few places behind the likes of Poison Ivy, the Lizard and the Riddler.
Kang is a fan favorite too. On the Marvel website character Powergrid Kang's fan votes are higher for every category except speed. Kang fans score his intelligence, strength, durability, energy projections and fighting skills higher than the score Marvel has set. Fans love Kang!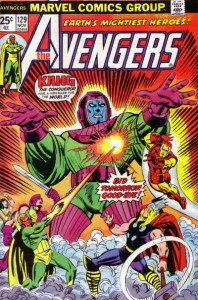 You couldn't ask for a better creative team. The one and only Stan Lee scripts and Jack Kirby pencils. Kirby also draws the cover to Avengers #8 while Marvel legend Dick Ayers gets inking credits. Ayers also inked the interior 21 page story "Kang the Conqueror". Kang would appear again in Avengers #11 and goes on to grace the covers of many future Avengers issues. Personally my favorite Bronze Age Avengers cover is the Kang dominated Avengers #129.
Avengers #8 (with #6) is the cheapest of the first 10 Avengers. The first 10 issues of all the major Marvel Silver Age runs are always in high demand. High grade copies of any Avengers from #1 to 10 are prized but you may just find some good deals on the sleeper that is Avengers #8.
A quick jump onto CGC and GPA shows what I mean. A CGC graded 9.2 Avengers #8 can be bought for around 1.5X guide while a CGC 9.2 copy of Avengers #9 will set you back over 2X guide even though there are less CGC 9.2s of Avengers #8 (12 #8s vs. 16 #9s).
Who is Kang the Conqueror?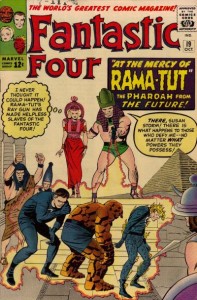 Nathaniel Richards is a 30th century scholar from an alternate earth timeline. Richards first appeared as Pharaoh Rama-Tut in Fantastic Four #19 (October 1963). Rama-Tut next appeared in Fantastic Four Annual #2 (1964) where his meeting with Dr. Doom led him to take the Kang persona. Though Kang is Nathaniel Richard's second incarnation it is Kang and not Rama-Tut that has left a lasting legacy in the Marvel Universe.
Kang is no one-off villain of the 1960s. He's been a part of dozens of Marvel story lines including the 1st Young Avengers arc in 2006. Though continuity is an issue for modern Kang fans (there are more than a few versions of Kang the Conqueror today) I do see Marvel shoring up the character's history as the Avengers team takes center stage in the years to come. Kang is a genius, Kang is feared, Kang has conquered and Kang is one of the most powerful foes the Avengers have ever faced. Kang is good for the Avengers.
The 41st edition of the Overstreet Price Guide shows $273$537$800 as the splits at the 8.0/9.0/9.2 grades.
Strengths that make this comic book a good long-term investment are:
Intro Kang the Conqueror, a major Avengers villain
Stan Lee/Jack Kirby creative team
Avengers issue under #10, will always be in demand