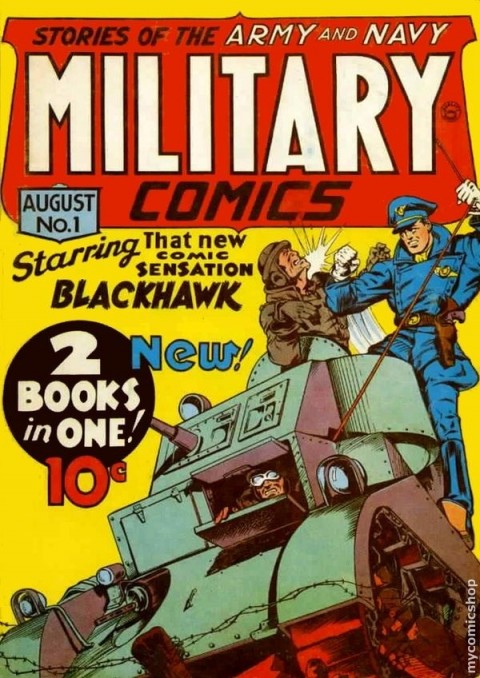 Military Comics #1, Quality Comics, August 1941
All the indicators seem to be telling me I'm wrong with this pick but I have a good feeling about this book and about the Blackhawks specifically. I like the Blackhawk property. Of the many successful Golden Age comic book properties yet to be successfully revived I think this is one that really stands out!
The Blackhawk team concept that first appeared in Military Comics #1 in August 1941 had a very long 27 year run ending with Blackhawk #243 (November 1968). DC published 30 more issues sporadically from 1976 to 1984 officially ending the series with issue #273 (November 1984).
In 1988 DC Comics tried to update the Blackhawks by giving rising star Howard Chaykin a crack at the team (Blackhawk was acquired by DC from Quality in 1956 and the 1st DC issue was Blackhawk #108, Jan. 1957). Chaykin's 3 issue prestige format arc was well received and after the series DC began adding Blackhawk stories to its Action Comics Weekly title. The Blackhawks then moved to their own new title in 1989.
The 16 issue run of Blackhawks from March 1989 to August 1990 did not work. The series' rehashing of 1950s stories was uninspiring. Writer Martin Pasko and artist Rich Burchett should have asked for more creative control.
While Chaykin's redo of the Blackhawks was well received it was doomed to fail because Chaykin did not bring the Blackhawks to the 1980s. The whole property needed updating and this was a perfect opportunity to do just that.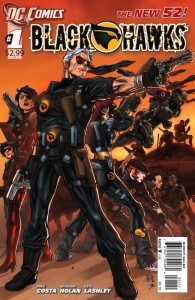 Fast-forward to September 2011 and DC's New 52 company wide re-launch. Among these 52 new titles was Blackhawk! Writer Mike Costa and artist Graham Nolan were the new creative team, things looked good! I remember reading that the title would no longer be set in World War II and that it would be set in modern day DC Universe continuity focusing on a team of black-ops specialists. Perfect! Start buying up those old Blackhawk issues that are going for less than half Overstreet Price Guide on the internet auctions!
Back in January 2012 DC announced that Hawk and Dove, Men of War, Mister Terrific, O.M.A.C., Static Shock and Blackhawk were the first 6 of DC's New 52 to be cancelled.
What happened? Everything seemed to be lining up for a Blackhawk revival, an updating of the team to a more modern commando premise, a writer that could craft a good commando story (Mike Costa even wrote G.I. Joe stories for IDW) and a large publisher like DC there to push things through.
All I can say is that DC let this go too soon. The history is there, the groundwork is done, and the name recognition is still strong enough to capitalize on. DC Comics has resources, the Joe's are good but there's room for more than one commando team!
Call me an optimist but I think there is still a future for the Blackhawks and I think their 1st appearance is a good long term place to park your money.
All that said Military Comics #1 does not necessarily need a successful revival to appreciate in value. Golden Age comics are trending upward and besides the book stands very well on its own two feet!
Lets start with the very impressive Will Eisner cover, Will is credited with pencils and inks. The 11 page story "The Origin of the Blackhawks" was drawn by Chuck Cuidera (who also drew early Blue Beetle stories) and has scripts credited to both Will Eisner and Bob Powell. This 1st Blackhawk story features the death of Blackhawk's brother and sister (it took 27 years to figure out Blackhawk's name was Bart Hawk, as revealed in Blackhawk #242 from September 1968). The story is a Nazi war story which always adds to the collectibility value!
Military Comics #1 gives us more than Blackhawk! Other highlights include a 6 page story written and drawn by Jack Cole called "The Origin of the Death Patrol", 1st appearances of characters like super heroine Miss America, Captain Foghorn and a 6 page story intriguingly called "Episode with a Goat". Don't ask!
Military Comics #1 is a tough book to find, there are only 12 graded by CGC as of this post, a 9.4 a 9.0 and 2 8.5s are the best. One of the 8.5s was from the famed Billy Wright collection and that copy sold for $4481, only 78% of guide!
The 41st edition of the Overstreet Price Guide shows $4,146/$7,323/$10,500 as the splits at the 8.0/9.0/9.2 grades.
Strengths that make this comic book a good long-term investment are:
Origin and 1st Appearance Blackhawks
Very long and successful run
Though the latest attempt at a revival failed I'm confident the team still has a future