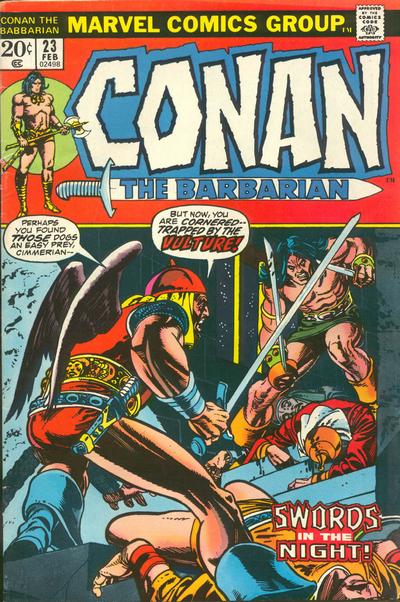 Conan the Barbarian #23, Marvel Comics, February 1973
I'm a big fan of Robert E. Howard and an even bigger fan of Conan and the fantasy world he belongs too. Please don't hold this fact against my spotlight pick!
Conan the Barbarian #1 (October 1970) was an instant hit for Marvel Comics. Writer Roy Thomas and artist Barry Windsor Smith were able to successfully adapt Robert E. Howard's barbarian into the comic book medium. Conan would turn out to be one of the most popular comic properties of the 1970's, the flagship title would last 275 issues at Marvel and it spawned an excellent 225 issue Savage Sword or Conan magazine run, a daily newspaper strip and eventually a big budget Hollywood movie starring Arnold Schwarzenegger.
For comic book collectors the most coveted of the Conan comics are the first 24 issues. These issues all contain Barry Windsor Smith art (excluding 17, 18) and all carry strong demand and good market values, the lowest Overstreet Price Guide value for any of these Smith art issues is $65.
For me the gem of this run is Conan #23. This issue features the 1st appearance of Red Sonja!
Is Red Sonja an original comic book creation? We know Conan is not but how about Red?
Robert E. Howard must have had a thing for red heads. He created not one but two fiery, hot tempered red headed female characters in his short stories (neither creation had anything to do with Conan). Dark Agnes de Chastillon a.k.a. The Sword Woman was a female protagonist whose stories were set in France in the 1500s. Red Sonya of Rogatino was another red head Howard used for his "The Shadow of the Vulture" story. This red head shot rifles and fought the Turks during the siege of Vienna in 1529.
Roy Thomas was obviously an avid Howard reader drawing off of two of Howard's fictional creations to come up with our Red Sonja. I'm arguing that choosing and slightly tweaking the name from Red Sonya to Red Sonja should not diminish Thomas' creation. This was not a straight adaptation as Conan was. This was a creation influenced by separate and unique characters, as are many of our favorite comic book characters.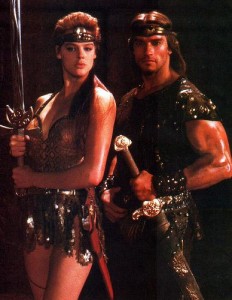 Regardless of how we view Red Sonja we can't argue her success. She was a hit from the get go and by January 1977 she had her own title. Red Sonja was even popular enough to merit a Hollywood movie staring Brigitte Nielsen. Red Sonja, released in 1985, co-starred Arnold Schwarzenegger.
In 2005 Dynamite Entertainment started publishing a new Red Sonja comic and in 2009 they added a second title, Queen Sonja.
The character has obvious resilience, a 2010 movie was shelved when the lead actress was injured and reports are that the producer is still looking to make this film happen. Let's hope confirmation comes out soon.
For fun I pulled out a few other Bronze /Copper Age comic book creations popular enough to merit their own Hollywood movie. Let's see how Red Sonja stacks up against Blade, Ghost Rider and Electra!
Blade 1st appeared in Tomb of Dracula #10 (July 1973). There have been 2 Blade films, both starring Wesley Snipes; I thought both were terrible by the way! $450 is the guide value for the 9.2 grade.
Ghost Rider 1st appeared in Marvel Spotlight #5 (August 1972). There have been 2 Ghost Rider movies both starring fan favorite Nicholas Cage.   $550 is the guide value for the 9.2 grade.
Electra 1st appeared in Daredevil #168 (January 1981). Electra appeared in Daredevil then had a movie of her own. Jennifer Garner did a great job playing Electra in both.  $200 is the guide value for the 9.2 grade.
OK I know this isn't a very scientific comparison (though I do think the Electra comparison can be argued) but when we compare Conan #23's $100 guide value for the 9.2 grade my pick seems a bargain.
Comic investing is and always will be predominantly character driven. This week's spotlight offers a book that introduces a very popular and very resilient and very viable character, a book that is nestled deep in the Bronze Age and a book that is embedded in a prized run by a legendary comic book artist. It's a great book to own and belongs in all Bronze Age key collections.
As of this post there are 288 graded CGC copies and of these 14 are graded at 9.8, 51 at 9.6, 91 at 9.4 and 43 at 9.2. The 9.6s get over $200 while the 9.4s get over $100. I recommend a very nicely centered square cut 9.2 for $80.
The 41st edition of the Overstreet Price Guide shows $45/$73/$100 as the splits at the 8.0/9.0/9.2 grades.
Strengths that make this comic book a good long-term investment are:
1st appearance Red Sonja
Character very popular and still viable and in print
Comic part of a highly collected Barry Windsor Smith run