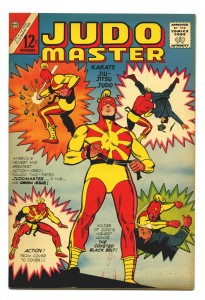 Special War Series #4, Charlton Comics, November 1965
Remember that 1974 song 'Kung-Fu Fighting' by Carl Douglas? You know, the one that starts …Oh – o –ho –hooooo! If you're as old as I am you'll remember it fondly, it was a staple on the AM radio stations like Hamilton's CKOC and Toronto's CHUM and it tapped into the massive pop culture popularity of all things Kung-Fu.
The whole martial arts craze in North America really took off after the tragic death of Bruce Lee in July of 1973. It's hard to grasp just how culturally significant the untimely death of Bruce Lee was. Lee's biggest and best film, 'Enter the Dragon' was released just days after his death. The film of course became huge and today enjoys a cult following matched by only a few other films.
Lee's death accelerated an already growing popularity in the martial arts genre, much of this popularity was due to the efforts of Bruce Lee himself. The mid 70's were all about the Kung-Fu and in my opinion Lee's death added years to the runs of titles like Master of Kung-Fu and Power-Man and Iron Fist, but I digress.
As I've mentioned above a martial arts craze was already in a slow build before Lee's death sealed the deal. I can trace the origins back to Bruce Lee's appearance in the 1964 Long Beach Karate tournament. That appearance generated tremendous buzz in the martial arts community and slowly, over the next couple of years the martial arts phenomenon began seeping more and more into North American pop culture. The mid 1960's saw Bruce Lee take the role as martial arts expert Kato in the Green Hornet TV show, after that Lee appeared in a martial arts themed Longstreet episode called "Way of the Intercepting Fist" where he teaches a blind man to even the odds by turning off the lights to fight an intruder that wanted to kill him. Man! Bruce Lee was a one man industry!
Lee was getting help, in the spring of 1971 the feature film Billy Jack, featuring a Hapkido expert hero, opened in theatres and in the fall of 1972 David Carradine's Kung-Fu had successfully debuted on TV giving audiences a weekly dose of Kung-Fu action.
Comics took notice of the popularity of martial arts too. In 1973 Marvel Comics was busy converting their recent acquisition of the Fu Manchu character into Chang-Chi, the son of Fu Manchu also known as the Master of Kung-Fu! In December of 1973 Marvel introduced Chang-Chi in Special Marvel Edition #15. Chang-Chi was more an organic creation tapping into the then growing interest in martial arts.
Marvel's second martial arts hero, Iron Fist, introduced in May 1974 in Marvel Premiere #15 can be seen more as an answer to the explosive growth in interest in the genre following Bruce Lee's death. Indeed even the slow moving DC Comics sprang to action with Richard Dragon Kung-Fu Fighter in May 1975 and then with Karate Kid in April 1976.
Let's not forget Charlton's Yang! Yang #1 beat all of the above to the proverbial punch, or should I say chop! Charlton's martial arts title was published in November 1973 a month before the Chang-Chi appearance in Special Marvel Edition.
Martial arts themed comics were big in the 1970s and the genre spawned some memorable and lasting characters but did you know there was a trailblazer published almost a decade earlier that is worth rediscovering.
This week's Undervalued Spotlight features a comic so ahead of the curve it can almost be forgotten. Special War Series #4, published by my favorite publisher Charlton features the 1st appearance of the martial arts hero Judomaster and it hit the streets in November 1965, very early days indeed.
This comic came a full 8 years before the likes of Yang, Chang-Chi and Iron Fist, it was an innovator, truly ahead if its time.
Special War Series #4 features a cool cover by Frank McLaughlin where Karate, Ju-Jitsu and Judo are advertised to the expectant reader. Joe Gill gets writing credits for the 20 page story titled "Introducing Rip Jagger… Judomaster".
Frank McLaughlin adds a 3 page gem called "Sport of Judo" which features Charlton hero Sarge Steel describing judo, aikido, and karate with special emphasis on the mental requirement of all three.
Judomaster went on to headline his own short lived title, Judomaster #89 was published in June 1966, the title lasted 10 issues ending with issue #98 in December 1967.
There are only 7 copies CGC graded as of this post with the highest being a lone 9.4. There are no recent sales to speak of though a CGC 9.2 did sell for a piddly $83 back in 2008.
The 42nd edition of the Overstreet Price Guide shows $53/$89/$125 as the 8.0/9.0/9.2 price splits.
Strengths that make this comic book a good long-term investment are:
1st Appearance of Judomaster
Early martial arts themed comic almost a decade ahead of the pack
Great 3 page Sarge Steel feature on martial arts
Tough to find comic and too cheap in the guide