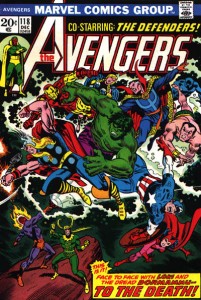 Avengers #118, Marvel Comics, December 1973
This is such a great comic book!
Avengers #118 is part 7 of the now famous 8 part Avengers/Defenders War crossover. The story spanned Avenger #115 to #118 and Defenders #8 to #11. Though the story concludes in Defenders #11 the climax to the epic battle that saw the two teams thwart the dreaded Dormammu's plans to invade our dimension happens in this issue.
This story is considered the 1st major Marvel crossover; it's a now legendary comic event, one of the defining moments of Marvel's Bronze Age.
For me this is the best of the 8 covers, yeah I know Defenders #10 is iconic and you may be right but I call Defenders #10 the Stairway to Heaven to Avengers #118's Four Sticks, if you know what I mean.
The character line up in this book is simply ridiculous, if you told me you planned to fit appearances by Captain America, Thor, Scarlet Witch, Black Panther, Hawkeye, Iron Man, Swordsman, Vision, Mantis, Dr. Strange, Sub-Mariner, Hulk, Valkyrie, Silver Surfer, Nick Fury, Countess Allegre de Fontaine, Dum Dum Dugan, Dormammu, Loki, Watcher, Mr. Fantastic, Thing, Human Torch, Invisible Girl, Spider-Man, Inhumans, Black Bolt, Gorgon, Karnak, Power Man, Ka-Zar, Zabu, Ghost Rider, Man-Thing, Dr. Doom, Dracula, Adam Warlock and Thanos into a climax battle issue I'd tell you to put 2 aside for me (one to read and one to keep).
Of the heavily collected Avengers #116-118 set issue #118 is by far the scarcest in higher grade comparing its 69 copies at CGC 9.2 or better to the 87 copies for #117 and the 99 copies for #116.
I'd look for a solid looking CGC 9.4 or 9.6 for this book. The funny thing is that this book should be trading a lot more frequently than it is. The last CGC 9.2 sale that I found was back in Dec/10, the last CGC 9.4 in Aug/11. A CGC 9.6 did sell in May/12 at a reasonable $138.
Climax issue, fantastic cover, part of an important Bronze Age story arc, the whole stable of Marvel in one issue, embedded in perhaps the most collectible era of the Avengers, how much more do I have to say to convince you that you should own this issue.
The wild card for this issue is the Silver Surfer. If and when Disney/Marvel does get the rights to the Surfer back from Fox every book in this crossover story will spike upwards. Let's all start a petition, we'll address it to Fox and we'll demand that they give the Silver Surfer rights back to Disney/Marvel. The legion of comic fans that know and love this story will seem puny compared to the millions upon millions that will gobble up the blockbuster movie version!
The 42nd edition of the Overstreet Price Guide shows $37/$59/$80 as the 8.0/9.0/9.2 price splits.
Strengths that make this comic book a good long-term investment are:
Climax issue to 8 part Avengers/Defenders War crossover
Standout cover
Star studded cast and a billion great cameos
Bronze Age Avengers will continue to be highly collected