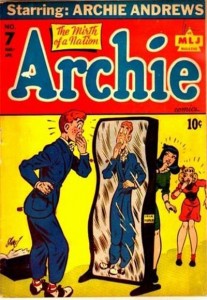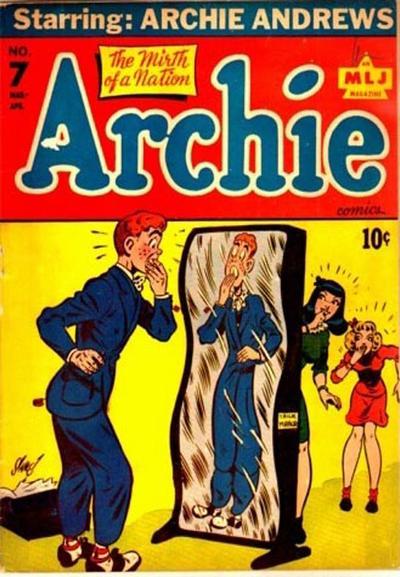 Archie Comics #7, MLJ Magazines (March-April 1944)
I heard through a contact that a CGC graded 6.5 Pep Comics #22 (1st appearance Archie Andrews, Dec 1941) sold for around $120,000. The deal apparently went down at a dealer booth at this year's New York Comic Con. This is a strong result; the Overstreet Guide value for the 6.5 grade is $32,000.
Pep Comics #22 was one of my early Undervalued Spotlights, my 5th one actually, I posted it way back in September 2009. Boy do I ever wish I put my money where my mouth was back in September 2009!!
I had good reason to pick Pep #22 back in 09, Archie #600 was released and it made international headlines. Archie was going to marry! Betty Cooper or Veronica Lodge? We all took sides didn't we? Betty, it has to be Betty! No, no, it's Veronica all the way! Well it turns out he married both, kind of!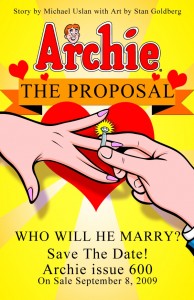 For me at least it seemed that Archie had come out of a 7 decade slumber. Archie had quietly persevered; no other character in comics had weathered the superhero storm as well as Archie had in part I think because he was surviving outside the general comic book collecting and consuming community. He did his best work at the supermarket check-out. It was a rite of passage, the mom buying the daughter the Archie Digests hoping the little girl would enjoy the characters as much as she did.
Since Archie #600 Archie Publications can do no wrong. The company has been pushing the envelope it seems with every new issue tackling taboo topics like gay marriage.
In hindsight it is obvious that a storyline involving Archie picking either Betty or Veronica should be the one that resurrected Archie Nation. The Archie/Betty/Veronica love triangle has been the key dynamic for almost 70 years.
This week's spotlight features the comic considered the 1st to establish this love triangle. "Double Date" the 11 page story in Archie Comics #7 written by Ed Goggin and drawn by Harry Sahle has Archie accidentally setting up dates with Betty and Veronica on the same night. Rather than cancel one he tries to keep both with comic results. With this story the die was cast, the template set; Betty and Veronica were rivals for Archie! I could try to be grandiose here and say that it was perhaps this dynamic that ensured the next 68 years of success but I won't be so obvious.
Archie's future never looked better. Other media have taken notice of Archie and are lining up to crossover their brands. Look at the recent news that the Glee cast will be making appearances in Archie comics. I can't wait until Archie characters start making appearances on the Glee! Seriously, how long before an Archie movie!
More and more we're blending the fantasy world of comics with the fantasy world or practically every other media, Archie stands in a position better than most to reap the benefits of this trend.
This is a hard book to find. There are only 9 non-restored CGC graded copies, that's just one more than the 8 graded Pep #22's. Archie #7 is harder in higher grades though, there is 1 CGC 8.0 but then you have to settle for a CGC 5.5 as second best.
There have been only 5 recorded transactions for this book in the past 3 years. As of this post there is a CGC graded 5.5 on eBay with a "Buy it Now" of $3,195. This same copy sold a month ago for $2,013. I'd seriously consider putting in an offer but the notes indicate that the cover has been re-attached with tape. Darn!
Archie's star continues to rise and since comics like Pep Comics #22 have priced themselves out of most collecting budgets Archie #7 offers ownership of an important Archie issue at a still reasonable price.
The 42nd edition of the Overstreet Comic Book Price Guide shows $1,651/$2,826/$4,000 as the 8.0/9.0/9.2 price splits.
Strengths that make this comic book a good long-term investment are:
1st definitive "love triangle" issue
Scarce in any grade
Archie's star continues to rise
I consider the current price to be low