I'm not sure if 'Half Term' is something that happens in Canada or the US but on this side of the pond, every school in the UK take a break for a week in the middle of each term and as a result, everywhere you turn is suddenly flooded with thousands of moody kids all complaining about how bored they are.
So with Half Term occurring next week, The London Cartoon Museum, have planned a bunch of comic related tutorials to get kids as young as 8, involved in story-art and sequential narratives.
In the midst of their new and sadly bitter-sweet Dandy exhibition, the following sessions have been announced:
Tuesday 30th October
Manga Magic and Sci-Fi Worlds 11am-1pm Ages 8-11 – £10
Monster Mash 2pm-4pm Ages 8-11 – £10
Wednesday 31st October
Drawing Animation 11am-3.30pm Ages 9-13 – £20
Thursday 1st November
Manga Storytelling & More 11am-3.30pm Ages 12-16 – £20
Friday 2nd November
Brilliant Beano & Daring Dandy 1am-4pm Ages 12-16 – £20
Friday 2nd November
Marvellous Mini-Comic 2pm-4pm Ages 8-11 – £10
This is honestly, really great to see and I certainly wish there was something like this for me as a young nerd artist.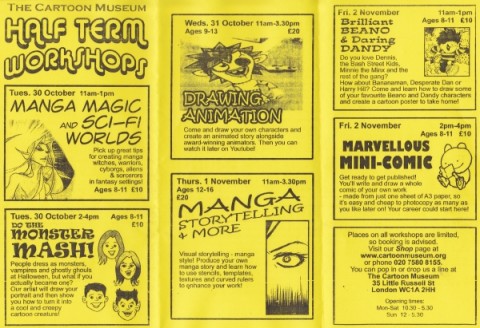 I might just go along anyway and be the massive weirdo asking all the questions. I'll go in disguise.
Be fine.