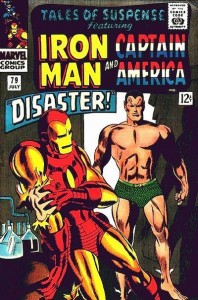 Tales of Suspense #79, Marvel Comics (July 1966)
Now this is a great Marvel Silver Age comic book!
Tales of Suspense #79 kicks off a great 3 part Iron Man and Sub-Mariner battle story but more importantly I'll argue, it introduces us to the Cosmic Cube. The Cosmic Cube is an object of immeasurable power. Whoever controls the Cube can reshape reality at his will; this thing is not for the faint of heart. The Cube has been coveted (and possessed it seems) by practically every villain in the Marvel Universe worth his salt. Guys like MODOC, Red Skull, Loki and Thanos have all tried their luck with the thing!
This very 1st Cosmic Cube story (running through Tales of Suspense #79-81) sets the object as being created by A.I.M. (Advanced Idea Mechanics), a sinister organization bend on world domination and boasting the likes of MODOC (A.I.M. started out as THEM back is Strange Tales #142 but the organization's name was changed to A.I.M. in Strange Tales #146 and Tales of Suspense #79 (both July 1966).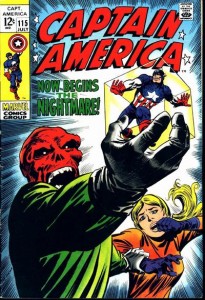 Since the Cube's 1st appearance it has been central to other great Marvel stories including the great arc that ran in Captain America #115-120 (remember that great Cap #115 cover with Red Skull holding the Cube?) and in Jim Starlin's now classic Thanos arc that ran through Captain Marvel #25-33. The Cosmic Cube again was called in for Infinity War #1-6 mini-series (June –November 1992) and for Infinity Crisis (June-November 1993).
Doing a little digging I've found that the Cube has appeared in countless other Marvel stories.
The Cube's origins have morphed over the years; the current Marvel movies have it originating in Asgard.
If we look at the Marvel movies to date we'll see that Captain America, Iron Man 2 and Thor all featured the Cosmic Cube in their storyline. This was a common thread of course since those movies all set up the Avengers movie blockbuster.
In the Avengers the Tesseract (as the Cosmic Cube is also known) plays a central role in the Avengers plot. Remember that Loki stole the Cube from SHIELD and used it to bait the Chitauri army to invade Earth. It's the Cube that opens the portal into space that enabled the Chitauri hoards into Manhattan, setting up that memorable battle scene.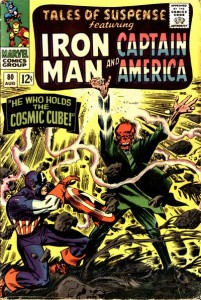 Starting with issue #59 (Nov/64) and ending with issue #99 (Mar/68) Tales of Suspense ran an Iron Man story and Captain America story every issue, the comic would alternate covers, Cap got the even numbered covers and Iron Man got the odd numbered covers so while I love the Gene Colan Iron Man cover featuring the Sub-Mariner I'd really have preferred a Cap cover featuring Red Skull and the Cosmic Cube instead (well at least my wish came true on the cover of Tales of Suspense #80).
Anyway it's actually the 10 page Captain America story "Red Skull Lives" written by Stan Lee and Jack Kirby and drawn by Jack Kirby that has the distinct honor of introducing the world to the Cosmic Cube.
A CGC 9.2 copy of Tales of Suspense #79 will set you back about $175 or just above guide while a CGC 9.4 copy will cost you somewhere between $400-$500. I recommend the 9.2 grade for this comic. A semi key 1966 Marvel in 9.2 is impressive enough and I think the $300 extra you'd have to pay for the marginal improvement to 9.4 just isn't worth it.
I'm not sure how many people realize the importance of this object, since its inception it has been used to create some great stories and will continue to do so I'm sure. Tales of Suspense #79 does not get its due in my opinion.
The 42nd edition of the Overstreet Price Guide shows $63/$112/$160 as the 8.0/9.0/9.2 price splits.
Strengths that make this comic book a good long-term investment are:
1st appearance the Cosmic Cube
1st modern Red Skull

Start of an epic 3 part Iron Man/Sub-Mariner battle story

Cosmic Cube has become a centerpiece in the Marvel U