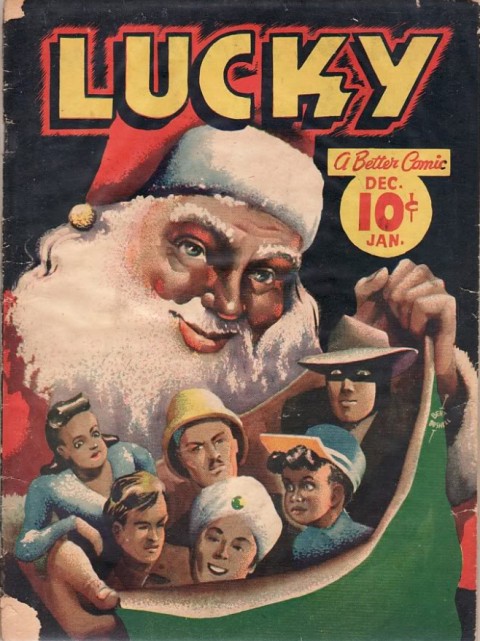 Lucky Comics Vol. 2 #7, Maple Leaf Publishing, (Dec 1943/Jan 1944)
Today being Christmas Day I thought I'd feature a very special Santa Claus cover.
Honestly we should all be giddy just seeing the cover to this book, there are no copies graded and I only know of one that exists.
It's a great Christmas cover with Santa bringing all Canadians a bag full of adventures starring some very cool and at that time very popular Canadian characters.
The little boy with the funny hat is called "Lucky" and the title is named after him. He is a little boy stuck in occupied France (He eventually gets to Canada a few years later).
The guy in the turban with the funny green moon on it is Danny from the series Danny and his Magic Ring (he can call up a genie to help him).
The guy in the pith helmet with the mustache is Steve Nelson from the series Jungle Raider.
The two kids on the left are Peter and Peggy from the series Peter and Peggy and the Haunted Castle.
The last guy in the mask is the one I have the least info on but I believe his name was The Black Wing.
Lucky Comics was a title published by Vancouver, B.C.'s Maple Leaf Publishing.
Maple Leaf Publishing was the first Canadian publisher to bring a Canadian comic book to market in the wake of the Canadian government's implementation of the War Exchange Conservation Act (WECA) which banned the import of American comics into the Canadian wartime economy. WECA was introduced by the Canadian government in December of 1940 and Maple Leaf's 1st comic, Better Comics #1 (cover date March 1941), was the first truly Canadian comic produced as a result.
Maple Leaf in turn was 1 of 3 successful Canadian Comic publishers during these WECA years, Anglo American and Bell Features were the other 2.
These Canadian wartime comics are collectively known as "Canadian Whites" (because they were printed for the most part in black and white). There were approximately 600 issues produced over the 1941 to 1946 time period.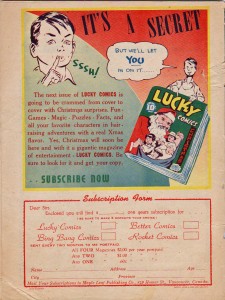 I would have loved to use an earlier Christmas cover but as I've mentioned before these things are impossible to find, even pictures of them are impossible to find. Canadian White historian Ivan Kocmarek did send me a scan of a back cover to Lucky Comics Vol. 1 #10. This issue advertises a cover which is similar to ours for the year earlier Christmas of 1942. That comic would have the earliest Christmas cover on a Canadian comic book I can find unless there is a Christmas 1941 issue which would be Vol. 1 #5 which I can't find a scan for.
Any Christmas cover of a Canadian White is undervalued, plain and simple.
Its Christmas Day 2012 and my present to you is this undervalued gem. Enjoy.
Canadian Whites are not listed in the Overstreet Comic Book Price Guide (though they should be). The few mid-grade Lucky Comics from the mid 1940s that do surface sell for around $300.
Strengths that make this comic book a good long-term investment are:
A rare "Canadian White" comic book
Maple Leaf is probably the hardest publisher to collect from this era
Just finding one is considered a coup
Fantastic Christmas cover!
Thanks to Ivan Kocmarek for his help with this Spotlight.