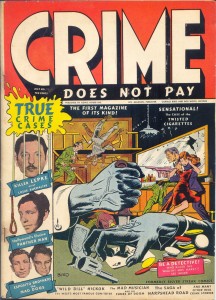 Crime Does Not Pay #22, Comic House Inc (July 1942)
Here's another Spotlight I've been sitting on for a while, not sure why I haven't posted it yet?
Put simply Crime Does Not Pay #22 is one very important comic book.
The book was way ahead of the curve. The summer of 1942 was a time when superheroes ruled, they were at their peak and busy fighting the good fight that was World War II. It would have been impossible to see that the publication of Crime Does Not Pay #22 would help set into motion a chain of events that would change the course of comic book industry.
This won't be an essay on comic history. There were many events in comic book history that helped get us to where we are today and most did not involve this book. That said this book's success during the wane of the superheroes made other publishers take note. This book spawned countless imitators 5 years after its publication and it influenced the history of comics like few others.
Comics were a rapidly expanding industry; the success of the heroes did not mean there was no room for other genres. Westerns and funny animal books were selling like hotcakes too. A year earlier MLJ Magazines successfully introduced Archie Andrews in Pep Comics #22 proving the comic industry had plenty of room for new genres.
Crime Does Not Pay #22 was different in that its content also drew in adult readers. Creators Charles Biro and Bob Wood took the success of crime magazines and crime pocket books and brilliantly adapted the genre to the rapidly growing comic book market.
Biro and Wood tapped into the "true crime" genre making their comic nasty, brutal, and graphic. These comics were sensationalist and shocking, perfect for a new breed of comic book reader.
The book proved adults would read comics if the content interested them and honestly next to sex the best way to get adults to read comics is graphic violence. Biro and Wood were on to something.
I am not saying that this comic pushed heroes out, what I am saying is that it continued to sell like crazy while the hero titles were losing circulation. By 1947 comic book publishers were adapting to what the market was buying and they were buying Crime Does Not Pay. Soon crime comics ruled, they were joined by horror comics and sultry romance comics. Kids were throwing away their Whiz comics and were picking up their older brother's (or Dad's) gory crime and horror comics.
Things got so out of hand that by the mid 1950s the US Senate stepped in and introduced the Comics Code Authority to protect America's youth from comic books and themselves.
The Comics Code of course killed off the publishers of crime and horror comics and ushered in the revival of the superhero. The book most cited as representing this revival is Flash's re-introduction in Showcase #4.
I've often stated that Showcase #4 is overvalued; I mean here is a book that reintroduces a character that was out of print for only 7 years. Proponents look to what the book represents. I argue that Young Men #24 came first. Proponents argue that Flash stuck. I argue that he would have eventually failed to if it were not for Fantastic Four #1.
I digress.
The Showcase #4 point is that the collecting community is obviously willing to put value on comics that are seen as symbolic markers in comic book history. Showcase #4 is a book that is valued because of what it represents more so than for the character it reintroduces. Honestly I could argue that there would not be a Showcase #4 if there was not a Crime Does Not Pay #22.
Perhaps it is the lack of a central character, one that could capture the public's imagination, which hurts the value of this comic? I can point to titles like Walking Dead and pre Batman Detectives to prove central characters are not a prerequisite for value.
Crime Does Not Pay #22 was a game changer and I think it is the least valued of the historically significant comic books.
Yeah it's a tough book, only 21 CGC graded as of this post but the book does come up for sale at auctions, 8 have traded in the past 2 years, the best of the bunch being a CGC 7.0 copy that sold for $4,332 last summer which is a nice premium over the $2504 guide value for a 7.0.
That price was a bargain; the book should quadruple in price as far as I'm concerned. Lots of room left!
The 42nd edition of the Overstreet Comic Book Price Guide shows $3550/$6275/$9000 as the 8.0/9.0/9.2 price splits.
Strengths that make this comic book a good long-term investment are:
One of the most important comics ever published
Trendsetter, catalyst
1st book to draw adult en masse into comic books
Way too cheap in the Overstreet Price Guide
Nice knife through hand cover by Charles Biro