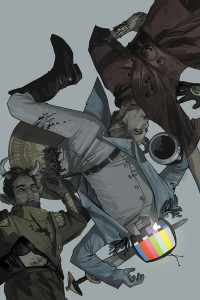 The big news this week is that Apple has banned issue twelve of Saga because of two images of "gay sex". One of the main characters, Prince Robot IV, has a monitor for a head and frequently what he's thinking or saying displays on the monitor. He's wounded on the battlefield and in one scene there's what looks like a man performing oral sex on another man, and the second scene shows what could be that same man and three penises around his open mouth. I'm not posting the images here but you can see the two pages in question at Comic Book Resources.
The flurry of outrage rang far and wide and most didn't leave it at sex or full frontal male nudity but stressed the "gay" portion. I can't see the reasoning for this, other than to add shock factor and/or moral outrage depending on where you stand. My initial reaction was that I don't expect a lot of penises in my comics, and Apple can do whatever they want. Brian K. Vaughan had this to say.
As has hopefully been clear from the first page of our first issue, SAGA is a series for the proverbial "mature reader." Unfortunately, because of two postage stamp-sized images of gay sex, Apple is banning tomorrow's SAGA #12 from being sold through any iOS apps. This is a drag, especially because our book has featured what I would consider much more graphic imagery in the past, but there you go. Fiona and I could always edit the images in question, but everything we put into the book is there to advance our story, not (just) to shock or titillate, so we're not changing shit.
Apologies to everyone who reads our series on iPads or iPhones, but here are your alternatives for Wednesday:
1) Head over to you friendly neighborhood comics shop and pick up a physical copy of our issue that you can have and hold forever.
2) While you're at it, don't forget to support the Comic Book Legal Defense Fund, which helps protect retailers who are brave enough to carry work that some in their communities might consider offensive. You can find signed copies of Saga at the CBLDF site right now.
3) Download the issue directly through sites like https://comics.imagecomics.com or on your non-Apple smartphone or tablet.
4) If all else fails, you might be able to find SAGA #12 in Apple's iBookstore, which apparently sometimes allows more adult material to be sold than through its apps. Crazy, right?
Anyway, special thanks to Eric Stephenson and everyone at Image for supporting our decision, and for always being so supportive of creators. Sorry again to readers for the inconvenience, but I hope everyone will be able to find an issue that Fiona and I are particularly proud of. And after you do, please check out PanelSyndicate.com , the new digital comics site I own with artist Marcos Martin, which remains 100% uncensored by corporate overlords.
Your pal,
Brian
Nice plug on his new project there, and there's that mention of "gay" sex again. I haven't read the latest story arc as I'm a collected edition reader and only read volume 1 so far, but obviously two images of man on men sex were critical to advance the story, or so says our pal Brian.  I don't believe this would have received anywhere near the level of press it has without the mention of "gay" in the author's response.
Seemed like a little investigation was required. I went to my iPad and installed the Image Comics app and was prompted that it contains adult material – 17 and over, would I like to proceed. OK, so anyone going into this should already be old enough to see whatever the issue contains. I also checked out Comixology for this issue and found it's labeled as "mature" and 17+ only. Image Comics digital states "you must be at least 17 years old to view this comic. Whether there are any actual barriers to stop users under 17 remains to be seen, but the material seems properly labeled. I haven't been able to locate any images of the printed cover to see if there is a "mature" label on it, but I hope comic shops are keeping an eye on this issue and are not selling it to minors. Here are Apple's guidelines for apps relating to this material.
18. Pornography
18.1 Apps containing pornographic material, defined by Webster's Dictionary as "explicit descriptions or displays of sexual organs or activities intended to stimulate erotic rather than aesthetic or emotional feelings", will be rejected
Let's have a nice summation. Apple as a corporation has a rule that no sexual organs are to be displayed, which occurred in Saga issue 12. A clear violation of their policy.