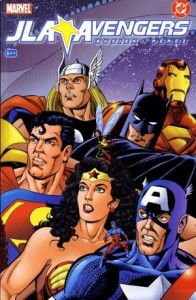 JLA/Avengers #1, Marvel Comics, (September 2003)
This comic features the 1st meeting of the Justice League of America and the Avengers. Considering how big the Avengers are and how big the JLA will most likely be this is a book that belongs in everybody's collection. What's odd to me is that it took until 2003 for this meeting to happen.
Yes, Marvel and DC have co-operated in the past, the 1st time being on that Superman vs Spider-Man treasury in 1976. The most successful crossover for the two publishers was probably the 1982 New Teen Titans and X-Men. Based on this success Marvel and DC had planned a JLA/Avengers comic to come out in 1983. Bickering derailed that and the project was shelved, not before George Perez popped off a bunch of pages though, but more on those later.
Did you know that Avengers #70 (October 1969) was a quasi JLA/Avengers crossover because of the fact that the bad guys in the book, the Squadron Sinister, were based on DC's JLA. The Squadron's creator Roy Thomas admitted soon after that the team was supposed to be the JLA with Hyperion being Superman. The Squadron Sinister are not the JLA, Superman vs Spider-Man is not a traditional comic, the New Teen Titans are not the JLA and the planned 1983 JLA/Avengers project did not happen.
All this leaves us with 2003's JLA/Avengers #1 (part of a 4 issue mini-series printed in deluxe format and costing $5.95 at the time).
JLA/Avengers #1 did well, 191,000 copies sold and none of the 4 issues dipped below 140,000 sales. The mini-series was a hit and I remember fan buzz was good. More should have come out of this crossover but it didn't. I believe this was the last crossover the big two publishers did.
The story was written by then Avengers writer Kurt Busiek and was drawn by George Perez the same George Perez that produced pages for the 1983 project. Actually the JLA/Avengers Hardcover editions of 2005 reprint these initial Perez pages.
This book is not actively traded though lots of CGC copies exist in high grades. There are 320 CGC 9.8 copies as of this post but surprisingly there are only 7 recorded sales over the past 12 months at this benchmark grade.
These comics go for less than $30 at 9.8 but it's not an oversupply issue. One only has to look at the almost 1,000 CGC 9.8 copies of New Mutants #98 getting $350 apiece (and that's with 186 sales in the past 12 months) to realize this is a demand issue.
Not enough people want this book.
All we need is for DC and Warner to figure out this superhero movie thing, line up a mega JLA flick and we're in business. Perhaps after a few JLA and a few more Avengers sequels they'll figure things out and produce a JLA vs the Avengers movie. There's a billion dollar opening weekend and there's your retirement fund sitting in that little box fill of JLA/Avengers #1.
I recommend you grab a few nice tight copies raw, try to get them for $4 to $8 and then treat yourself to a CGC 9.8 since it's so cheap.
There should be no downside to this book. Sure you won't get rich with these but you could make a buck or two.
The 42nd edition of the Overstreet Comic Book Price Guide shows $6 as the 9.2 price split.
Strengths that make this comic book a good long-term investment are:
1st meeting of the JLA and the Avengers

Nice and cheap right now