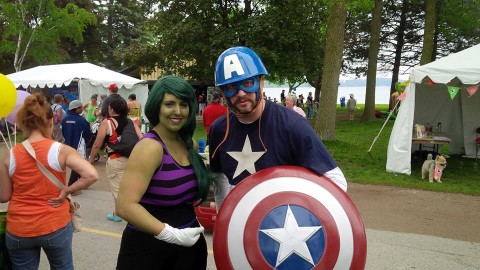 This past Saturday the city of Barrie had a celebration for the city's birthday.  Big B Comics in Barrie was there to help celebrate the event.
I was there to help promote Big B Comics dressed as Captain America.  If you are a regular reader of Comic Book Daily, you may remember my first time appearing at an event dressed as the Sentinel of Liberty.  It had been a while since  I dug out my costume, so I was a little apprehensive about doing it.
To my surprise, my costume didn't fit any more.  I know what you are thinking, but to my great pleasure, my costume didn't fit because I have lost some weight.  Even though my costume was baggy on me, I felt more confident walking around the festival as a "leaner and meaner" super hero.
The other dilemma I was facing was my beard.  When it comes to cosplay, I am a bit of a realist.  If you are going to dress up as a character, at least try to be the part.  Aim for realism.  It is rare to see Captain America with facial hair.  I have had a beard for a few years now, and in any other circumstance I would have shaved my beard, but I can't shave it off quite yet.  So I left it.  There was only one kid who noticed that I had a beard, and I told them "that when you are fighting Hydra, sometimes you can't get to a razor!"
Joining me on this adventure was Stephanie, who was dressed as the 'Emerald Avenger' She-Hulk.  She is also one of the big reasons I had so much fun dressing up as Cap, and seeing all the kids.  Cosplaying with another person gave me the support, and confidence I needed to walk around the park on Saturday, and really get into the part.  If I had to be there by myself, I know I would have been self-conscience and shy.  But instead I walked around and greeted everybody.  I posed for pictures with anybody who wanted to have their picture taken with a couple of Avengers, and gave out high fives like they were going out of style.
It was a blast.
The other thing I noticed was Captain America is very recognizable.  I wasn't even in costume yet when I showed up at the park, but I could hear people say "hey look it's Captain America's shield".  After getting my gear on, I had people of all ages waving at me, and calling out Captain America's name.
It was a surreal experience.  And it was awesome.
It is very clear to me, that kids love Superheroes.  Seeing the kids faces light up, when they saw Captain America and She-Hulk made me very happy.  It made the experience very enjoyable for me, and I know for sure there will be more cosplay in my future.