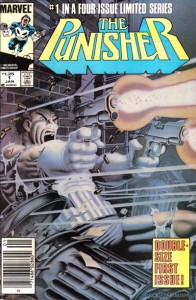 Punisher Limited Series #1, Marvel Comics (January 1986).
A sure fire way to tell if a comic book is hot these days is to head to a comic con and see if you can find the book on dealer's walls. The more copies you see at a con the hotter the book. Up until two years ago I never saw a Marvel Super Heroes #18 at a con on a wall, I go to lots of cons but can't seem to remember ever seeing one on a wall. At last week's Fan Expo in Toronto the book was everywhere. Hot book.
The hottest book at the con though was probably Hulk #181 and not far behind it was Amazing Spider-Man #129. For me this was a bit refreshing, I mean these are two old time classics, stand bys, perennials. These two books continue to be the blue chips of the Bronze Age and for good reason. Hulk #181 of course introduces the world to Wolverine while Spidey #129 brings forth the Punisher!
I sure did see a lot of Hulk #181s and there were just as many ASM #129s. These books are displayed for all to see because the chances are they will sell, these are in demand books! Hot books.
You know what other book I see on walls more and more? I see Wolverine Limited Series #1 on more and more walls and I see price tags on raw copies of $&5 and up and I see them selling.
It was funny because at my booth I had a Hulk #181 an ASM #129 and a Wolverine Limited #1 and for some reason it occurred to me that I didn't have a copy of the Punisher equivalent to the Limited Wolverine. I did not have a copy of Punisher Limited Series #1.
This week's Undervalued Spotlight shines on Punisher Limited Series #1 published in January 1986 the first of a 5 issue mini-series (though the first four books stated incorrectly that is was a 4 issue mini-series).
Punisher is a very popular character, a very very popular character; I'll dare say he was the second most popular character to come out of the Marvel Bronze Age, Wolverine being first.
For me at least it seems Punisher Limited Series #1 has yet to have its party. The book is now relatively cheap and interest in the principle character is still high and there is some relative scarcity in supply, I think these factors should help drive up prices in the short term.
Did you know there are almost 3,500 Wolverine Limited Series #1s graded at CGC 9.6 or better and this include 25 CGC 9.9s and 3 CGC 10.0s! Compare that to the 303 Punisher Limited #1s at CGC 9.6 or better, with no 10.0s or 9.9s. That is a serious difference in supply.
Wolverine Limited #1s can still get $200 at the CGC 9.8 grade wile CGC 9.6s sell like hotcakes at $110. Punisher Limited 9.8s (which represent the highest grade possible for that book) get $250 while 9.6s get $110.
Sure the Punishers are commanding good money right now but when you consider the 1,919 Wolverine 9.6s get the same money as the 119 Punisher 9.6s you know there is a correction in the works.
A quick check on eBay shows nice raw copies of Punisher Limited #1 selling in the $25 – $30 range. That's a bargain if you can get a 9.4ish copy.
Currently Punisher seems like the odd man out at Marvel. Superheroes are hot at the House of Ideas, Cosmic Marvel is even hotter. Characters like Punisher are hard to seamlessly and naturally place into this continuity.
I for one see the Punisher's current under the radar status as an opportunity because I believe the Punisher is a strong enough character. Disney is a beast of a company, they do some good work. I'm confident in Disney's ability to find the Punisher an optimal spot in the line up and I'm willing to hunt down high grade copies of Punisher Limited #1s and hoard them to prove it.
The 43rd edition of the Overstreet Comic Book Price Guide shows $17/$26/$35 as the 8.0/9.0/9.2 price splits.
Strengths that make this comic book a good long-term investment are:
Boasts a stunning Mike Zeck/Phil Zimelman cover and we all know covers sell comics
Launches Punisher's first comic book series
Title character has longevity, will be around for a while