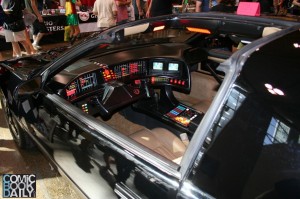 A week has gone by since Fan Expo.  I've had time to relax (sort of) and decompress from 4 full days of Fan Expo fun.
This being my third Fan Expo in a row, I can sit back and compare the last 3 years and I feel that this is the best one yet.  Sure there were a few hiccups, but they were minor compared to issues in previous years.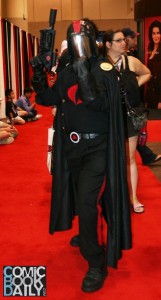 New to Fan Expo this year was the addition of Sports Expo in the North Building.  I checked out the Sports Expo a couple of times during the weekend, and it was quiet over there (it may have been busy later).  But that is to be expected.  New events take time to get rolling.  If Fan Expo plans on having Sports next year, it will be more successful because the Sports fans know it's there now.
Moving the celebrities to the North Building helped thin out the crowds, and allowed for larger displays in the South Building.  It was just tough getting into the South Building at times.  It would be very congested by the comic retailers, but once you got to the back of the room there was lots of space.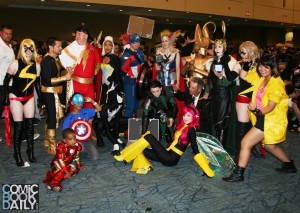 I was disappointed that DC and Marvel didn't have a presence at Fan Expo this year.  Fan Expo is one of the largest conventions of it's type in North America, and it would be nice to have "the Big 2" there in full force like in San Diego or New York.  Even the panels were a bit disappointing.  I had hoped Marvel and DC would be there to make some huge announcements.  The Marvel panels were Q&A sessions, which I find boring.  I wanted some big news with flash and flair from the two biggest companies in the comics game.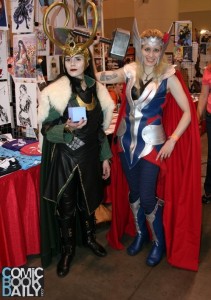 Not to dwell on the negative parts of Fan Expo, but there was something else that happened that really irked me.  You saw in my previous post that I was dressed at Thor at Fan Expo on the Friday.  While in costume I headed over to the Hasbro booth to see their display.  They also had a retail store there selling some "exclusive" items.  I asked the attendant behind the counter "Where are the G.I. Joe figures?"
He told me he that there were none, because people haven't shown any interest in G.I. Joe.  I couldn't believe that.  I told him I was a die-hard G.I. Joe collector.  Then he looked at me and said "Then why are you dressed like Thor, why aren't you in G.I. Joe cosplay?"
Fair enough… then I told him about my two G.I. Joe tattoos.  He then looked at me and said "And you have them covered up.  Shows you how much of a fan you are."
That did it.  I was furious.  I looked at him, cracked my wise-ass grin and said "Buddy… 2-1/2 feet of counter ain't enough to save you!"  And I started laughing.  He chuckled at my joke and moved on to the next customer.  I wasn't joking.  He severely pissed me off.
I couldn't believe the way he talked to me about G.I. Joe.  First off… you never… ever question a person's loyalty to any product or brand.  If you love something, you must be passionate about it.  The quickest way to piss somebody off, is to doubt that passion.  Sure I wasn't dressed as a G.I. Joe character.  But what does that have to do with my passion and dedication to G.I. Joe.
It is a shame that Hasbro didn't bring more G.I. Joe to Fan Expo.  There are still 2-1/2 waves of Retaliation toys that still haven't hit the shelves yet.  If this is the way Hasbro is going to handle it, I'm afraid that my favourite toy is going to disappear with a whimper, rather than a blaze of glory.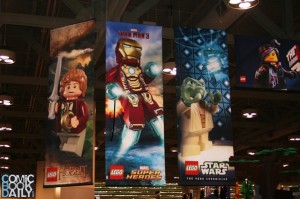 I had so many great experiences this year at Fan Expo, I can't talk about them all in this column.  You'd be here all week, and I've probably rambled on enough.  It's an amazing experience to walk around and see people who's work I truly admire.  I walked through artist alley and saw Steve Epting.  I'm a huge fan of his work, and just having the opportunity to say hi, is very cool.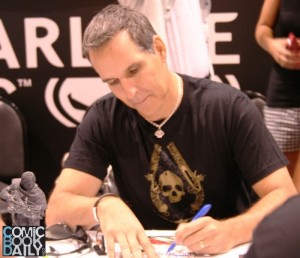 I was walking by the back wall over by the Ubisoft booth, looked over and there's Todd MacFarlane.  It's funny… the first thing that came to mind was "How many Spawn #1's has he signed this weekend?"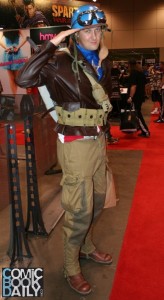 But my favourite experience during Fan Expo weekend was being Thor.  It was so much fun being in Cosplay at Fan Expo.  Especially seeing the kids.  There was one moment that really stood out for me.  I was asked to have my picture taken with a Lady Deadpool (who was quite good looking).  Just as the picture was about to be taken, I felt a tug on my cape.  I turned around and there was a 5 year old kid.  His dad told me they were both huge Thor fans and his son wanted his picture taken.  I spun around and got ready to pose for the kid.  Sure I might have ruined the other guy's picture.  But I'm pretty sure he just wanted a picture of sexy Deadpool anyways.  I just happened to be there.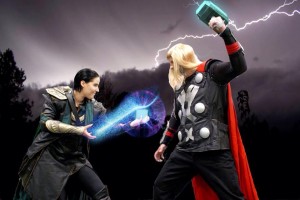 Seeing the kids get excited to see me "be a character" was worth it to dress up for the day.  I had so much fun, I jumped into the costume on Saturday too (I lost the wig… I hated it.  But I have a helmet coming).
I am already looking forward to Fan Expo 2014.  I plan on being there for all four days.  And who knows… I might have a new costume in the works too.