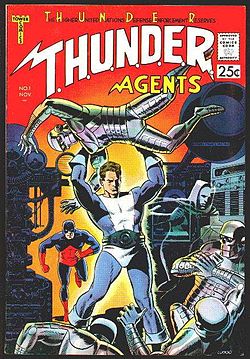 THUNDER Agents, Tower Comics, November 1965
Should we be considering those Tower Comics from the 1960s?
You know the ones Wally Wood was supposed to build up to challenge the heroes of Marvel and DC.
I'll try to put the Tower Comics experiment into historical context with a few short sentences.
By 1965 the Marvel revolution had taken hold. Marvel's new stable of very cool heroes were making DC take notice. I feel DC upped their game to offset the Marvel threat and this benefited all of us.
Other comic publishers noticed this hero revival. The mid 1960s saw several publishers try to capitalize on the resurgence of superheroes.
Archie Comics lunched the Mighty Crusaders in November 1965, the same month as our Spotlight book. The Mighty Crusaders was an effort to try to cash in on the popularity of the Avengers and the Justice League of America as was our Spotlight book THUNDER Agents #1.
Even old fuddy duddy Dell Comics tried to take the public domain characters Dracula, Frankenstein and Dracula and give them the superhero treatment in1966.
Archie Publications turned Archie into Pureheart one month earlier in October 1965. Superheroes were a hot ticket in 1965.
The Tower Comics experiment is perhaps the most successful of this mid 60s revival. It outlasted the couple issues that Dell was able to squeeze out of its new hero line, the 7 issues the Mighty Crusaders lasted and even the 18 issue run Pureheart had in Life with Archie.
Tower publisher Harry Shorten (who used to work for MLJ Publishing) hired Wally Wood to create a whole batch of superhero characters.
Wally Wood answered with THUNDER Agents.
THUNDER Agents was a giant 64 page comic and it cost 25 cents. The book was published bi-monthly and lasted 20 issues finally ceasing publication in November 1969.
Some great names worked on THUNDER Agents #1. EC Comics legend Reed Crandall drew and inked the 10 page NoMan story while Gil Kane and George Tuska worked on the 12 page Menthor story. Wally Wood of course drew the cover and the THUNDER Agents stories inside.
Throughout the run Tower would employ more greats including Steve Ditko who drew and inked a 10 page NoMan story in issue #6.
The THUNDER AGENTS concept was actually a bit of a hybrid marrying the superhero concept with the secret agent concept that was so popular in mid 1960s pop culture (…the name's Bond, James Bond).
Our heroes worked for the United Nations, they were common folk just putting in a good day's work saving the world. This working as a hero for a living was a neat concept at the time. Still is.
On the team we had Dynamo, NoMan and Menthor. I should note that NoMan and Dynamo got their own titles in 1966 and these too are cool to collect. You really can't own a THUNDER AGENTS #1 and not own the NoMan #1 and the Dynamo #1 now can you? The Dynamo and NoMan guide for $150 at the 9.2 grade.
JC Comics tried to revive the series in the 1980s. For my money though Tales of Thunder #1 publisher in March of 1985 by Deluxe Comics is a steal at its $4 value in the guide. It's probably easier to find a THUNDER Agents #1 that it is this book. Your mission is to add this little gem to your Tower colletion.
DC launched a series in 2011 but the series did not fit their New 52 line up. By 2013 the property landed at IDW where it is currently in print.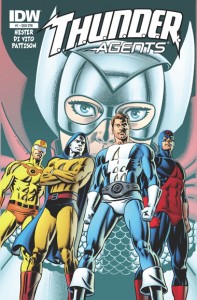 I'll say one thing for these THUNDER Agents, they don't go away easy. Perhaps there is something there?
A 9.2 just sold for $128 but it seems to have underperformed as the same book sold in July for $256. Either way you're looking at a 9.2 for just over 50% guide!!
It's not an oversupply issue, there are only 62 graded and only 18 are at 9.2 or better.
This is a demand issue or lack thereof.  But why?
We have a 1960s #1, it features the introduction of several superheroes, it is a 64 page giant issue, it features the talents of the comic legends mentioned above, it spawned 2 spin off titles, it is still a viable property currently residing at IDW and it sounds to me like its overlooked and undervalued!
Could be a good time to pick a few of these up?
The 43rd edition of the Overstreet Comic Book Price Guide shows $119/$265/$410 as the 8.0/9.0/9.2 price splits.
Strengths that make this comic book a good long-term investment are:
1st  appearance THUNDER Agents
Part of mid 1960s superhero revival
Underperforming versus its guide price as of this post
Characters still in print today