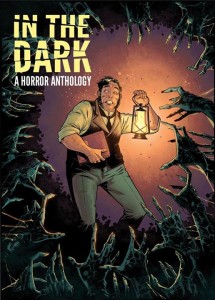 Do you like horror comics? If so, you may want to consider supporting this week's "Campaign of the Week," a horror comic anthology entitled In the Dark.
In the Dark
This is a new horror anthology deriving from the creative talents of  some of the industry's more well known horror comic creators. This 250-page collection of original stories features writers Rachel Deering, Justin Jordan, Duane Swierczynski and Ed Brisson, among many others. Not to be outdone, artists Tradd Moore, Dalibor Talajic, Andy Belanger, Garry Brown and Matthew Dow Smith will be contributing their artwork to the anthology. They'll also be  joined by artists from the Abe Sapien series, Anathema, Planet of the Apes and Ghostbusters. Bringing everything together is Deering, who is also leading the charge as Project Manager and Editor of the anthology, while DC  Comics writer Scott Snyder will be providing the foreword.
The Campaign
This particular Kickstarter has some above-average namepower behind it, with each creator having one thing in common: they truly love horror comics. Contributions begin at $10, which gets you a PDF of the In the Dark horror anthology. A pledge of $50 or more, however, will get you the big prize — a printed, oversized hardcover edition with 250 pages of horror comics  in addition to the PDF. They do ask for an additional $20 to cover shipping costs for mail delivery outside the U.S., which they also request on some of the higher-end creator centric perks.
With 30 days left in their campaign, this Kickstarter project is already nearing the $22,000 mark and is closing in on their $30,000 goal. All donations will be used to cover printing and shipping costs directly associated with publishing an anthology this size. The creators are also working with IDW to ensure the entire process goes smoothly, but the creators are solely responsible for securing backing from fans. Anything above and beyond the $30,000 goal will be distributed among the creators who have donated their time and efforts into making this anthology a reality. And as it is with all Kickstarters, if the campaign doesn't meet its goal, all contributions will be refunded.
Value Perks
The $10 pledge is a steal for 250 pages worth of comics. With it you'll get each story featuring the work of many great creators and will be supporting not only independent comics, but more specifically the horror comic book scene. The $50 pledge point is a great opportunity to get a collectible hardcover horror comic anthology (along with the PDF), however for those outside the U.S. you'll be asked to contribute an extra $20 to cover shipping costs.
There are many other perks available from the creators from the $75 level onward, one of the more interesting ones being Rachel Deering's pledge to handwrite a flash fiction horror story on the inside cover of your hardcover print edition. This one is unfortunately sold out, but there are plenty of other bonuses available from the other creators, including comic packs, store appearances, or multiple opportunities to appear in a creator's work as a character.
Why should you support them?
If you love horror comics, or even supernatural stories, this is a perfect comic for you as you'll get a huge 250 page book filled from cover to cover with quality work. These ladies and gentlemen love their craft and love writing and drawing within the horror genre, and if you're a fan of their work or the genre itself you should support this campaign. The $50 perk is a great reward on its own, but if you're outside the U.S. and are squeamish about the extra shipping cost, getting the $10 digital PDF version is a great option.