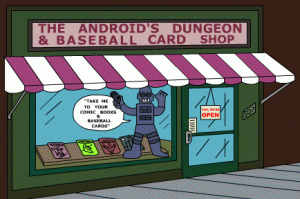 The other night a friend and I got into a discussion after leaving our favourite comic book shop.  It all started with him saying "If I had a million dollars, I'd open a comic book shop." (If you want to play along, sing it to the tune of "If I Had $1,000,000" by Barenaked Ladies).
I told him that would be an interesting idea, but if he did he should add a lounge area where people could hang out and read their comic books after they bought them.  The topic dropped off after we had a short discussion about it.
Until I got home… then I started thinking about it more.
I like to think that every comic book collector has thoughts about their "dream comic book shop".  And to every collector, that dream shop is different.  Some people would be happy with just a large selection of books.  Some collector's would prefer more statues or toys.  There may even be some collectors out there that would just like a change of location, so their local shop is easier to travel to.
The possibilities are endless.
But since this is my column, here is what I would love to see in my "dream comic book shop".
Lounge Area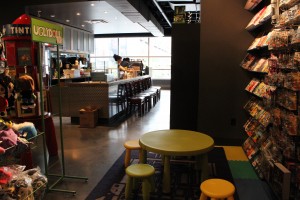 I spend a lot of time at my comic book shop every Wednesday.  It is a place where we hang out.  We will show up to pick up our books, and end up hanging out and talking for a while.  At times (when a large group of us are meeting) the comic book shop is the "starting off point".  It is a central location where we can all meet and start our adventures.
Since we spend a lot of time hanging out there, my dream comic book shop would have a lounge area.  Some couches and chairs would be perfect.  We could sit and talk, or someone could just sit there and read their newly acquired purchases.
A "refreshment area" would be great too.  I know there are some comic book shops that offer a "coffee shop" area in their store.  I love this idea.  You can buy a coffee at Chapters.  Why not at your local comic book shop?
And since we are talking about fantasy dream comic book shops here, why not add a licenced bar?  Ok… I guess I may be swinging for the fences there on that one.
Arcade Games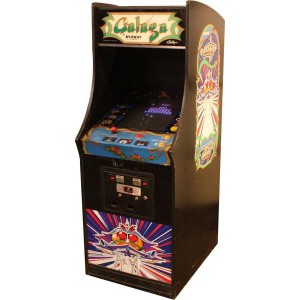 I don't want a full blown arcade in my "dream comic book shop".  But having a couple of old arcade games would be fun.  Right off the top the three games I would have in my dream comic book shop are Galaga, Double Dragon and WWF Superstars (you know… the one where you had to fight through the game to take on Andre the Giant and Million Dollar Man at the end… that game was awesome).
Those three arcade games sucked up a large portion of my allowance when I was a kid.  Being able to throw a couple of quarters in one, and playing it for a few minutes would be fun.  It reminds me of the old days when I used to walk to the corner store and pick up my comics, then spend my change on WWF Superstars.
Action Figure Displays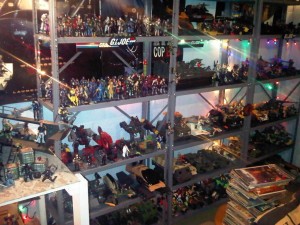 I have said this many times before.  Action figures should not be stuck in their tiny plastic prison packaging.  Action figures should be out on display.  My dream comic book shop would have a section where the action figures are on display in an action/battle scene.
If patrons came in an saw a huge battle display, it may inspire them to set up a display of their own figures.  Or if they don't own action figures, it may interest them on purchasing some to start their own collection.
Also if you have a following of action figure fans, every month you change the display to represent a new story line.  I think it would be fun.
Those are just 3 of my ideas, and I know there are thousands of more "dream comic book shop" ideas out there.  Have your say.  If you had a $1,000,000 what would you put in you dream comic book shop?