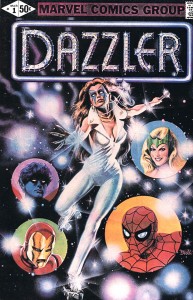 Dazzler #1, Marvel Comics, March 1981
I'm pricing up books for the upcoming Toronto Comic Con and ran into a nice batch of X-Men. There was a sweet copy of issue #130 in there and I had to pick it up and thumb through it. I remember this book coming out and me being a bad boy rock and roller at the time I remember I hated the character.
Last week I bought the Donna Summer Box Set so times, and people do change.
Dazzler was a cool concept, one that was supposed to be a cross promotion between a record company and Marvel. The problem is they all sat on this too long and we finally got our Dazzler when Disco was already on the outs. A 1978 Dazzler launch would have been so much better don't you think? Did you know Bo Derek was supposed to play Dazzler in a movie back then? Now that would have been fine!
So Dazzler has a successful debut in X-Men #130 then famously pops up in Amazing Spider-Man #203 (a great cover and a nice break from the 2 Punisher issues that preceded it). She also appears in FF #217 in the same month (hey guys, that FF #217 is a sleeper too).
It wasn't until March 1981 that she got her own title and what a launch it was.
Dazzler #1 boasts a fantastic Bob Larkin painted cover that features the likes of Spidey, Nightcrawler, the Enchantress, Iron Man and of course the dazzling Dazzler. It's a black cover too making tight high grade copies just that much harder to find.
Marvel went all out for this premiere issue with guest appearances from the Avengers, the X-Men and Spider-Man. It was like having the Beatles, Stones and Dylan come sit in on a Debbie Boone concert. Star Power!
In this 1st issue Dazzler tries to become a singer and has to compete with the Enchantress for a job. Apparently the Enchantress can get pretty pissed if she loses. It's a great issue, it's a fun issue.
To her credit Dazzler did change with the times, she tried her stint at rock and adult contemporary music; today I believe she is opening for Bruno Mars.
I see Dazzler #1's selling raw for $20 in the not too distant future. Your mission is to snag a nice, tight, crisp looking copy for $5 or less.
The 43rd edition of the Overstreet Comic Book Price Guide shows $4 as the 9.2 price split.
Strengths that make this comic book a good long-term investment are:
All Star supporting cast in this issue
Great painted cover
Bargain book price… for now!
Marvel #1
Late Bronze/Early Copper is a comic age on the rise