The thought of Restored Grade , also known as the dreaded "Purple Label", has been known to make an avid comic collector or two, shudder, when they receive the assigned grade on a CGC submission. Nothing makes you want to raise your fist to the heavens , and scream NOOOO!!! like getting a great grade only to have the dreaded purple label.
I have had this happen on a few occasions. The most noteworthy was when I purchased a raw Amazing Fantasy #15 a few years back at the Baltimore Comic Con. Now I bought it as a perceived 4.0 raw with the intent on having it slabbed. I asked the vendor, Richard Muchin of Tomorrows Treasures, if he would stand behind the book if it came back restored. He assured me he would so off I came back to Canada and quickly sent it down to get graded. Sure enough, it came back with a purple label. Richard was absolutely true to his word and replaced it with another AF#15 and when I had it graded it came back a 5.0 Universal Grade. I have since that time purchased several Silver Age Marvel Keys from him and been extremely satisfied with my purchases. Hats off to a knowledgeable and honest dealer.
I also had a beauty raw Silver Surfer #4 which I purchased off of eBay and sent for slabbing, that came back 9.6 Restored Label with "a small amount of colour touch". That vendor did not stand behind the book. Now I am colour blind so it is very easy for me to miss a colour touch unless it actually bleeds through on the back side of the cover, so I rely heavily on building relationships with reputable vendors I can buy from with confidence. My suggestion to any up and coming collector, with eyes on building a serious collection, is to make yourself known and knowable to the vendors whose books you are perusing.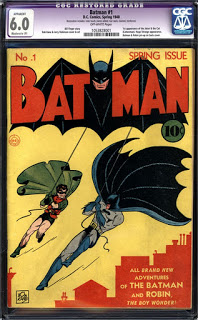 Now as the price of key books in any grade continue to rise, many books in 6.0 or higher are growing seriously out of reach for most collectors. This begs the question. Are restored grade books a good investment?
Obviously key books like Batman #1, Superman #1, Fantastic Four #1 and so on have a demand that far outweighs the supply, and the market price is prohibitive, especially with the big money that has come into our little hobby, from people who are not comic fans but just looking for a place to park their money and get a better return than that which is available in other investments.
I am not trying to advocate one way or another, but am just postulating here. Food for thought so to speak.
Restored books simply means that the book in question has been returned to a known or assumed state through the addition of non- original material. This can vary from colour touch (which can be any sort of pigment using pen, marker, whatever) to pieces added, tear seals, spine splits, reinforcement, cleaning and reglossing.
Non-additive processes such as dry cleaning, pressing, and tape removal are not considered restoration. None of these processes "add' any material to the book.
I think as we move forward in time, and the finite number of key issues get locked up in private collections, the restoration market will become more attractive and we will also see the prices continue to rise. They may even become more or less attractive based upon the amount of material added to the book.
Again, this is just my opinion. Full disclosure. I have been wrong before and am pretty well certain I will be wrong again. However, even if just for the sake of getting a great looking copy for your own private collection, of a high grade copy of that book you love to read over and over again, maybe that copy could be a purple label that you get at a fraction of the cost of a Universal grade but you get the added enjoyment of actually being able to read it.
I know I have been looking at "purple" as not being the menacing colour I once thought it was.
It was commented by a few readers in my last post, that one of the biggest upside to CGC grading is knowing the book you are buying is either restored or not. And that is a good thing to know.
Thanks to Mike Huddleston for suggesting this topic a couple of weeks ago.
Once again, I look forward to your input!