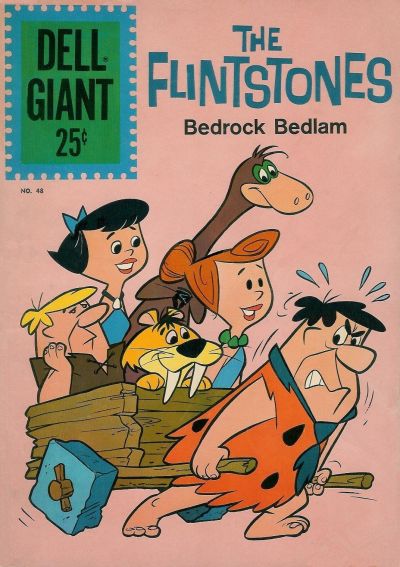 Dell Giant #48, Dell Comics, July 1961
Dell Giant #48 is also known as Flintstones #1 and represents the 1st comic book appearance for the gang from Bedrock.
Don't you love it when you go through a box of comics you haven't gone through in years and end up finding little gems you forgot you even had. That's what happened to me with this book, as soon as I pulled it out I said "they that's Flintstones #1"! I've always loved this comic probably because I've always been a Flintstones fan.
The Flintstones cartoon premiered on TV in the fall of 1960, so basically the comic was published  after the 1st successful season of the TV show.
I picked up my Flintstones addiction in the 1970s while the show was enjoying a massive resurgence in syndication.
Dell Giant #48 should be a bit of a surprising choice coming from me. Here on the Spotlight I've preached the importance of relevance, viability and the all important ability to repeatedly make that ever so tricky generational jump.
Scooby and Shaggy have done a better job here than have Fred and Barney and this fact translates into the Gold Key Scooby Doo #1 commanding much better prices than does this week's Spotlight pick.
Still, I'm not quite ready to write the Flintstones off just yet. I've seen examples of down and out properties finding their stride once again, you can argue that Iron Man and Captain America are examples of this.
The Flintstones were massive in their day, they took the Honeymooners formula to places only an animated series could go. The gags and props were legendary, still are. The writing was second to none and I challenge you to find a better ensemble of voice actors. We have as big and as solid a base to built from as you'll find, now all we have to do is add to it in a constructive and lasting way.
Most people will look to the Simpsons as the franchise that made the Flintstones obsolete, I disagree, I think there is plenty of room for fresh, quality Flintstones material that speaks to todays generations.
I have this silly theory about what the Flintstones did wrong. More focus should have slowly been directed at Pebbles, Bam Bam and Dino. These characters needed more development.
The prehistoric premise is still too good, the enormous and excellent body of work will always be there, and though not where it should be the Flintstones property has far from faded completely from the public awareness.
I'll say it again, I have not given up on the Flintstones, they'll hang around, maybe not always at the forefront but the property will settle in to a level higher than it enjoys today, it has too, its too good to let go.
I think its time I upgrade my Dell Giant #48.
The last CGC 9.2 that sold got $400 or full guide, the last CGC 9.4 sold 7 years ago and got $500. I have a feeling nice ones will cost a bit more today.
The 43rd edition of the Overstreet Comic Book Price Guide shows $160/$280/$400 as the 8.0/9.0/9.2 price split.
Strengths that make this comic book a good long-term investment are:
Flintstones #1
Dell Giants from this era are collectible and visually beautiful if the binding is even and square
A bargain at today's guide price