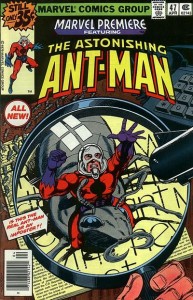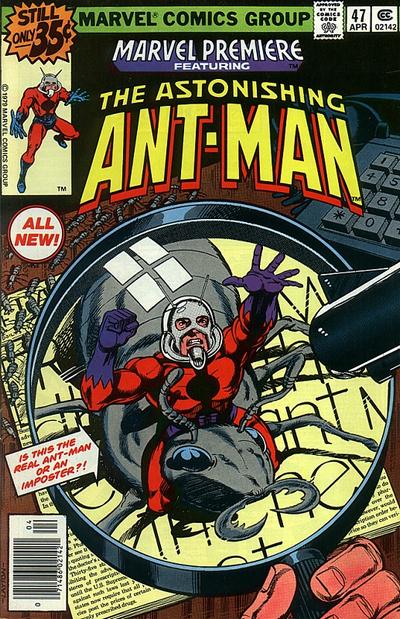 Marvel Premiere #47, Marvel Comics, April 1979
This comic features the 1st appearance of the 2nd Ant-Man (Scott Lang).
Yeah, sure, measured against the Overstreet Price Guide's assessment of $35 for a 9.2 grade this is an obvious pick. Marvel Premiere #47 has certainly grown hot over the past year and as of this post is getting about $120 for graded 9.2 copies and $190 for graded 9.4s.
Lately I've been thinking about this comic, about it's future potential. I'm arguing that even at these prices this comic book is still undervalued.
For me it comes down to how well the Scott Lang Ant-Man entrenches himself as THE Ant-Man of the future.
Old timers like me may favor Hank Pym as Ant-Man but let's not forget that the current Ant-Man in the Marvel Universe is Scott Lang and let's not forget that millions of potential new fans will be introduced to the Scott Lang character in the upcoming Ant-Man feature film.
Actor Paul Rudd will play the Scott Lang alter ego while aging actor Michael Douglas will play the Hank Pym alter ego. Believe it or not a lot is riding on how well Rudd fits into the role.
I'm not trying to hang this whole spotlight on the upcoming Ant-Man movie but it's clear that Marvel is investing in the Scott Lang character, the movie, current comics and by extension all future projects.
Perhaps it's a good time to remind everyone just how clearly the collectors and investors relatively new to the hobby have made their presence known; many attribute the recent bull market for comic book collectibles to these new market participants.
What are the characters that will matter most to these new buyers?
Of course Tales to Astonish #27 (1st Hank Pym Ant-Man) will always be THE Ant-Man book followed by Tales to Astonish #35 (1sttime in costume). I'm arguing that if the Ant-Man character becomes more synonymous to Scott Lang then we can expect stronger demand for Marvel Premiere #47 and for Avengers #181 for that matter. Avengers #181 was published a month earlier in March 1979 and it introduces us to the Scott Lang character.
The quick overview of Marvel Premiere #47 has Scott Lang, an ex-con and an electronic genius employed by Tony Stark, sneaking into Pym's place to steal the Ant-Man suit, helmet and shrinking gas. Scott Lang does all this so he can save his young daughter's life. While on his quest for his daughter's cure he inadvertently saves the very doctor who can help his daughter. Hank Pym, who was running around as Yellow Jacket at the time, grants Lang access to the Ant-Man capabilities if he promises to use them to fight evil.
The Ant-Man is an amazing premise, perhaps one of the best in comics. Stories and scenarios explode out of the imagination with the Ant-Man concept so I do believe Ant-Man has a very good chance of following the likes of Iron Man and Captain America and move into the realm of A list characters. There is a good possibility this will happen and when it does it will be the Scott Lang version of Ant-Man the new fans will flock to.
Marvel Premiere #47 shot up quickly in value and it looks to have plateaued, I'm betting this book shoots up again with the future success of the character.
In the not too distant future $120 may seem a bargain.
As always I recommend a nice, tight, crisp raw copy, odds are you'll find it cheaper than a slabbed copy!
Happy hunting.
The 43rd edition of the Overstreet Comic Book Price Guide shows $17/$26/$35 as the 8.0/9.0/9.2 price splits.
Strengths that make this comic book a good long-term investment are:
1st appearance of the Scott Lang Ant-Man
Late Bronze Age Key
The late 70s/early 80s is becoming a very collected era in comics