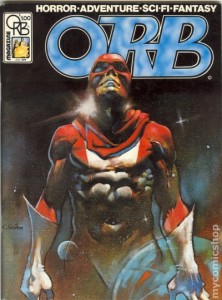 Orb #2, Punk Publications, July 1974
I tried to post this on Canada Day July 1st but alas the best made plans are often messed up by sorties into Quebec. Anyway rather than wait until next year I thought I'd post my Canada Day Spotlight one week late.
Happy Canada Day!
Orb #2 is a very important Canadian comic publication and it belongs in your collection if you want to call yourself a connoisseur of comics Canadian.
Northern Light makes his first appearance in Orb #2, important because Northern Light represents the 1st patriotic Canadian superhero since the Canadian Whites era Johnny Canuck a full 30 years prior.
Lost to many collectors is the fact that Northern Light predates Captain Canuck by a full year. In his book Invaders from the North John Bell cites poor distribution as a reason why Orb and by extension Northern Light did not catch on to the extend Captain Canuck did a year later.
I asked Orb published Jim Waley if he recalled how the first few issues of Orb were distributed across Canada. He states his memory of distribution is "foggy" at best. Nonetheless Orb #2 marks the rediscovery of a Canadian hero for a Canadian audience.
How Northern Light came to be is quite a story unto itself. I think it's best I use part of an email reply Jim Waley sent me to explain:
"The NL story was based on a script by T. Casey Brennan who had initially written it, on spec, as an E-MAN script for Charlton Comics which they declined to buy as that character's co-creator, Nicola Cuti, was handling all the writing on that series and no outside material was needed. John had been in contact with T. Casey and on hearing he had an available script quickly grabbed the opportunity to work with this renowned Warren Magazines writer and informed us he'd like to illustrate this material for ORB. The story proved to be a fairly standard superhero tale but we were pleased to get someone of T. Casey's stature in our publication so we agreed to publish this story though, obviously, the character needed a new name."
The new name suggested by T. Casey was The Phantom Canadian, but when that was shot down by Waley Casey countered with The White Light. Waley ran the name by his wife who wisely suggested The Northern Light.
The original script intended for E-Man ate up Orb issues #2 and 3. Waley,with the help of the likes of Canadian comic book legend George Henderson, re-jigged the whole premise with Orb #4, introducing an origin story that of course involved aliens.
By the way ignore the Overstreet Comic Book Price Guide for now: they have it wrong in naming Orb #1 as the 1st appearance of Northern Light. It is issue #2 that you want, the one with the stellar cover by Richard Robertson.
I'm sure you are aware of all the activity and excitement being generated as we the Canadian Comic community dig deep and hard to rediscover our comic Book past. Orb Comics #2 is part of that heritage and it is a book well worth investing in.
This book is not easy to find: a quick look at eBay showed a bunch of Orb issues available but only one lower grade #2.
The 43rd edition of the Overstreet Comic Book Price Guide shows $16/$23/$30 as the 8.0/9.0/9.2 price splits.
Strengths that make this comic book a good long-term investment are:
First appearance of The Northern Light
First Canadian patriotic hero since the Canadian Whites era
Poor distribution and low print run make it tough to track down