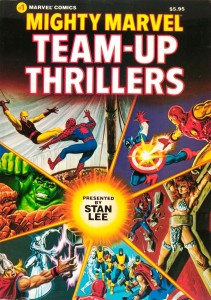 Mighty Marvel Team-Up Thrillers, Marvel Comics, 1983.
There was a time when comic book companies didn't care about repackaging their material in trade paperback and hardcover collections: they sold the rights to those off to book companies, just one of many licensing deals to be had. Perhaps the most famous of these was a run of books published by Simon & Shuster under their Fireside imprint.
Well known amongst a certain age of reader, Firesides were often a first introduction to classic stories never before reprinted. Simon & Shuster took it far beyond comic reprints, publishing game magazines to cookbooks. The Market for these, especially the hardcover editions, remains strong.
Fireside Marvel comic collections maintained a certain format, with stories and introductions by Stan Lee himself. In fact most of these volumes only credit Stan Lee, but that's another story. As seen on the cover, Mighty Marvel Team-Up Thrillers is "Presented by Stan Lee" and the book features an introduction by Lee to each story and a Final Word.
What seems to have gone unnoticed by the general public is the large "#1" in red and yellow in the top left corner. This was the first book (trade paperback) produced in-house at Marvel. They closely followed, mimicked really, the format established by Simon & Shuster. There are no credits listed other than Stan Lee so we don't know who was involved. This volume was only printed in softcover.
Collected in this volume are: Silver Surfer 4, Tales of Suspense 58, Marvel Team-Up 79, X-Men 9, Marvel Feature 11 and Amazing Spider-Man 16. A nice collection of first time team-ups of Thor and Silver Surfer, Iron Man and Captain America, Spider-Man and Red Sonja, X-Men and Avengers, Thing and Hulk, Spider-Man and Daredevil. Who would have put Spider-Man's meeting with Red Sonja in their first collection?
The next two Marvel trade paperbacks featured an issue number on the cover: X-Men (The Dark Phoenix Saga) was #2 and The Power Of Iron-Man (Demon In A Bottle) was #3. Both featured awesome covers by Bill Sienkiewicz and a book introduction by Stan Lee. After that the numbering stopped and a steady stream of collected and reprinted material has flowed every since.
This book can be had on eBay for as little as $20. The 44th edition of the Overstreet Comic Book Price Guide shows $38 as the 9.2 price.
1st in-house Marvel trade paperback
Mistakenly identified as last Fireside