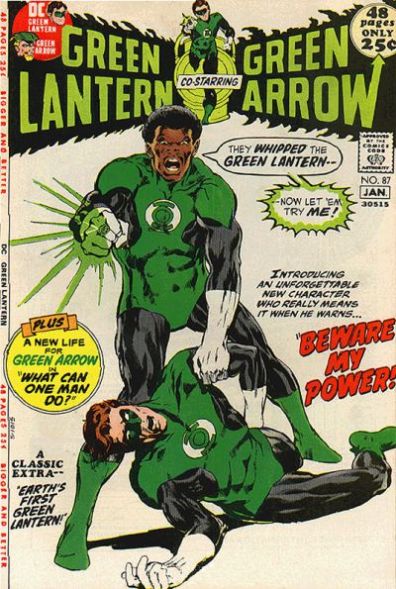 Green Lantern #87, DC Comics (January 1972)
We have a fantastic guest Spotlight featured this week. Guest writer Darren offers up a strong case for Green Lantern #87. This is such a good pick, Darren taps into some very prominent current trends yet at the same time anchor's his pick to sound proven collecting and investing fundamentals. Over to you Darren:
It's no secret that for years Marvel and DC have been going through their back catalog to reintroduce many of their minority and female characters in new stories to offer more diversity and target new readers. This same diversification trend is happening in Hollywood… you'll see the first appearances of Ms (Captain) Marvel, Luke Cage, Cyborg, and Black Panther peaking in value right now since their productions went from speculation to announcement. I'd argue that many collectors are stocking up on 1st appearances of lesser known female and minority comic characters, speculating that they'll cross over to movies or TV, and in effect spiking demand. Check out historical prices for 1st appearances of lesser known characters like Miles Morales, Amanda Waller, Spider-Woman,  Shang-chi, Cloak and Dagger, Isis (Shazam), She-Hulk or Black Lightning and you'll notice an uptick in value in the last 2 years.
To take advantage on what could be a short-term trend, but position for the long term, my Spotlight pick is the first appearance of a tried and true character, Green Lantern John Stewart.
Why John Stewart is cool:
Debuted in 1971, he's the 3rd Black superhero ever and 2nd African American, after Black Panther (1966) and the Falcon (1969), respectively. He predates Luke Cage.
Introduced within the gritty and popular 70s Green Lantern run.  He was first personified as willful and dangerous badass, a former U.S. Marine with combat training. Also he's an accomplished architect and since the Power Ring is limited to the wearer's imagination his constructs are built intricately and architecturally solid from the inside out.
To many who watched the Justice League animated series in 2001, John Stewart is the first Green Lantern they ever saw.
Warner Bros. stated they are "rebooting" Green Lantern movie franchise. What better way to wipe away the Ryan Reynolds "disasterpiece" by centering a new franchise around John Stewart. Even if they choose to make it a continuation on that movie, I'm predicting he'll be a part of this movie. Remember how much money Hancock made? Black superheroes are proven to be popular with audiences.
Why Green Lantern 87 is cool:
Great classic cover by Neal Adams. It's been a favorite for artists to "cover swipe", once in Green Arrow vol 2 110 and most recently in a Green Lantern Corps Vol 3 38 cover variant.
 Comes right after the popular Green Lantern "Drug Issues", 85 and 86. In comparison, 85 goes for a similar price point as 87. With the current snatch and grab for 1st appearances, you could debate that 87 is the better investment, at least in the short term.
This is the 2nd appearance of Guy Gardner – who's first appearance started out as a "what if" kind of storyline in Green Lantern #59 where Hal Jordan views an alternate reality in which Guy is chosen over Hal to be earth's Lantern. Guide shows 59 going for double what 87 goes for, I'd debate Stewart is the more popular character.
 One very speculative potential movie storyline… the character of Carrie Ferris appears in Man of Steel movie, and was announced to be in Batman v Superman. In the comics, she becomes the super-villain Star Sapphire, who teams up with Sinestro and kills John Stewart's wife.
Green Lantern 87 is not a pure movie speculation pick, as the character has cemented himself firmly in DC comics continuity and should only become more popular in the coming years.
This book has been stagnant in the last few years. It's now just starting to heat up. Prices are fluctuating greatly as sellers are catching on to the demand. Looking at sold listings on eBay, in some cases, you'll see VF's selling for the same price as VG's. It's white cover makes some mid grades look sharp if they don't have foxing. You'll want to thoroughly inspect any raw high grades to ensure it's not overgraded.
This book could be ready to pop, but for now, you can get it at guide.
The 44th edition of the Overstreet Comic Book Price Guide shows $66/$138/$210 as the 8.0/9.0/9.2 price splits. Strengths that make this comic book a good long-term investment are:
First appearance of John Stewart
2nd appearance of Guy Gardner
Classic Cover
Popular O'Neil/Adams Green Lantern Bronze Age run
Black superheroes are increasingly popular
Rebooted Green Lantern movie could feature John Stewart