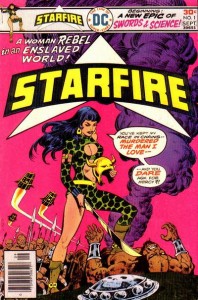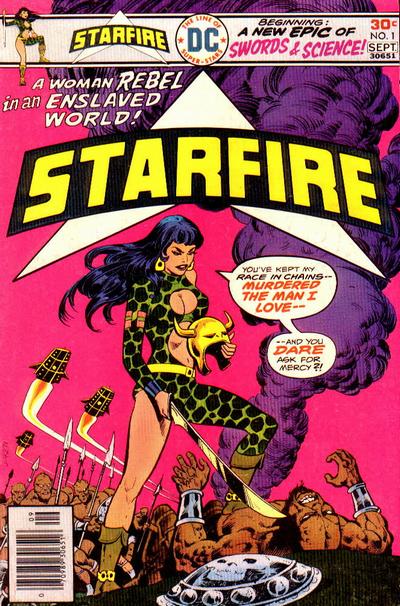 Starfire #1, DC Comics, (August/September 1976)
This post started out featuring Doom Patrol #99, the book that introduced us to Beast Boy. Beast boy would later turn into the Changeling in 1980's The New Teen Titans. As I was doing my due diligence though I changed my mind and jumped ship over to this week's Spotlight pick Starfire #1.
I still believe in Doom Patrol #99, I think it undervalued and a good investment in high grade, it's just that I like Starfire a little better (by mentioning Doom Patrol #99 it stops me from cheating and using it a few months later in the same strain of thought, something I'm sure I'll regret).
Both Doom Patrol #99 and Starfire #1 get their potential from the New Teen Titans, both characters were members of the original 1980 team and Doom Patrol #99 is definitely the harder of the two to hunt down. (Editor's note: this connection is actually false as the Titans Starfire and the Starfire in this post are the same in name only).
Starfire #1 has always been relatively easy to find, it's been a bargain book for as long as I can remember yet I've noticed copies have been drying up. This is for sure a spec comic that can still be found in multiples.
The premise is that Starfire's home planet's two castes, one favoring science and the other religion, fought wars using proxy fighters. These proxy fighters enslaved their employers setting up Starfire's story. I think the science versus religion theme resonates quite strongly in our world of today.
I like that Starfire is a strong female character, as I've mentioned before there is a trend towards strong female characters in comics and I see no reason why Starfire wouldn't fit right in amongst the best of them.
I also like that her abilities are not fantastical, she is basically a great swordsman, can handle a bow and possesses hunting prowess. I've always thought these types of characters lend well to quality storytelling.
Starfire was created by one of my favorite writers of the time David Michelinie. David is responsible for some of the best work of the era, he penned the Iron Man alcoholism story as well as Spider-Man's Venom stories. The boy could write!
Load up on this book while you can.
The 44th edition of the Overstreet Comic Book Price Guide shows $8/$11/$14 as the 8.0/9.0/9.2 price splits.
Strengths that make this comic book a good long-term investment are:
First appearance Starfire
Cheap, cheap, cheap in the Guide