Sotheby's had a Bande Dessinée auction this month with 288 items by European, Asian and American artists. Total sales were 3,821,947 Euros, or $4,026,421 U.S. dollars.
For this Auction Highlight I'll be looking at American works sold in this auction, with an eye towards possible savings for North American collectors. The bulk of the American items were golden age newspaper strips, but some key modern pieces were mixed in. Are these works going for less in the European market, just as European works go for less in American auctions?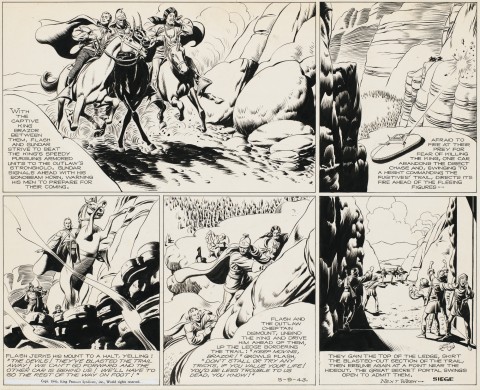 Flash Gordon 9 May 1943 by Alex Raymond sold for $19,255 USD. Source. From Raymond's last story arc before he entered military service. These command massive premiums, just behind Hal Foster's Prince Valiant.
Advantage Buyer. A very clean Alex Raymond Flash Gordon going for less than any other in recent years.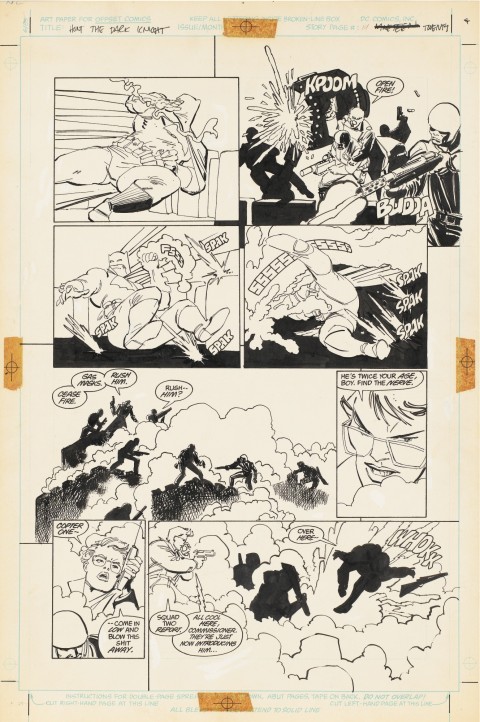 Batman: The Dark Knight Returns issue 3 page 20 by Frank Miller and Klaus Janson, 1986, sold for $27,507 USD. Source.
Advantage Seller. There have been a lot of Dark Knight Returns pages sold in the last year, ranging from $9500 to $50,700 and everywhere in between. This is right in the middle and features Batman in a few panels, but there are no partial splashes and inking is at a minimum so I'm giving this to the seller.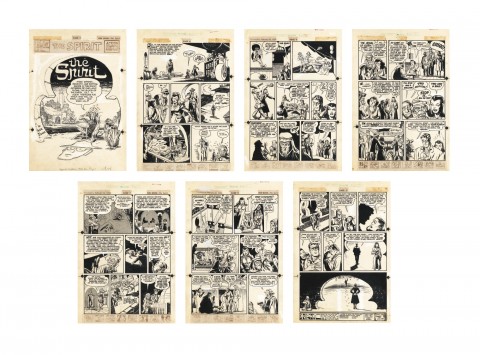 The Spirit "Blood Of The Earth" 2-26-1950 by Will Eisner sold for $53,639 USD. Source.
Advantage Seller. Two full stories have been sold in the last four years: $12,000 and $33,000. This is quite a leap over that and complete seven page stories are rare and the market for these is aging. This could be the ceiling for quite some time.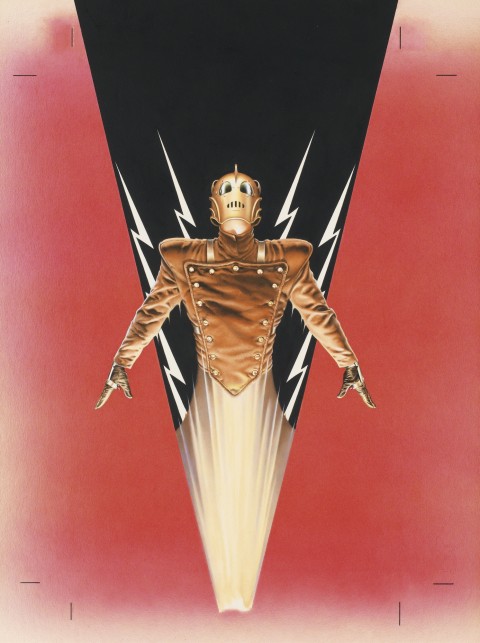 Rocketeer Adventure Magazine issue 1 cover by Dave Stevens, 1988, sold for $66,017 USD. Source.
Advantage Buyer. There's no context for this: Stevens' Rocketeer pages almost never come up and cover less so. This could be the only opportunity to own one, ever.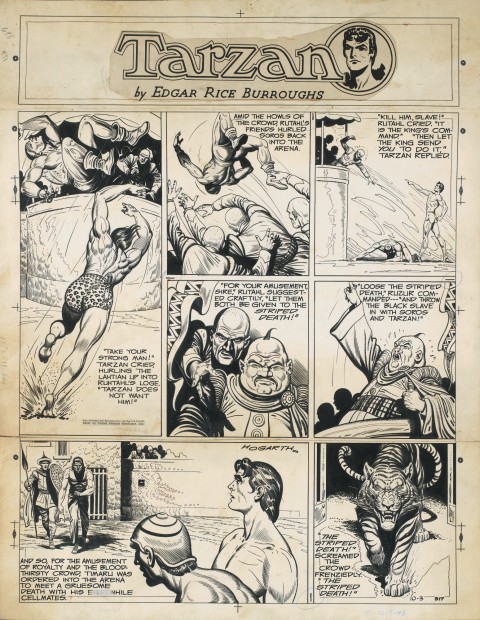 Tarzan 10-3-1948 by Burne Hogarth sold for $12,378 USD. Source.
Advantage Seller.  This is the high side of recent Hogarth sales. It's an exceptional piece with clean art and intact masthead, but it's pricey.
Looking at these and the rest of the American pieces in the auction there's not a clear win or lose for North American buyers. As with all auctions know your prices and look for the deals. Of course Sotheby's and Christie's are now two more opportunities for this material.