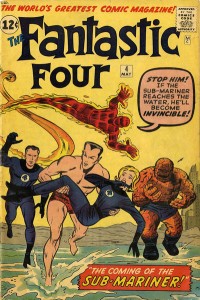 Fantastic Four #4, Marvel Comics, May 1962
I lucked into a nice collection of early Marvels a couple of weeks back. There was a Journey #83, a Strange Tales #110 and a few other big Marvel keys. For some reason though, and I'm not sure why, I was most drawn to the lower mid-grade copy of the Fantastic Four #4.
Maybe it's just the fact that I haven't had a copy in such a long while; I've gone through 3 copies of FF #1 since my last #4. Maybe it's the big 12 cent circle that tells you it's early, early days (came out same month as Hulk #1). I can't really say what it is or why I'm so awed by this book but the moment I picked it up I knew I had this week's Undervalued Spotlight.
Fantastic Four #4 contains the 1st Silver Age appearance of the Sub-Mariner, that staple of the old Timely Golden Age. Stan Lee and Jack Kirby are your creative team!
People like to compare this book to Avengers #4 (the book that contains the 1st Silver Age Captain America). Of the two books the FF is a lot scarcer, as of this post there are 330 Avengers 4s at CGC 8.0 or better while there are only 92 FF 4s at CGC 8.0 or better.
Currently the market is favoring the Avengers #4 in relation to the Guide. Avengers #4 at CGC 8.0 can get over $2k while a 9.2 can get over $7k. Avengers #4 guides at $6300 at 9.2 and is performing at 15 to 50% above guide in the high grade brackets.
A CGC 8.0 copy of FF #4 can be had for less than $3k wile a 9.2 recently sold for $12k. The book is realizing just under guide.
I know that Fantastic Four #4 has been a heavyweight for a very long time, its Guide value reflects that. I think the book has been a bit of a sleeper over the past decade and has lost some ground relative to many other early Marvels.
The wild card is the Sub-Mariner. Subby was a massively important character for Marvel in the 1960s and into the early 1970s; he's been around since 1939 and I'd say he's Marvel's biggest character yet to have a real impact on today's pop culture.
I know I'm reaching but I think the chances are good that something positive will come out of the character in the coming years. I know there is simply too much history for Marvel to let the property fade.
From a pure comic collecting standpoint it is impossible to ignore this book, it is one of the truly iconic books of Marvel's early beginnings. I put it into that second group of big Marvel keys that includes the Avengers #4 and Tales to Astonish #35.
Perhaps it's a good time to jump on one of these and see what happens over the next couple of years. Comic prices are going insane and there will come a time when people will begin to realize that this book is being neglected and then it will be too late.
I don't think grade is the issue with this one, grab a nice tight looking 4.0 and try to keep the pages to at least Off White to White.
The 44th edition of the Overstreet Comic Book Price Guide shows $720/$1,080/$3,300/$7,600/$12,800 as the 4.0/6.0/8.0/9.0/9.2 price splits.
Strengths that make this comic book a good long-term investment are:
First Silver Age Sub-Mariner
Very early Marvel, same month as Hulk #1
Has been lying low for a while and is p