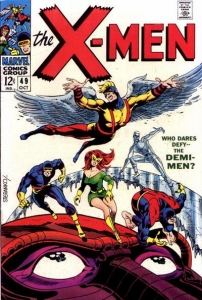 X-Men #49, Marvel Comics, October 1968
An X-Men fan recently told me something I didn't even realize. He noted that only one X-Men book has ever been featured on the Undervalued Spotlight (#88). This is obviously neglect on my part as there are a lot of worthy issues in the X-Men run so I took it upon myself to pick an X-Men issue for this post.
This was a fun exercise: I came across many worthy candidates but finally settled on picking X-Men #49 as this week's Undervalued Spotlight.
It's hard not to like the Jim Steranko cover to X-Men #49, the white cover makes finding high grade copies next to impossible though and it makes the copies that do surface tight and lily white very sought after.
X-Men #49 does belong to that pre-Neal Adams grouping of X-Men issue that have settled into a bit of a funk over the last few years. It seems the collecting world has been passing these issues by.
In my mind this is a perfect time to reconsider this era of X-Men books and better yet pick one that is a standout among them.
X-Men #49 features the 1st appearance of Polaris (Lorna Dane). Polaris is a mutant who controls magnetism. From the onset it was suspected and later confirmed (in 2003's Uncanny X-Men #431) that she is Magneto's daughter. Magneto's daughter! Polaris is also romantically linked with X-Man Havoc.
Polaris also suffers from recurring bouts of depression. Mental health is a hot topic today and having a character that has a history with this disease makes her an obvious poster girl much like Tony Stark is for Alcoholism. This is a touchy subject and treated right can add to the storytelling, still it is a layer of complexity to an already strong character.
She joins the X-Men in issue #60 and later becomes a member of X-Factor (X-Factor #70, 1991). The character is very much relevant today and is surely an easy ingredient to some great creative ideas to come.
Things are starting to heat up for this book, it's been selling for about 25% over guide in the higher grades while issues around it like #48 and #50 have been selling for below guide in the same grades.
Supply is tightening up too. Currently I see no higher grades available on the GPA links while CGC 9.4s or better are plentifully available for the issues around it.
The 45th Overstreet price breaks for this book are $73/$163/$250 in the 8.0/9.0/9.2 grade splits.
Strengths that make this comic a good investment are:
First appearance of Polaris
From an underappreciated era of the X-Men run