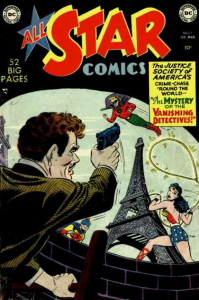 All Star Comics #57, DC Comics, February/March 1951
Who wouldn't be impressed with a stack of comics that included Showcase #4, Showcase #22, Flash #123, Flash #129, Showcase #55, Green Lantern #40, Justice League #41 and a slew of others? Add to the pile the legendary Flash Comics #104 and you'd get a stack even the most finicky comic fan would be impressed with.  – I've included Flash Comics #104 because in many ways it is related to this week's Spotlight pick and it greatly helps my argument. We'll get to that in a bit.
All these Silver Age key issues owe their existence to this week's Undervalued Spotlight, All Star Comics #57.
All Star Comics #57 features the last Golden Age appearance of the Flash, the Green Lantern and Dr. Mid-Nite. This book should be viewed as the official end of an era and thus the book directly linked to a plethora of Key DC Silver Age comics that came later to begin another era.
The book most associated with the birth of the Silver Age, Showcase #4 (October 1956) could have only come about with the "end" of the old Flash. Heroes that did not cease publication like Batman, Superman and Wonder Woman all took cues from books like Showcase #4 and #22 (Green Lantern's re-introduction as a Silver Age character) and themselves re-booted to accommodate this new Silver Age template.
So while Showcase #4, #22, #34 etc all ushered in new versions of Golden Age heroes it was Flash #123 (September 1961) that turned everything on its head by re-introducing the Golden Age Flash. Issues later in Flash #129 (June 1962) the Golden Age Green Lantern showed up, Flash #129 also introduced Earth 2, the place where all the Golden Age heroes were hiding.
I want to also note that All Star Comics #57 introduces us a villain called the Key. The Key would be updated in Justice League #41 (December 1965). The Key is still a very active member of DC's current continuity and he's a pretty cool villain.
So let's talk about Flash #104, that iconic symbol of the demise of DC's Golden Age heroes. This was always the book to have back in the day.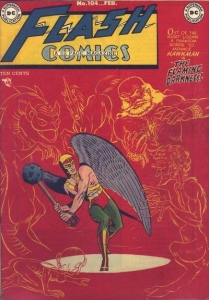 Its Guide value is through the roof at $13,500 and the prices it commands online is just as impressive: a CGC 5.0 recently sold for over $2,400. I've always asked myself why Flash Comics #104 is so much the bigger book than All Star #57. Sure the Flash book is scarce but so is the All Star. Did you know that as of this post there are only 31 blue label CGC graded copies of Flash #104, not many I know. Well there are only 30 blue label CGC graded All Star #57s. This book is just as scarce and even more so. For me the sustained value garnered by Flash Comics #104 highlight how undervalued All Star #57 really is.
There's really too much to cover regarding the demise of the Golden Age DC heroes and the rise of the Silver Age DC heroes so I'll just say that the crux of my argument is that All Star Comics #57 is a monumental lynchpin for that whole event. This book really does represent the end of an era more than any other book I know from this period.
DC Silver Age is one of the hottest strains of the market right now but I just don't see the collections of key issues from the Silver Age complete without a nice crisp copy of All Star Comics #57.
The 45th Overstreet price breaks for this book are $552/$1168/$2009/$2850 in the 6.0/8.0/9.0/9.2 grade splits.
Strengths that make this comic a good long term investment are:
Scarce
First appearance The Key
Last Golden Age appearance of Green Lantern, Flash and Dr. Mid-Nite